THE AUDUBON GOLF TRAIL
http://www.crt.state.la.us/audubontrail/
Journal Entry #100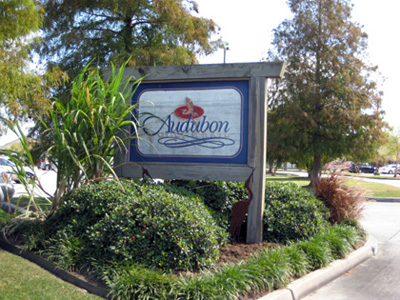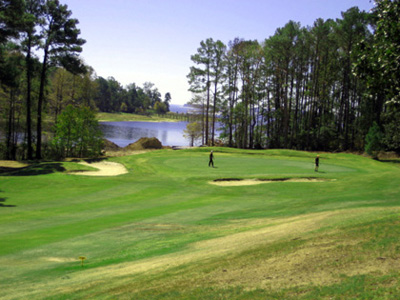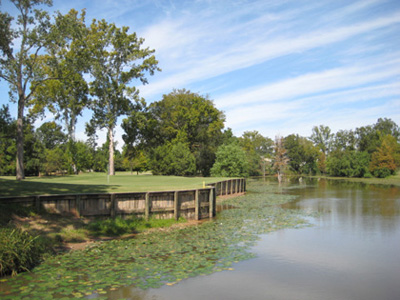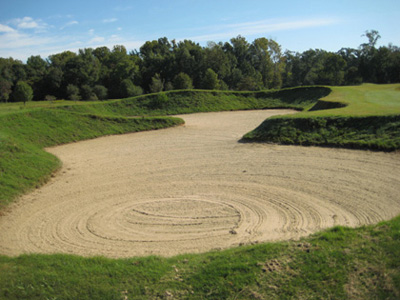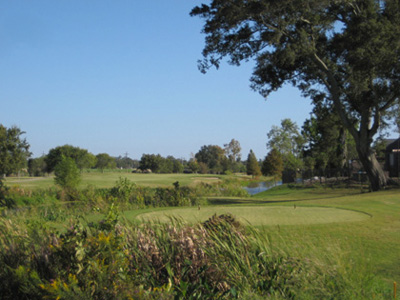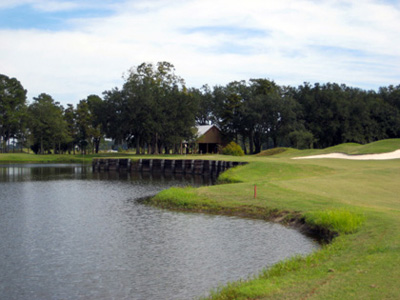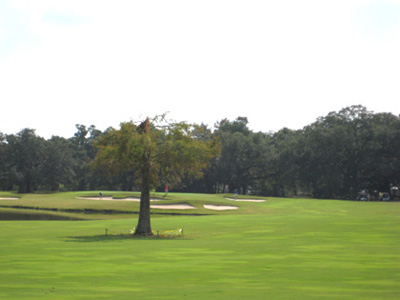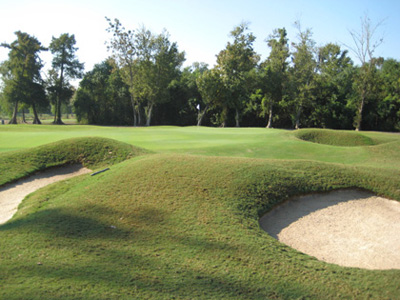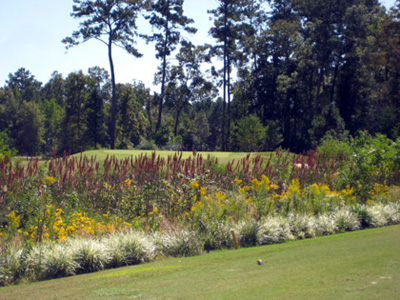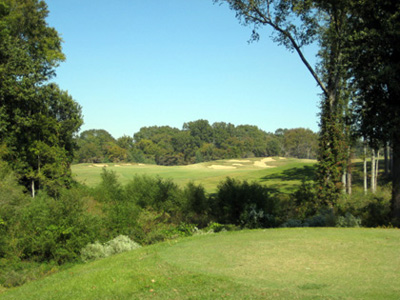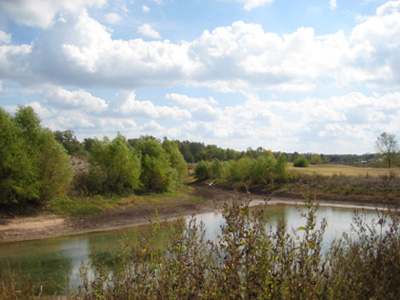 My objective on this golf trip was twofold. First, to review the beautiful golf courses of Louisiana's Audubon Golf Trail and post tee-to-green photos in the Course Reviews area. And second, to introduce head golf professionals to the book, THE COMPREHENSIVE GUIDE TO A SUCCESSFUL FUND RAISING GOLF TOURNAMENT. While THE GUIDE was originally written for organizations holding golf tournaments to raise money, it has evolved to help golf course owners and professionals save money. Professional golf course managers have to delegate to employees, or themselves, the responsibility of spending time with groups planning their golf events. As is often the case, when an organization books a tournament, they often ask, "What do I do next?" That's not necessarily golf course management's responsibility. With THE GUIDE, clients can simply be referred to Amazon or Barnes and Noble websites to order the book. THE GUIDE can play a major part in labor cost savings to golf courses, not to mention avoiding having to solve problems that come up due to their client's possible inexperience with golf tournaments. (See the Book Reviews page.)
Being from, Houston, Texas, this golf tour was in many ways very nostalgic for me. As I drove from my home in Colorado Springs into Texas, the pumping oil wells attested to being back in the Lone Star state. The oil refineries in Texas and Louisiana were welcome sites, as were sugar cane and cotton fields. Crossing the winding Mississippi river numerous times also brought back pleasant memories, as did snow cone stands, which echoed a past simple life when I was a kid. Many evacuation signs in Louisiana were reminders of Katrina and other damaging hurricanes. As I drove into Louisiana, there were no more "counties." They became parishes and in come cases corporations.
The Audubon Golf Trail, like Alabama's Robert Trent Jones Golf Trail, contributes to the state's economy by enticing golfers to "come on down" to the bayou country. Without a doubt, I recommend anyone seeking a unique golf experience to play any of the 12 courses. They are open to the public, are of country club quality and priced reasonably. Be sure to visit each website before you go to make reservations. You can see exactly what you will see on the courses from tee-to-green by visiting Course Reviews. Also, be sure to visit http://www.crt.state.la.us/audubontrail/ to make your selection of which courses you would like to visit. They are all different with variations in challenge and beauty.
Of the twelve courses on the Audubon Golf Trail, I played ten. You have already seen a photo from each of them at the beginning of this article. Read on for tips that may help make your adventure more pleasant.
Don't depend solely on your GPS, Mapquest/Google, state maps, etc., but be sure to have them all handy. I found in many cases that as I neared some of the courses my Cadillac GPS announced that it no longer could guide me. However, I was able to find every course easily.
Since Senior Friendly Golf, LLC, which I represent, is not a big company, the cost of the tour was a concern, so I decided to stay in Super 8, Best Western and other economy hotels. In the future I'll bite the bullet and upgrade. With only a few exceptions I recommend taking a step up even though you may only be staying a night or two in each area. The towns are charming and offer great dining and site seeing opportunities. You might even consider golfing one day and enjoying the areas you are in the next.
A severe drought this year throughout the summer impacted the south. Texas had hundreds of grass fires and Lake Toledo Bend next to the Cypress Bend Golf Club was down over 10 feet. Overall course superintendents and management did a great job maintaining their courses and all were in good to excellent condition. All have year-round play. But check the local weather frequently. I was fortunate not to have encountered any foul weather on this trip.
The first course I played was Cypress Bend located a few miles from Many, Louisiana, just over the Texas state line. Ken Rams, the club general manager, who was very hospitable, welcomed me. We enjoyed breakfast together at the Cypress Bend Convention Resort adjacent to the golf course. Ken is a good example of upward mobility. He started work at Cypress Bend over 14 years ago as an employee. My contact when beginning to plan this Audubon Golf trip was Eric Kaspar, who is now the head golf professional at Black Bear Golf Club up in Delhi. Eric, when he was the Cypress Bend head professional, hired Ken way back then and guided him to the position he now holds. Eric also was the coordinator for the Audubon Golf Trail last year.
| | |
| --- | --- |
| KEN RAMS, GM, CYPRESS BEND G.C. | CYPRESS BEND CLUBHOUSE |
This course was in the process of upgrading its bunkers and doing some renovation. The leaves were beginning to turn to brilliant colors and fall, but the landscaping and fairways did not suffer too much from the lack of moisture. I had concern for course management as I looked out over Lake Toledo Bend's white shoreline, which usually is covered with the sky blue water of this huge lake.
Cypress Bend, of all the courses I played, was the most hilly. I envisioned that all the Louisiana courses would be level and for the most part carved out of swampland. I expected all to be green and lush and most were. The many elevations along Cypress Bend provided breathtaking views.
On this course, and at many of the others, I was able to join people in play. I teed off on the first tee at Cypress Bend with a fellow in his late 80s. We played nine holes together and then I teamed up with a young couple on vacation from Houston on the back nine. Of course now adays just about everyone I meet up with on golf courses I consider young, since I am into my 70s.
That brings back a memory of when I was volunteering as the special marshal's team captain at the PGA Senior Championship last year at the Colorado Golf Club in Parker, Colorado. I was taking photos during the practice rounds and walked along with Michael Goodis, a pro who made the final foursome. He is from North Carolina. I mentioned to him that he sure looked young for a senior. He laughed and said he was not young anymore. A few moments later I laughed too when I told him he looked young because I was going to turn 75 the next week. I believe he was 53.
My plan to review the Audubon Golf Trail was to play a course in the morning and then drive to the next one on the same day. It was an easy 96-mile drive from Cypress Bend to Alexandria, where I was able to spend two nights while playing the next two courses, Oak Wing in Alexandria and Tamahka in Marksville.
At the Oak Wing Golf Club I met with the General Manager and Director of Golf, Craig Campo, PGA. He introduced me to several of his employees and one I especially remember for professional manner. His name was Matthew. The Oak Wing Signature hole is number 11. A few holes after eleven, Mathew drove up in his maintenance vehicle and asked if I had left a club behind at one of the greens. I asked him what the club was. His reply was exactly what it should have been, "what club are your missing?" I checked my bag and my newest club, a Cleveland lob wedge, was not there. Nice save, Matthew. On another hole I was playing by myself and after I putted out I had no idea where to go and a gentleman passed by and gave me directions around a pond to the next tee. What a great course and a great bunch of people. This course is what would be called a "park" course in Ireland. To me it was just as beautiful as The Broadmoor in Colorado where the 2008 Senior Open and the 2011 Women's Open were played. I was fortunate to hold positions as the second hole captain at the Senior and area captain at the Women's. I am also looking forward to being an area captain at this year's National Amateur Championship at Cherry Hills and marshaling at the Ryder Cup.
| | |
| --- | --- |
| | |
After Oak Wing, my next challenge was about 40 miles south to play Tamahka in Marksville. Tamahka is associated with the Paragon Casino. Be sure to check the Paragon Casino website before you go, http://www.paragoncasino.com for room specials. For less than I paid to stay at Super 8 in Alexandria you might be able to enjoy a room in the casino right next to the golf course.
Matt Goldsmith, PGA, is the head professional. He is an LSU graduate. When I was on this tour, LSU football was on a roll and was ranked number one in the nation.
As I drove down to Marksville there was a heavy fog in the fields and on the course. It was a beautiful scene and only one of its kind on my trip. I had to delay my tee off because it was so thick I could not see over 100 yards down number one. Matt gave me a tip on how to play the course. It was simply to avoid the bunkers. They were very unusual, as you can see in Course Reviews.
| | |
| --- | --- |
| MATT (center) GOLDSMITH | THE FOG HANGS OVER TAMAHKA |
A little over 100 miles south of Marksville is Plaquemine, where The Island Golf Club is located. This is sugar cane country for sure. I missed meeting the head professional, Matt Berry, but the course personnel I met were very professional and accommodating. The Island is not an island, but a well groomed what I would call a "pasture" course. While there were plenty of challenges, elevations were not a problem. One thing I noticed, which other courses around the country would be well served to follow, is how The Island has protected its golf path perimeters from damage. I have never seen this before, but undoubtedly it exists. I also noticed this when I was at the Audubon Park executive golf course in New Orleans. On the edges of the curves on many cart paths they have been reinforced with stones in an attractive way.
| | |
| --- | --- |
| THE ISLAND CLUBHOUSE | WELL PROTECTED CART PATH |
My next Course was in Peterson, 75 miles south. The Atchafalaya at Idelwild Golf Club (I still have trouble pronouncing it) is there and it was really different. This was definitely carved out a swampland although it was originally a dairy farm and saw mill. The clubhouse was converted from its Idelwild Plantation beginnings and built with Cypress lumber, as are many structures along the Audubon Golf Trail. The 150 yard markers are cypress knees and the tee box markers are replicas of different native animals; i.e., alligators, owls, etc. The head professional is Ed Selser, a PGA pro since 1979. Besides the beauty of the course and the abundance of wildlife, the golf carts were very unique. You can see them in Course Reviews.
| | |
| --- | --- |
| ED SELSER, HEAD PROFESSIONAL | ATCHAFALAYA AT IDELWILD CLUBHOUSE |
Less than 100 miles and I'm in the New Orleans area where I took a day off to rest and spend some time at the Audubon Zoo. What a fun time that was. If you have never been to this attraction, I suggest you plan to do so should you visit News Orleans. Katrina did not affect the Audubon Park and zoo area and the city itself has recovered well so far.
I have not played many executive golf courses, but I heartily recommend you play this one which is associated with the Audubon Nature Institution and is located across the street from the zoo. It is beautiful, well maintained and just plain fun. I almost had a hole in one there. The head professional is Stan Stopa, who turned pro in 1973. The Audubon Park Golf Club is in the shadow of the Cathedral at Loyola University. You will see it many times as you enjoy your round. The tower can be viewed often as you cruise the Audubon Park G.C. on Course Reviews. The huge oaks on the grounds are breathtaking too.
| | |
| --- | --- |
| STAN STOPA, PGA HEAD PRO | GIANT OAKS |
In the New Orleans metropolitan area is Avondale, where the TPC Louisiana Golf Club is the site of the annual PGA Zurich Open. As you would expect, the course is maintained to PGA standards from its driving range to every hole on the course. What you probably do not know is that the Zurich Open is the only PGA tournament held on a public course. The head professional is Brian Long, PGA. Brian advised me that some of the bunkers are among the largest on the Audubon Golf Trail, and I believe him, although Tamahka's are the most unusual I have been exposed to. They remind me in a way of St. Andrews and other courses I Scotland. I played "Tin Cup" on number nine (reference the movie). I lost three balls on number nine, but had plenty of company. A water hazard borders the green, and it appears no one takes the time, or the risk, of retrieving errant balls. Be sure to play this course. If for no other reason, to be able to say you have. I guarantee it will be an experience you will long remember.
| | |
| --- | --- |
| BRIAN LONG, PGA | YOU'LL HAVE COMPANY ON #9 |
I took a break to attend one of my cousin's daughter's wedding in Mobile, but before I did, I drove 75 miles around New Orleans to Springfield and played The Carter Plantation golf course. It was the first one David Toms designed. He is one of my favorite tour players and a reason I chose to do The Audubon Golf Trail this year. The head golf professional is Bill Caldwell, who turned pro in 1972 and is a PGA Master Professional. This golf course was experiencing the heaviest play of any I reviewed. I was invited to start on the 10th hole and caught up with Bill's father, Bill, on the 11th hole. Us two old guys really enjoyed playing together. The course is like playing on a plantation with lots of room on many forgiving fairways. Beautiful only begins to explain this golf venue. You can simply "feel" it in a relaxed way. The personnel are top-notch friendly people too. It's worth meeting two of them when you go to Course Reviews.
| | |
| --- | --- |
| BILL CALDWELL, HEAD PRO | BILL'S DAD |
Eight golf courses played and two to go before returning to my home in Colorado Springs. After the wedding in Mobile, Alabama and visiting relatives in Meridian, Mississippi, my next stop was The Black Bear Golf Club where Eric Kaspar, Class A PGA, is the director of golf. Black Bear is located in Delhi. Eric is a 1988 graduate of Texas A&M. I am a graduate of THE University (hook 'em horns), but we still got along well. The course is in northern Louisiana, and I was delighted to find it in pristine condition adjacent to the Poverty Point reservoir. Eric advised me that even more of a problem than the lack of moisture this year was the constant and heavy summer winds. You would never know it the day I was there. No wind, bright sun, and pleasant temperature. This course was a challenge to find but was well worth the effort. My GPS told me I was there but there was no golf course I could see. As I drove down the road to the Black Bear, a second time, I stopped at a little roadside store and they said this often happens and just keep going another mile.
Anyway, the initial impression I had looking out from the clubhouse was that this would be a pasture type course, but Eric advised me that there were plenty of elevations out there. He was right and they were a challenge. Number 14 is alleged to be a drivable four par, though number six is the signature hole. Number two fooled me. I thought I was going for the green, but it was an elevated tee box next to the green. My mistake. See all the courses from tee-to-green in Course Reviews and when you play be sure to get a yardage guide.
Next door to the clubhouse is the Black Bear Resort with 17 rooms and tennis courts. They also have golf packages available. The Poverty Point Historical Indian Site is nearby in Epps, and is worth a stop.
| | |
| --- | --- |
| ERIC KASPAR, A CLASS PGA | BLACK BEAR GC CLUBHOUSE |
The last course I played was Old Oaks GC, in Haughton, Louisiana, It was 123 miles from Delhi. This course is in a beautiful high-end residential development but open to the public. There are actually three nine hole courses but the Oaks nine was under renovation, and the drought had taken its toll on the course. However, the course superintendent and management did a great job keeping it in good playable condition. The general manager is Kevin Coppins. American Golf Corporation, Touchstone, now owns Old Oaks. I played the Cypress and Meadows nines. There was lots of wildlife to enjoy and plenty of marshland rough to contend with. You have a choice of five tee boxes on each hole. I really like this. It fits well with the PGA/USGA "Tee it forward" program. You can choose whichever tee box to use to fit your ability. See the Journal entry #99.
| | |
| --- | --- |
| KEVIN COPPINS, GM | ONE EXAMPLE OF WILDLIFE |
Well, that's about it for the Audubon Golf Trail in Louisiana. I wish I had been able to play all 12 courses, but Lake Charles and Lafayette will have to wait until another time. I am sure they are just as interesting and enjoyable as the ten I played.
A few final notes. Be sure to get a yardage guide for each course you play so you can be more familiar with each hole. Many of the yardage guides, Tamahka in particular, actually have golf tips on how to play each hole. Some of the courses have tee markers with schematics to help you, but some do not. If you possibly can, try to play each course twice. Your second round will likely be as much as ten strokes better than your first, if that matters to you. One thing for sure is that you will meet many wonderful golf course employees and fellow golfers when you play any course on The Audubon Golf Trail. Customer service and assistance is a priority everywhere.
I hope you enjoyed this article, and if you know of any organizations considering raising funds using golf tournaments as a vehicle, be sure to refer them to THE COMPREHENSIVE GUIDE TO A SUCCESSFUL FUND RAISING GOLF TOURNAMENT available on Amazon and Barnes and Noble websites. http://www.amazon.com http://www.barnesandnoble.com You can also search the title and find about 10 more websites offering THE GUIDE and don't forget to check out THE GUIDE in Book Reviews. You can contact me at GolfGuy@SeniorFriendlyGolf.com if you want to chat by email.