2012 PGA EXPO IN ORLANDO, FLORIDA
Journal Entry #101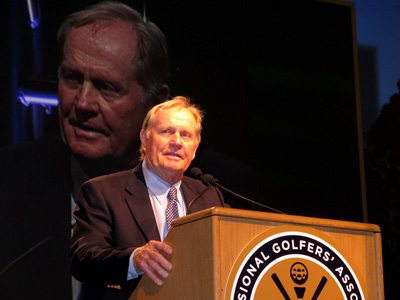 JACK NICKLAUS LAUNCHES GOLF 2.0
The golf industry has been shrinking and the PGA has launched an initiative known as Golf 2.0. The objective is to make golf more fun and accessible to everyone. It means to invigorate the game with specific focus on women, children and families. A phrase Jack Nicklaus used is familiar, "thinking outside of the box." The bottom line is for the PGA and its 27,000 members to make golf more fun. Fun for everyone who plays, would like to learn how to play, and to bring back those who have played but no longer do so.
The Boys and Girl's Club of America will play an important role. The PGA is partnering with them. Ken Griffey, Jr. is on their board and is an avid golfer himself. He has been a board member for 15 years and is a great example of a major sports figure doing great work with kids.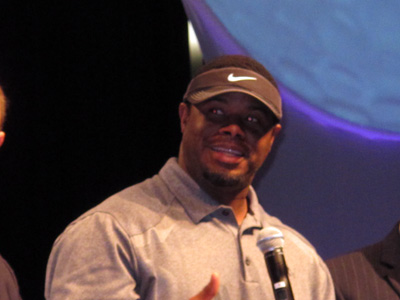 KEN GRIFFEY, JR REPRESENTS BOYS AND GIRLS CLUBS
Golf 2.0 is not just for golf professionals. To be successful, this program must be backed by the industry as a whole and include golf related manufacturers and golf course owners. The companies represented at this year's PGA Merchandise show are already addressing the women and children aspect of the game. There were many exhibitors keying in on kids and women from equipment to clothing.
My observation is that this is all well and good, but will the golf course owners buy in on Golf 2.0? We'll see with next month's NGCOA convention in Las Vegas. NGCOA is the National Golf Course Owner's Association. These people did not build golf courses just for the public's pleasure but to make money, and it is going to take lots of money to "think outside the box" to modify and innovate (change) the way golf is seen as a recreational sport for youth, ladies, families and those of us who have high handicaps.
What are some of these new ideas to make golf more fun and draw new participants? Last June the PGA and the USGA introduced "TEE IT FORWARD." (see ARTICLES "A GUARANTEED WAY TO LOWER YOUR SCORE"). This program encourages golfers to tee off from the appropriate tee box according to their ability. Basically this shortens course lengths and golfers score better.
Also mentioned was "Family Golf Parks." This reminded me of the St. Andrews Himalayas putting course. While it is not a miniature golf course, it is large and expansive. The idea of family golf parks is to make them short and fun. The PGA already has a six-hole prototype at one of its training facilities. There are also a number of nine hole pitch and putt courses around our country.
Family golf parks can be simply taking a public park and making it into a playing area where flags are just stuck in the ground and a number of holes charted. Real golf balls do not even have to be used. In place of the hard balls, the Floppy, Wiffle balls, Birdie Balls, Almost Golf balls, and others on themarket can be used. Search the Internet for "soft" golf balls.
Another idea has been put in place at the Nicklaus designed Murifield Valley Golf Club….eight inch cups on greens. If you are a high handicap golfer reading this article I can feel your smile. Who among us has not missed many putts by an inch or less?
For more information about Golf 2.0 visit http://www.pga2.0golfinitiative.com
| | |
| --- | --- |
| MEG MALLON | JOHN SOLHEIM |
While Jack Nicklaus gave the keynote address for the show, prior to his presentation, the captain of the LPGA 2013 Solheim Cup was announced. The 2013 Solheim Cup will be played at the Colorado Golf Club in Parker, Colorado where the 2010 PGA Senior Championship was held. (see AREICLES for that wonderful tournament). The Solheim Cup is the women golfer's Ryder Cup, which is coming up this September. I'll be serving there as a marshal and will be writing about that tournament, so tune back into SFG in October.
John Solheim's father started the Solheim Cub in 1992. The Solheim name is also associated with Ping Golf equipment.
Meg Mallon was announced as the captain of the 2013 team. She has served as assistant captain in the past and played on the team eight times.
Since I attend golf shows like this as a media representative for Senior Friendly Golf, I look for new golf information, be it products, services or anything else. At this expo there were various media presentations separate from the show exhibit floor. I was curious about one presented by the Professional Caddies Association. With the exception of using caddies on my Scotland golf tip in 2006 with Doug Wert, PGA and his group associated with the University of Colorado Colorado Springs PGA/PGM program, I have not had the opportunity to use caddies in our country much; one exception being Pebble Beach.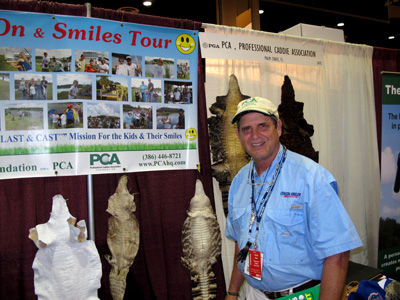 DENNIS M. CONE, PROFESSIONAL CADDIES ASSOCIATION
I was pleased to meet Dennis Cone, a Hall of Fame Caddy and founder of the PCA. The PCA has been focused for many years on getting kids involved in Golf. This ties in well with the PGA's 2.0 Golf. He says that President Bill Clinton heartedly endorses getting kids outside to caddy. It's a great way for them to exercise and enjoy fresh air and golf course ambiance. They can also enjoy the financial rewards.
Dennis and the Association have found another way to motivate kids and families to get on the golf course…fishing. Most all golf courses have ponds on their property as a water storage source for irrigation. Some of these ponds, or small lakes, are stocked with bass and other fish. At times when there is slow or no play, the objective is to get children and their families to at least be on a golf course. This will be especially appealing for golf courses having three nine hole courses. Golf course personnel will have the opportunity to cultivate relationships and invite families back to take up the sport.
Dennis and I exchanged books. I gave him an autographed copy of THE COMPREHENSIVE GUIDE TO A SUCCESSFUL FUND RAISING GOLF TOURNAMENT and he gave me his THINK LIKE A CADDY, PLAY LIKE A PRO. After I read his book I will post the review on SFG.
The PGA Merchandise Show starts with a product demo day at the Orange County National Golf Center. The place is huge with tee boxes on all four sides. It would take a 400 yard drive to go from one side to the other in any direction. The next three days are at the Orange County Convention Center, where attendees can visit over 1,000 exhibitors and participate in educational and information seminars and meetings. I understand it is about a six mile walk to visit all the exhibitors and it is inside. The last day AHEAD, a clothing company, conducted a "hat drop." As I heard someone say, "everyone there probably already has over two dozen caps."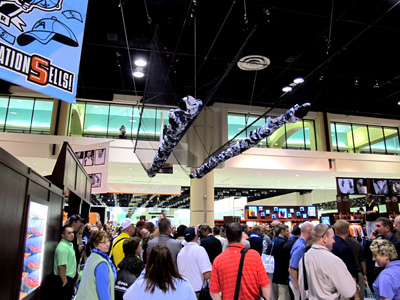 AHEAD HAT DROP
When visiting exhibitors, many gave me samples to review. Be sure and take a look. Click PRODUCT REVIEWS. Some of the products reviewed include Levitee golf gloves, PowerFX, Red Arrow Markers, BrightSpot Solutions, Tin Cup Products, and GripIt Rite. Some are already up and others will be soon.
This year I skipped the last day to drive around to various golf courses in the Orlando area. I have been successful marketing THE COMPREHENSIVE GUIDE TO A SUCCESSFUL FUND RAISING GOLF TOURNAMENT, by meeting with golf course management when reviewing golf courses around the country and giving them copies. I am sad to say that two of the courses I tried to visit were out of business. Hopefully Golf 2.0 will strengthen and help the sport of golf get back on track. An improved economy would also help.
THE COMPREHENSIVE GUIDE TO A SUCCESSFUL FUND RAISING GOLF TOURNAMENT can be ordered on both Amazon and Barnes and Noble websites.