2014 DENVER GOLF EXPO
Journal Entry #106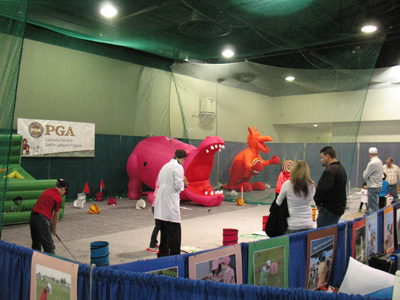 Every February Denver has a three day golf show. It is designed mainly for the playing public, but there are also golf professional seminars. This year snow was heavy at times and temperatures never saw the 30s. I believe lows at night hit below zero. I know my home town, Colorado Springs, got to 13 below. I was in Santa Fe, New Mexico so I missed the opening, but managed to get back for Sunday. To follow are my observations.
I had conversations with many of the exhibitors and their observations were that the attendance was very good and they had good interest, especially on the first day. What I noticed, that may have been different from other years, was so many Colorado golf clubs and courses offering deals and drawings. Some other states were also present selling stay and play packages. I noticed Nebraska, Utah, Texas, New Mexico and Las Vegas had exhibits.
There were opportunities to get new and used equipment, sun glasses, hats, clothing and many other golf items. Big name golf equipment companies were represented with a driving range to try out their newest offerings.
I was pleased to see that the Colorado Section of the PGA had hands on exhibits for both adults and children. Last year I attended the Golf Course Owner's Association of America's convention in Las Vegas where focus weighed heavily on the future of golf being women, families and children. I did not see women's golf emphasized, but youth golf was.
As always, the Colorado Golf Association was well represented and even had donated golf clubs for sale for $1.00 each to raise money for their junior golf program. I was able to renew my annual membership, so I'm ready for spring, although I play with a bunch of other golf addicts during the winter when the temperature gets over 40 and the wind is light. We just layer up and go to southern Colorado.
---