MAXX HD SUNGLASSES...a testimonial
Journal Entry #107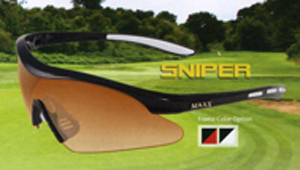 Occasionally I become aware of a product which has above average merit. In those cases I may feature that product on the home page and ARTICLES, or journal entries, link on SeniorFriendlyGolf.com. MAXX Sunglasses fits this distinction.
As background, I discovered this product when I was on a golf trip to Bandon Dunes in Oregon. I picked up a pair of these sunglasses in the pro shop at the Sandpines Golf Club in Florence on the way to Bandon Dunes. They were on sale for $19.95, so why not. The MAXX glasses had amber tint lenses, and they performed well on all the Scottish tight lie courses.
I had double cataract surgery about 10 months ago and still had difficulty following my tee shots, so I decided to bite the bullet and go for Bolle, even though that would come with a heavy price tag. I wanted prescription golf glasses. Unfortunately progressive prescription glasses cannot be made with golf curvature lenses. Later I did find an off brand that could be made with the single distance prescription I needed, but not bifocal. The optical objective was also to have Polaroid glasses to avoid the glare that is a consequence of intraocular lens placement. These new prescription sunglasses work fine, and I can usually see the ball on long drives.
On with my story. Being associated with the golf business, I often get unsolicited sales phone calls. Oddly enough, many are from companies, or people, that think Senior Friendly Golf is a golf course. I received one recently from Carla at MAXX Sunglasses. I explained to her that I was not a golf course but did have a pair of their sunglasses, as explained above. When she learned that I do product reviews for this website, she offered to send me a MAXX HD pair to review. I decided to take them to play golf and compare them with my new prescription sunglasses. To follow is my review.
When comparing my MAXX Sniper HD golf glasses to my Polaroid prescription sunglasses, the final decision is that I found the Sniper HD glasses gave me a clearer and crisper view, and I will continue using them on the links.
If you will visit www.MaxxSunglasses.com you can find out all about them and even purchase them on line if the pro shop you frequent is not stocking them. I understand they also have a junior line.
Here are some of the claims (facts) you will find: high definition clarity, ultra-light frames, shatter proof polycarbonate lens, UV 400-100% UV protection, no peripheral distortion. Take a look wherever you can find them. I recommend this product and do not receive any compensation from the company.