THE ROAD LESS TRAVELED
Journal Entry #109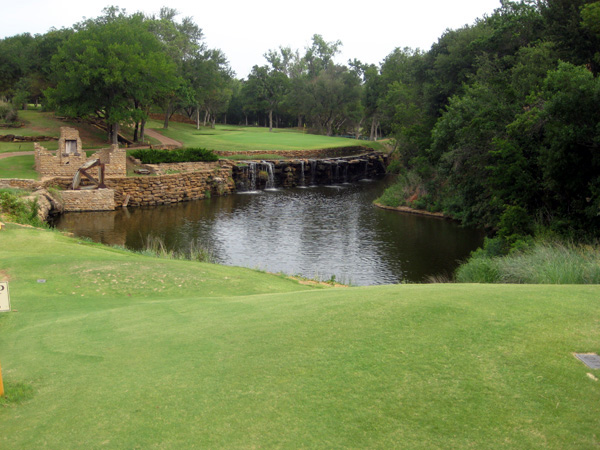 SUGARTREE GOLF CLUB SIGNATURE HOLE
Every other year or so I set out on a month long golf tour by myself. This year I decided to play courses that are unknown to most golfers, except those in the areas where they are located. You can say that these golf courses are on the roads less traveled. In fact, I avoided major highways and drove mostly on rural roads. I was pleased to find that speed limits were up from the old 50 MPH limits, and most all roads were very well maintained. There was an absence of construction, like on main highways, that restrict traffic to one lane.
My objective was to play 20 courses in 30 days while driving 2,300+ miles and include a week with my oldest son and his family in Granbury, Texas. Another objective was to interview golf course managers and professionals while giving them a copy of my book, THE COMPREHENSIVE GUIDE TO A SUCCESSFUL FUND RAISING GOLF TOURNAMENTS. I was also provided with samples to give out from Starting Time Golf www.startingtimegolf.com, Sport Seats International, Ltd www.sportseat.com, www.GreatgolfUSA.net, and Digital Marketing Solutions (www.mistergadgets.ca).
The questions I asked and the general response is as follows. I found a great deal of consistency.
How is business this year? Generally it was good for most courses. Competition and the slumping economy both local and nationally did have some negative impact.
What has been your biggest challenge? A late April freeze and continuing drought conditions.
Have any federal government regulations had an impact on your operation? No
What are you doing to increase your business? Offering "Get Golf Ready" and other training opportunities, reduced fee specials and promotions, advertising in golf magazines and email, junior and lady golf programs and events, and replacing course grass and greens.
Where did you acquire your PGA or golf management experience? Most golf course managers were PGA members, but some just came up from working for golf courses on their way up to management.
I feel every course I played was in good to great condition, and all the greens were well maintained and beautiful.
As you continue to read this article, you will see CLICK HERE to get an in depth view of courses as you will see them from a player's view should you have the opportunity to play them. Since I did reach my goal of 20 courses, it will take me awhile to get the photos and information over to this web site. To see more, from time to time go to COURSE REVIEWS to locate courses from this article and any others you may be interested in seeing... all from the player's view.

SPREADING ANTLERS GOLF COURSE, Lamar, Colorado
My first stop was Lamar, Colorado and Spreading Antlers Golf course, where I met Shaun Degnan, PGA Owner/Head Golf Professional. Shaun is a graduate of the PGA/PGM program in the College of Business Administration at the University of Colorado at Colorado Springs. He grew up in Lamar. The set up at Spreading Antlers is interesting. The golf club is in the Elks Club building and the city provides the water for the course. CLICK HERE for a player's view of this nine hole course.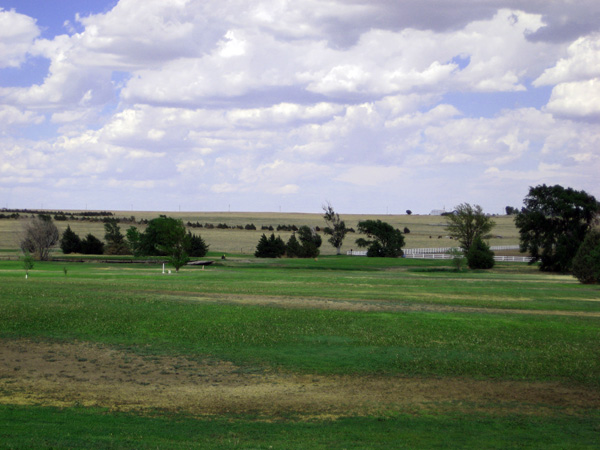 GOLDEN LOCKETT GOLF COURSE, Garden City, Kansas
Next stop, Garden City, Kansas. What a surprise. This not-so-big community has three golf courses. I went directly to the original country club of Garden City, Golden Lockett Golf Club in hopes of getting another round in before checking into a motel. The course is owned by the Long family and is undergoing upgrade of their course watering system. It was not open for play, but the father, Kenneth, spoke with me and allowed me to go out and play anyway so I could take photos. They hope to be open later this year and will be promoted as a family and junior golf facility as well as a place for other golfers to get in nine holes after work. Golden Lockett is in the city while the other two courses are down highway 83. CLICK HERE for a player's view of this golf course.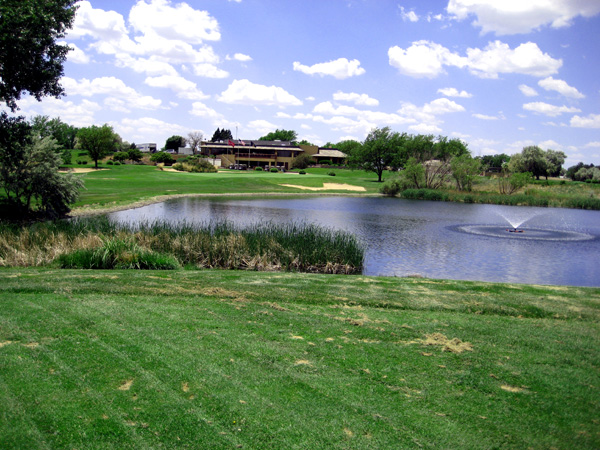 THE GOLF CLUB AT SOUTHWINDS, Garden City, Kansas
I was fortunate to have a letter of introduction with me from my close friend and golf coach, Alex Harris, who is also a UCCS PGA/PGM graduate. He manages and teaches at the Sportz Skillz Golf Training Center in Colorado Springs. www.SportzSkillz.com. This helped me with access to private and semi-private golf courses. My next course was the current country club for the area, The Golf Club at Southwind. www.tgcsouthwind.com. Here I met Chris Meyer, PGA, the Head Golf Professional who received his credentials from the University of Idaho. Bob Lewton and Dustin Brown are his assistants. As expected, this course was in superb condition. I was impressed that it has extensive programs for youth and ladies. There is even a ladies night with babysitting provided. When I arrived Chris was on the putting green giving instruction to junior golfers. Membership is up for the club this year and justifiably so. CLICK HERE for a player's view of this golf course.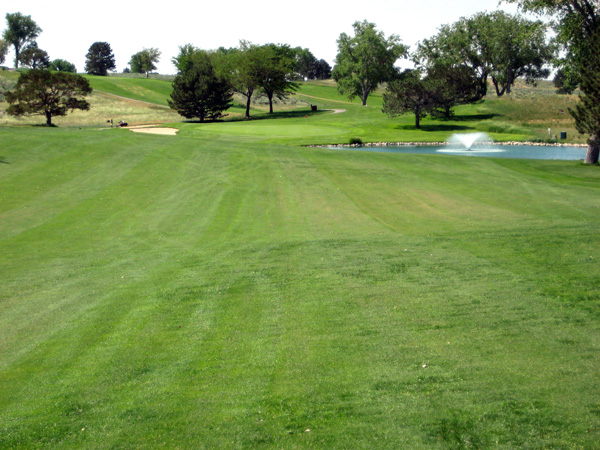 BUFFALO DUNES GOLF COURSE, Garden City, Kansas
A few miles further down Highway 83 is Buffalo Dunes Golf Course. www.buffalodunes.org. The course condition was what I call "country club" condition. The golf course was equal to The Golf Club at Southwind, and for a public golf course this is saying something. Buffalo Dunes is what I call a "land sculpture." It was so enjoyable to just walk it. The Head Golf Professional is Cole Wasinger, PGA, whose golf experience includes the Grand Junction and Wolf Creek Colorado areas. His credentials are direct from the PGA program. He has a strong youth program, as you will see from some of the photos on the Senior Friendly Golf web site COURSE REVIEWS. Cole is also proud of the ethnic mix of golfers who play there. CLICK HERE for a player's view of this golf course.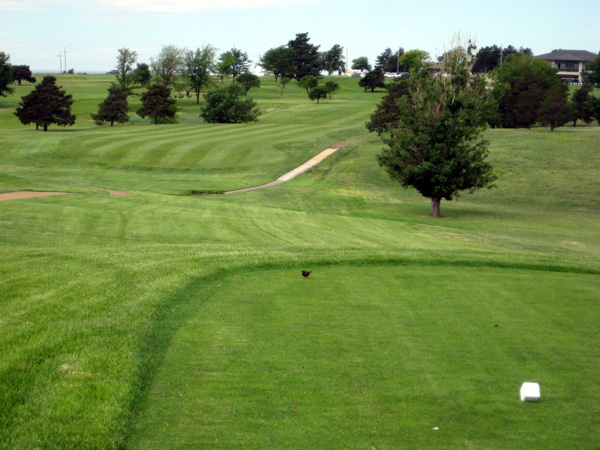 MARIAH HILLS GOLF COURSE, Dodge City, Kansas
Dodge City has a lot of western history, and it was fun to see the "Boot Hill" culture. I love driving through the "old city" parts of cities and towns. The Mariah Hills Golf Course is aptly named "Hills." www.mariahhillgolf.com. The course, with head Golf Professional Chris Robinson, PGA, is very well maintained and another "country club" quality venue. There are many elevations to adjust to as you play this course. Dodge City may be more impacted by the national negative economy than many other areas. Also, demographics in the area are a factor even though green fees are low. Play is down over past years. If you find yourself anywhere near Dodge City, be sure to go play this golf course. CLICK HERE for a player's view of this golf course.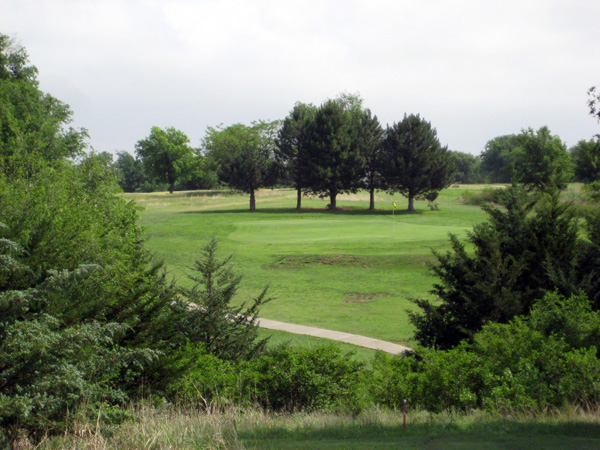 PARK HILLS COUNTRY CLUB, Pratt, Kansas
Pratt, Kansas. The main thing working against the golf courses in this area is that they are difficult to find. In fact, I couldn't. My vehicle GPS did no good as some of the addresses are on highways, which did not respond well to my vehicle GPS or were on streets I was unable to find. Maybe a smart phone would work, but I do not have one. I did locate the Park Hills Country Club. Unfortunately it was closed, as the company owning the club had made a decision to rebuild the club from an 18 hole course to nine holes. I met the construction foreman and his explanation was that the real estate was needed to build new homes. I guess that's a good indication of economic development. I was allowed to take a cart and take photographs around the course. It looks like it will be a wonderful nine when completed. The club house is very old and that will likely be the next challenge for the club. CLICK HERE for a player's view of this golf course.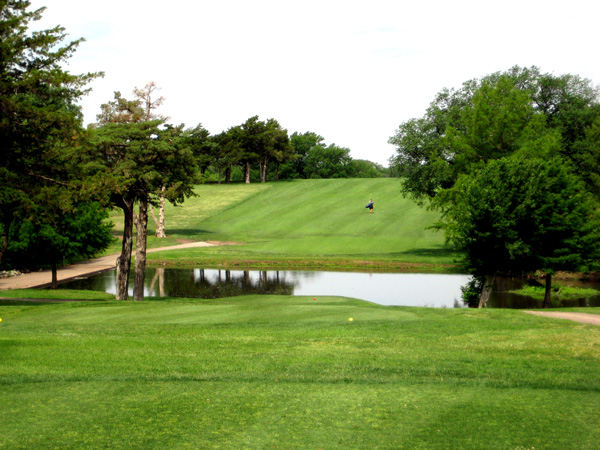 WELLINGTON GOLF COURSE, Wellington, Kansas
Have you ever heard of Wellington, Kansas? Look on a map and you will find it. Drive into the town, and as you enter from the west, you will see an expansive golf course and recreation center. This municipality has done a wonderful job for their citizens' recreation. www.cityofwellington.net. The Director of Golf is Derek J. Harrison, a surprisingly young man who is doing an exceptional job. Derek is not a PGA pro but you would never know it from what you see. By this I am referring to the programs he has going, including youth golf. For his golf training he credits his time at Newman University in Wichita where Gala Davidson was his golf coach. Newman is consistently in the top ten colleges in golf. I was advised that pine beetles had hit the course hard as did drought conditions. New grass and greens had been put in over the past year or so and the course is now in top condition. Derek warned me that most greens were "turtle" back and small compared to other courses. This meant to me that pitch and run was better than using wedges to drop the ball on the greens. I shot one of my best scores of the trip here due to that tip. CLICK HERE for a player's view of this golf course.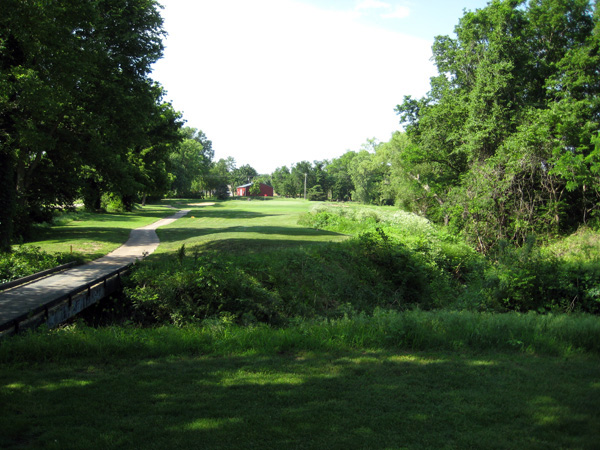 QUAIL RIDGE GOLF COURSE, Winfield, Kansas
When you look up Wellington, look on down the road to the town of Winfield. This is another wonderful surprise, the Quail Ridge Golf Course. www.golfquailridegeonline.com. This course was one of the most challenging of my trip and it too was of top quality. The course is managed by Jim and Marcia Wheatcroft. I was impressed again by the youth program. As I teed off on number one, a bunch of elementary and junior high students were busy on the practice putting green. The course is usually open year round, but this past year the drought forced closure for several months. The course has a good reputation, with strong out-of-area visitors who come to play. Jim makes a good promotional effort to keep play up. CLICK HERE for a player's view of this golf course.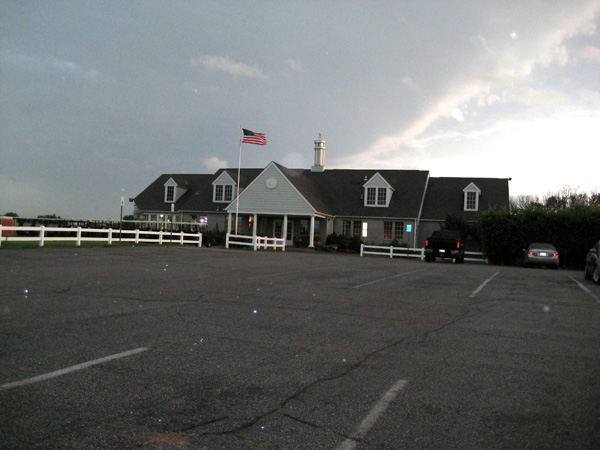 LAKESIDE MEMORIAL GOLF COURSE CLUBHOUSE
By the time I got to Stillwater, Oklahoma, home of the OSU Cowboys, the weather in tornado alley began to change. In fact, I was rained out and did not get to play this course. This started my challenge to stay ahead of the storms. www.stillwatergolf.org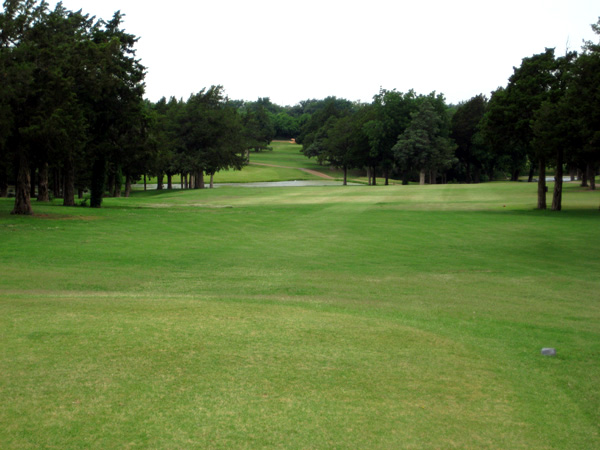 AUGUSTA GOLF COURSE AT CEDAR VALLEY GOLF CLUB, Guthrie, Oklahoma
About nine miles west of Guthrie, Oklahoma is a wonderful four course golf complex known as the Cedar Valley Golf Club. www.cedarvallygolfclub.com. Jeff Martin is the Head Golf Professional and his father, Duffy Martin, built these courses. When you play them you will notice there are no bunkers (sand traps). Duffy's objective was not necessarily to make the courses easy but to make them enjoyable. I had the pleasure of playing the Augusta 18, which you will see in COURSE REVIEWS. I tried playing The International course, but the storms caught up with me on the fourth hole, and I was lucky to find my way back to the clubhouse. Of course number four was the furthest away. I recommend making the Cedar Valley Golf Club a destination. Spend a week in Guthrie and play all the courses.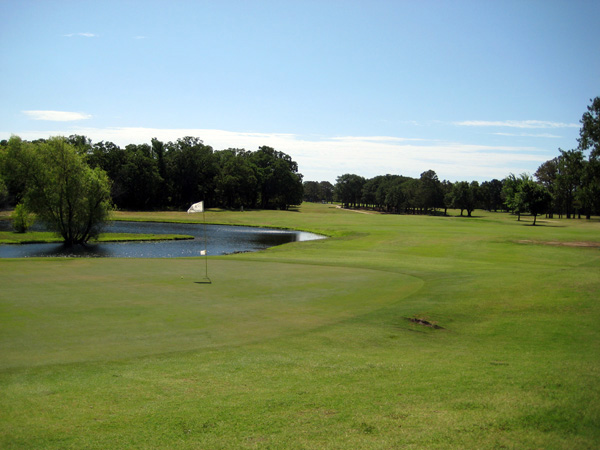 LAKE MURRAY GOLF COURSE, Ardmore, Oklahoma
I packed up early the next morning and took off for the Lake Murray Golf Course in one of the Oklahoma State Parks. www.travelok.com. I was ahead of the storms at last. Wesley Chaney, PGA, is the Manager/Head Professional of this state owned golf course. He received his accreditation directly with the PGA and not through an academy or university program. The course is located outside of Ardmore, three miles east of Highway 35. It is having a great year with new Tip Eagle green surfaces, corporate outings, and junior golf programs. CLICK HERE for a player's view of this golf course.
About this time on my trip, I got a little homesick to see family. My oldest son, John, and his wife, Brenda, live in Ganbury, Texas. My granddaughters Stephanie and Lauren live in Dallas and Burleson. So, I decided to change my plans and drive to the Denton, Texas area and find a motel enroute to Fort Worth just north of Granbury. This meant taking I-35 west. My plan was to spend the night somewhere off I-35 west and play Whitestone Golf course in Benbrook in the morning and afterwards drive on down to Granbury. I ended up driving straight into Granbury. It seems development on I-35 east is where all the action is, not I-35 west. I-35 east is the highway to Dallas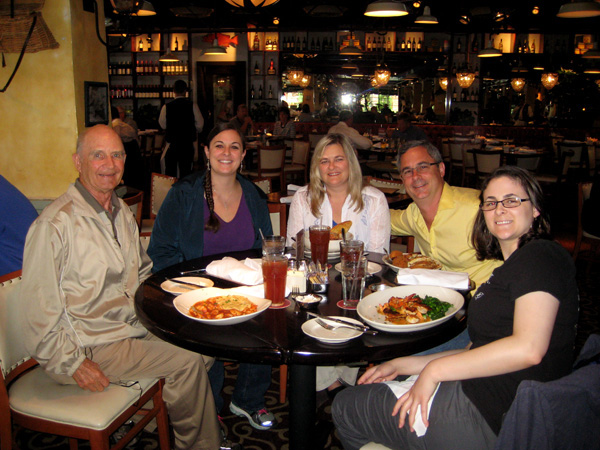 MY FAMILY GATHERING IN TEXAS out for lunch at Pappadeaux in Fort Worth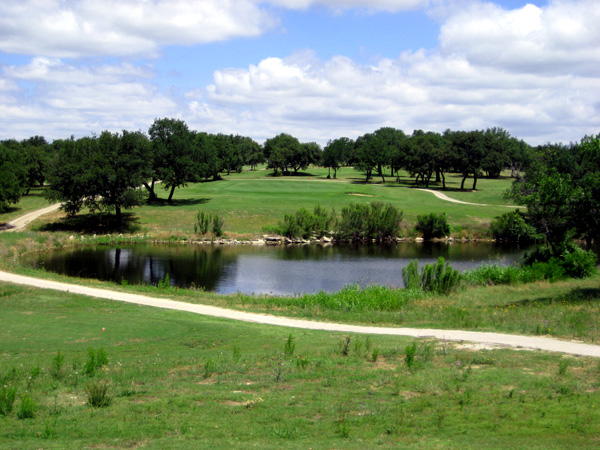 HIDDEN OAKS GOLF COURSE, Granbury, Texas
My son, John, is a senior Emergency Medical Technician at the Dallas Children's Hospital and works out of Love Field transporting sick and injured children. He arranged to take a week's vacation and wanted to get started playing golf again as did his wife. John and I played our first round together at the Hidden Oaks Golf Course about three miles west of Granbury. www.facebook/hiddenoaksgolf Josh Wilks is the Golf Professional. His course has a very successful "after four" program for golfers. I have played this course several times in the past. Course conditions are late coming in this year due to the late spring freeze and ongoing drought. The water supply is from Lake Granbury, which is over ten feet down. The word is that our Army Corps of Engineers is selling water to oil companies for fracking. I have no proof this is true, but I don't doubt it. I went by the Hilton Resort on the lake while I was there and it looked like it is 20 feet down. The boat piers look like three story scaffolding. No way could a boat use them. CLICK HERE for a player's view of this golf course.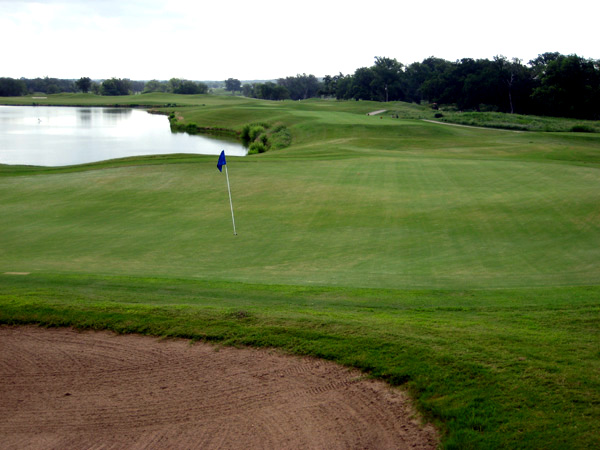 COMANCHE LAKES GOLF COURSE, Squaw Valley, Glen Rose, Texas

APACHE LINKS GOLF COURSE, Squaw Valley, Glen Rose, Texas
Twenty miles southeast of Granbury is the Squaw Valley Golf Course. www.squawvalleygc.com. Actually it is two golf courses, Comanche Lakes and Apache Links. Our government has not discovered it yet to force them to change the name. While playing with a couple of local guys, one told me someone had mentioned to him that to name a golf course area "Squaw" valley was insulting to native Indians. I believe any native American Indian would be proud. The courses are country club quality and offer lots of programs and promotions. Duff Cunningham is the PGA Head Golf Professional. Steve Heppler is the first assistant and Roger Claybaugh the second. A service that is provided concerning water for players is unique. At several locations around the courses iced bottled water is provided with recycle and trash containers available. CLICK HERE for a player's view of this golf course.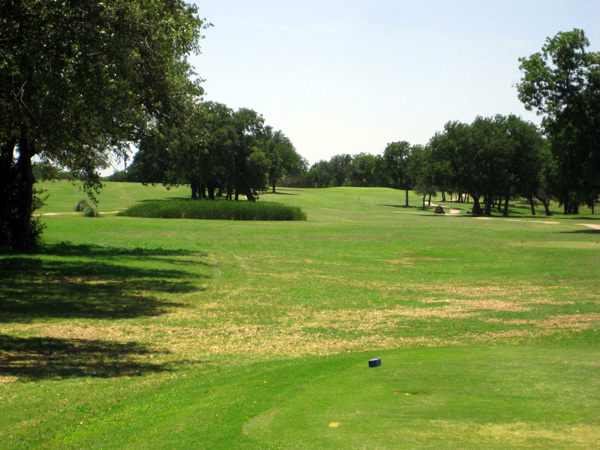 GRANBURY COUNTRY CLUB golf course, Granbury, Texas
The Granbury Country Club is not what the name implies. www.granburycountryclub.com. It is a municipal nine hole course. The club boasts of being a PGA First Tee site, which is great. See www.thefirsttee.org. This is a PGA program with the goal of getting kids, especially underprivileged, into golf. It teaches more than just golf. Check out the site. The course is right on the edge of the town of Granbury and is maintained in good condition. CLICK HERE for a player's view of this golf course.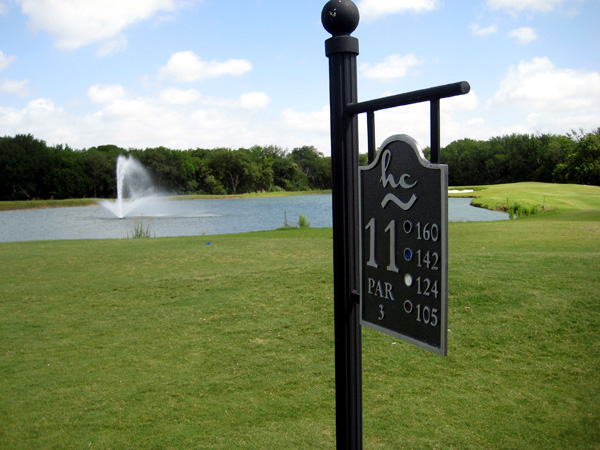 HIDDEN CREEK GOLF COURSE, Burleson, Texas
Since I wanted to play on roads less traveled, I arranged to spend the night in Burleson, Texas with one of my granddaughters, Lauren Darling. I wanted to play the Hidden Creek golf course where Mike Krsnak, PGA, is the club professional. http://tx-burleson.civicplus.com/index.aspx?NID=7 the course was closed for maintenance in the morning, but he provided me a cart to go out and photograph the holes. This is another country club quality municipal golf course. The course also had three new holes, but you would think they had been there for years. Mike offers the PGA "Get Golf Ready" program as well as junior clinics. The city provides water for the course although some of the area lakes are down as much as 20 feet. CLICK HERE for a player's view of this golf course.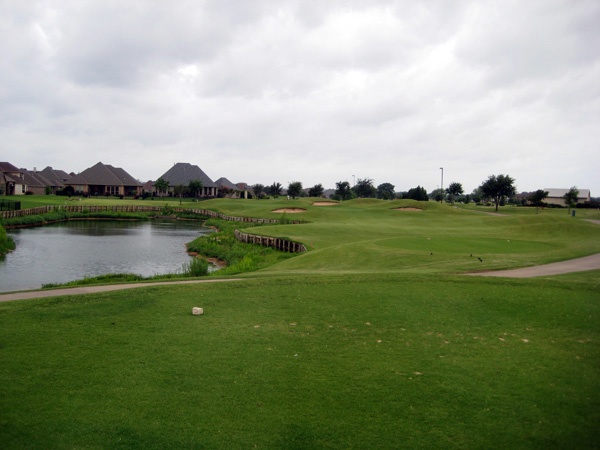 HARBOR LAKES GOLF CLUB, Granbury, Texas
I returned to Granbury and dropped by the Harbor Lakes Golf Club, a country club in an upscale community. www.harborlakesgc.com. They were closed on Mondays, so I went back over Tuesday morning and met Blair Kline, PGA, who is the general Manager and Director of Golf. I had played the course years ago and recall that the rough was native grass of some kind and can grow four feet or more high as well as being very dense. Forget chasing after any ball hit in there. I asked about water for course maintenance since the club was within a mile of Lake Granbury. Blair advised me that the course used gray water from the city, and the plant was located across the street from the golf course. After our interview I joined a threesome to play and photograph the course. As I remembered, it was a suburb layout. The club is private, but I believe they allow reciprocal play if you belong to a country club and have your pro contact Blair. I certainly recommend playing this course if there's any way possible. During our chat, Blair asked if I had played SugarTree up near Dennis, Texas. He highly recommended I do so. Unfortunately, at the time that direction was not on my "Roads Less Traveled" itinerary. CLICK HERE for a player's view of this golf course.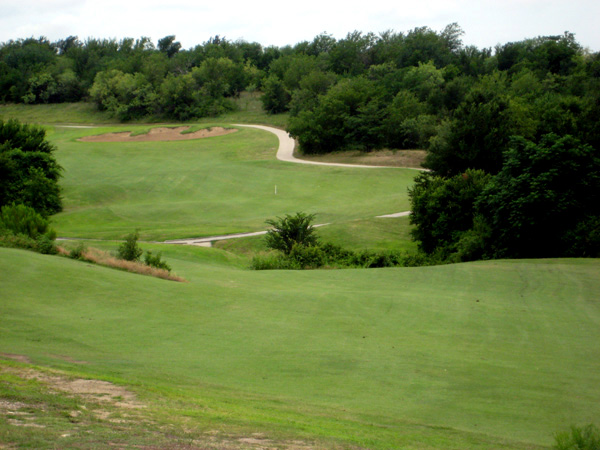 WHITE STONE GOLF CLUB, Benbrook, Texas
When I take trips to see family in Granbury, 30 miles south of Fort Worth, I try to make it a point to drive up to Benbrook on the edge of Cow Town to play the White Stone golf course. www.whitestonegolf.com I began this tradition many years ago when the Somerset Golf Group owned it as well as Lost Creek just west of the city and Mesquite GC east of Dallas. Beryl Artz was the president. Unfortunately he tragically had an untimely death. His wife, Ronda, still maintains ownership. The head golf professional is a nice young fellow, Jared Goff, and the GM is Ron Bouteri. They are all great people. White Stone is a very promotional and competitive operation offering golf deals and products as well as aggressive Internet offerings. There are two military leagues that play twice a week. Play this course. You will not be disappointed. CLICK HERE for a player's view of this golf course.

SUGARTREE GOLF COURSE, Lipan, Texas
www.SugarTreeGolf.com
Since I had spent two weeks, rather than one, traveling out of Granbury to review courses, I decided to make a straight shot back to Colorado Springs. Rather than back tracking through Oklahoma and Kansas or taking my usual rout up to Wichita Falls and over to Amarillo and then over Raton Pass in New Mexico where I-25 would bring me home, I decided to continue the "Roads Less Traveled." This meant I would get up early and drive to play SugarTree as Blair Kline of Harbor Lakes had suggested. I am so glad I did. This course was the most interesting and most challenging of my trip. Many, if not most, fairways were not forgiving. There were numerous dog legs and blind holes. Course conditions were among the best I have seen for this time of the year. I loved it. SugarTree fits one of my main reasons for playing golf. LAND SCULPTURE! An artist must have designed this course. Matt Sommerfield is the Head golf Professional, but I did not get to meet him, as he was off site participating in a tournament somewhere. I did meet Craig Larson, Assistant Pro, who was accommodating. Hats off to the course superintendent Allen Albro. Great Job! By the way, SugarTree is in Lipan, Texas. Ever heard of it? It was on a road less traveled.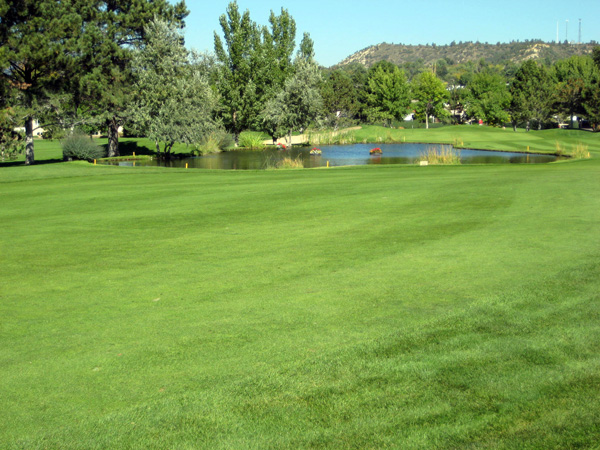 COLORADO SPRINGS COUNTRY CLUB, Colorado Springs, Colorado
www.cscountryclub.com/golf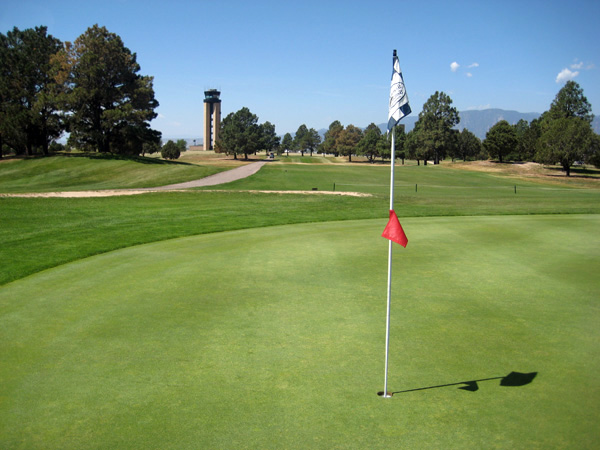 SILVER SPRUCE GOLF COURSE, Peterson Air Force Base, Colorado Springs, Colorado
www.petersonafbgolf.com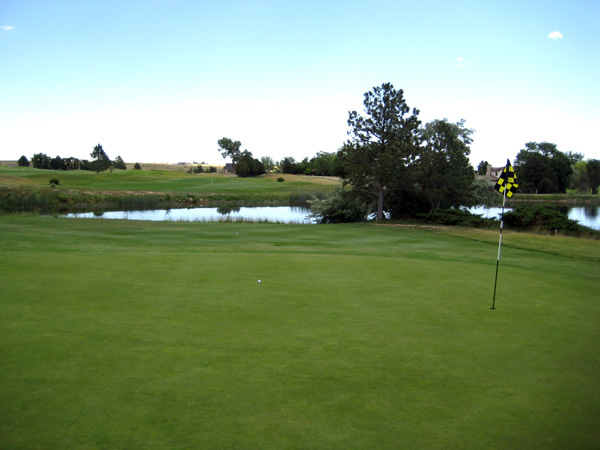 HOLLY DOT GOLF COURSE, Old Colorado City, Colorado
www.hollydotgolf.com
Due to the storms that chased me out of Kansas and down in into Texas, it looked like I might not make my goal of 20 courses in 30 days, so I am counting the Global Action www.globalaction.com charity golf tournament at the Colorado Springs Country Club I played in the day after my arrival back home. I am also throwing in my weekly Wednesday play with the ORBs (Old Retired Bastards) at Silver Spruce Golf Course on the Peterson Air Force Base and just to round out things I'm including the HollyDot Golf Club in Old Colorado City. I play every other week with a bunch of seniors who hit the road somewhere every Monday. On my off other Mondays I play at the Pine Creek Golf Course in the MacKay Cup scramble. You can find all these wonderful courses in COURSE REVIEWS.
That's it. It will probably take me a month to catch up with everything that awaited me when I arrived home on June 29th. I have to get all these course photographs on the Senior Friendly Golf website. I just email everything up to my son, Michael, in Missoula, Montana and he does his magic. Thanks, Michael.
One last thing. I was away from home during both my wife's and my birthday. We planned to celebrate by having dinner at The Colorado Mountain Brewery on Wednesday after my return. When we walked into the Brewery, which serves outstanding food and lots of great microbrews, standing by our table in the bar was my son, Michael and his lovely wife, Andrea. They had driven down from Missoula, Montana to celebrate our birthday in person rather than send a gift. I have never been so surprised in my life…really. What a treat!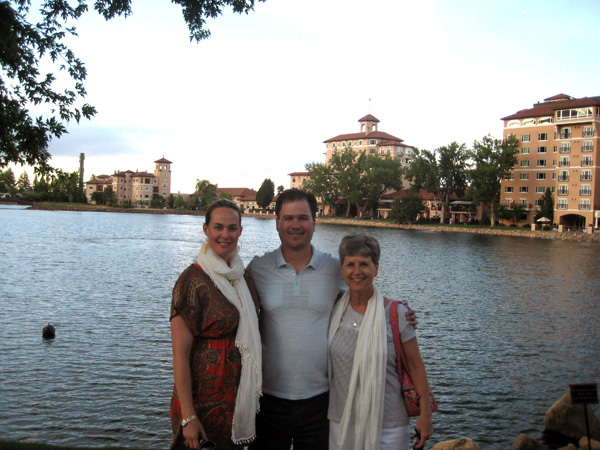 ANDREA, MICHAEL AND MARILYNN AT THE BROADMOOR