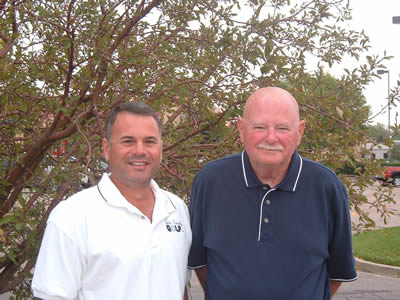 Welcome Mark Bowers and Craig Allen. SeniorFriendlyGolf has just exploded this summer to the point I can no longer handle it's demands by myself. We are very happy to have these two gentlemen join us.
I met Craig several weeks ago when we were playing in the Valley Hi municipal senior championship tournament. Our shotgun start began at the 12th hole. On the par three thirteenth Craig had the honors and knocked the ball in the hole. Our other playing partner, Hal Lindfelt, and I exclaimed, "you just made a hole-in-one!" Craig said he did not think so and that the ball rolled just past the hole. When we arrived at the green there was no ball on the surface. It was in the cup. Craig told us that he had to wait 50 years to get his first hole in one. I hope he does not have to wait until he is 115 to get the next one.
When I was marshalling at The International up at Castle Pines, Colorado, I mentioned to a fellow marshal, Bill Souba, that I was looking for someone to help me with SeniorFriendlyGolf. He told me he might know of someone. Later he sent me Mark Bower's email address. Mark and I got together at Gunther Tudy's restaurant in east Colorado Springs. We discussed the free services and products I provide for tournaments and the other aspects of SeniorFriendlyGolf.
When I first met Mark, I was surprised to find that he is not a senior. In fact, he is only 45 years old. I wondered why he would be willing to join me with my no-profit venture. Was it he loved golf that much or was it because his wife wanted him out of the house more? He is retired Navy with an illustrious career in recruiting. I feel he will enjoy be a Tournament Consulting Associate.
Mark carries an eight handicap. I can hardly wait to watch him play. Playing with low handicap golfers really lifts my game. I don't know when we are going to get a chance to get out together for a round. As Doug Wert, the director of the UCCS PGAPGM program put it last spring when I told him I had not played any golf this year, "welcome to the golf business."