Following our first Golf Tournament Planners Training Seminar on September 30, 2004 I took off the next day to review the eight golf courses in New Mexico that make up the Santa Fe Golf Trail. www.SantaFeTrailGolf.com. This journal entry is an overview of the trip and golf courses. Soon to come, through the genius of our SFG Webmaster, You will be able to go to "COURSE REVIEWS" and see a slide show of each course. It will be well worth your time to travel to New Mexico to play these fine courses. Keep tuned to SeniorFriendlyGolf.com.
I take frequent trips south to see relatives in Arizona and California. This time instead of taking I-25 direct to Albuquerque I decided to take 64, just south of Raton, to Taos, New Mexico. This is a picturesque drive I highly recommend.
The drive to Taos adds about an hour if your destination is Albuquerque, but since the purpose of this trip was the Santa Fe Golf Trail, my first stop was to be the north most courses between Taos and Santa Fe. The drive is very scenic and well worth the detour.
With cameras in hand just north of Taos, I came across this abandoned service station, which evidently doubled as a storage area for related equipment and signs. It just looked interesting to me, how about you?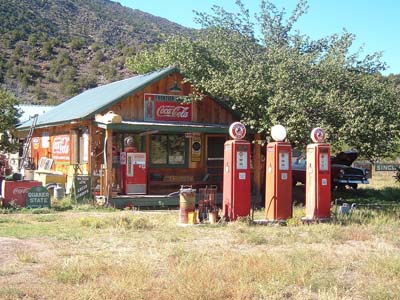 ABANDONED SERVICE STATION
BLACK MESA GOLF CLUB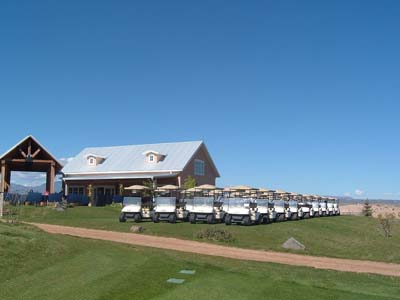 BLACK MESA CLUBHOUSE
Just south of Taos the "Trail" begins with the Black Mesa Golf Course. I missed meeting the head professional, Tom Velarde, who was preparing to go to Colorado to play in a golf tournament. I did meet Matt Sackett, who works in the pro shop. Nice guy and a good ambassador for the club.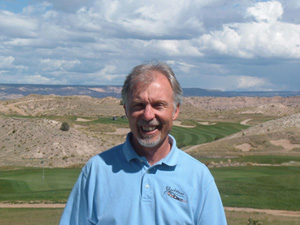 MATT SACKETT AT BLACK MESA GOLF COURSE
I took a cart and drove the course. Now the first thing you need to know is that if you are a high handicap player, leave your woods in the trunk of your car. The course is spectacular to look at, but it is definitely a "target" golf course. I did not get to play it, but next time down I intend to just for the fun and challenge. Many of the holes are blind to the green. Some have white flags on top of the hills to show you the direction to hit. Water is not in abundance, so you won't lose your golf balls that way. If you hit into the desert, you are likely to find your ball sometimes, because the bushes and cactus are fairly well spaced out. I did not see any rattlesnakes or gila monsters, but perhaps they have already gone under ground. Temperatures were in the low 80s this time of year. A temporary SFG rating is 4.6. So that is challenging. Be sure to play it if you can. It's worth the price just to ride a cart through the terrain. It's like being in Disney Land. 505-747-8948 velardeseniorpga@pga.com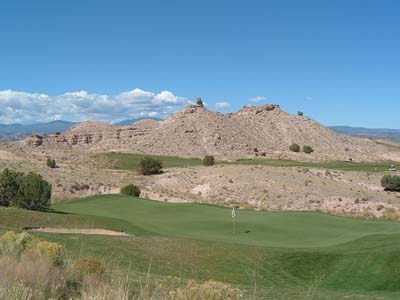 TARGET GOLF AT THE BLACK MESA GOLF COURSE
TOWA GOLF RESORT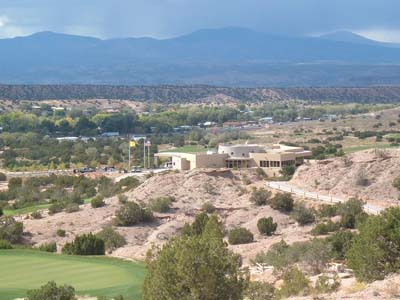 TOWA CLUBHOUSE
On down the road a few miles you will come to the next Santa Fe Golf Trail course. I met the head professional, David Braxton, who was younger than I expected. His pro shop personnel were very personable as well. This course is named Towa Golf Resort and consists of three nines open and one under construction to open in 2006. Towa is a little friendlier than Black Mesa in that there is actually some fairway to shoot at. Let's say Towa is Black Mesa with more grass and there are even some fairways you can fade and draw a little. I believe their signature hole has to be the three par to an island. There are a few higher elevations to concur as well. The temporary SFG rating is 5.5. A challenge, but the scenery is worth the green fee in itself. 1-877-465-2230 dbraxton@towagolf.com.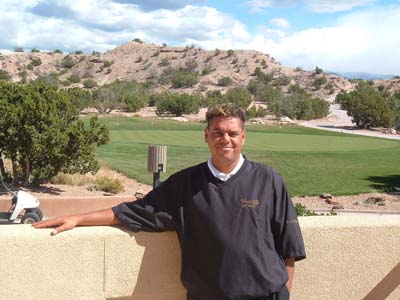 DAVID BRAXTON, HEAD GOLF PROFESSIONAL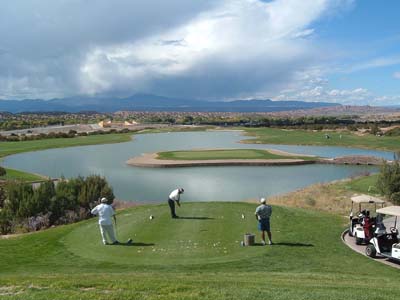 SIGNATURE HOLE NUMBER FOUR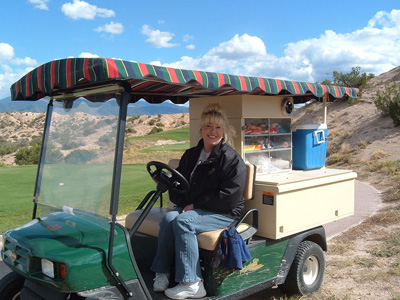 HOLLY FROM RALEIGH….NORTH CAROLINA
SANTA ANA GOLF CLUB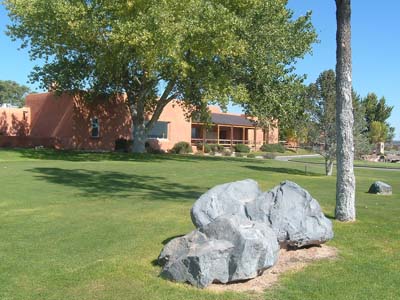 SANTA ANA CLUBHOUSE
Going south on I-25 take the first Bernalillo exit 242 and go west. That's a right turn off the highway. You will pass a casino on your right and the turn is to your right on Tamaya. The first golf course on your right is the Santa Ana Golf Club, which consists of three nine-hole challenges.
The Santa Ana courses, Tamaya, Cheena, and Star are nine holes and offer even more green to enjoy off the tees. It's still desert land, but more grass and rough. Hit into the rough and you are not as likely to find your ball. There is more water to contend with than the two courses north.
The club golf professional, Dave Brown, was not available, but here I met Mark Martanis in person. Mark is the guy you call to arrange bookings and trips to the Santa Fe Golf Trail. backkninegolf@earthlink.net 505-922-1323. The preliminary SFG rating for Santa Ana is 6.5 Dave Brown 505-867-9464. davebrown@santanagolf.com.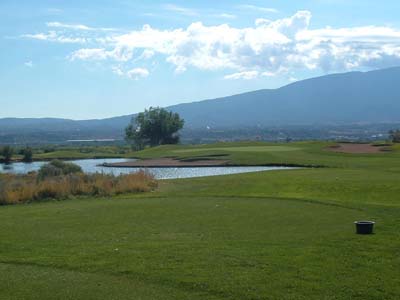 SANTA ANA TAMAYA PAR THREE
TWIN WARRIORS GOLF CLUB

TWIN WARRIORS CLUBHOUSE
Drive on up the road about a mile past a large recreation area on the left and you come to the gate of the Hyatt Golf Resort where you will find the Twin Warriors Golf Club. The course is 18 holes, not two separate golf courses, as the name might indicate. That's what I thought since I had seen Towa's three nine-holers with one to grow on.
The Twin Warriors course was plusher than the others I had previously visited. Rightly so, since it is a Hyatt resort. It is the most expensive on the golf trail as well. The head professional is Derek Guittierrez who was not available. He has communicated with me since by email and invited me back. Derek, I may well take you up on that. 505-771-6155 derek@santaanagolf.com.
Anyway, I was given a cart to trek around the course. While taking photos I met Henry Baray and his son, Paul. I love to see fathers and sons out on the golf course together.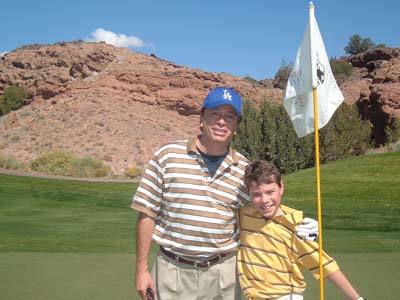 HENRY AND PAUL BARAY
The signature hole has to be the three-par number four. It was beautiful and quite a challenge. There are lots of links type holes to test your skills out 150 yards plus. In fact, most of the trail courses are bad news for players who have a habit of topping the ball off the tee. The exceptions are the UNM and Cochiti courses. The temporary SFG rating is 5.9.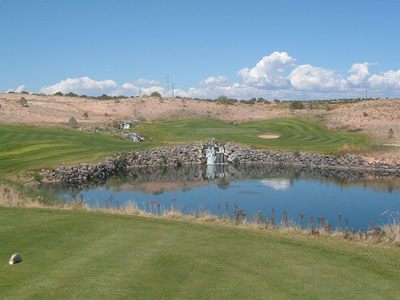 TWIN WARRIOR SIGNATURE HOLE NUMBER FOUR
PAA-KO RIDGE GOLF CLUB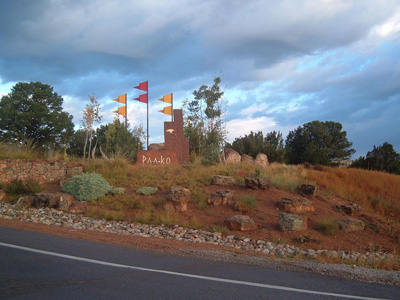 PAA-KO RIDGE COMMUNITY ENTRANCE
By now it's Sunday and I am not sure where I am, but on Monday I go east on I-40 to the backside of the Sandia Crest Mountain. About 30 minutes out of town and north on state road 14 you will see a housing development sign for the Paa-Ko Ridge Community.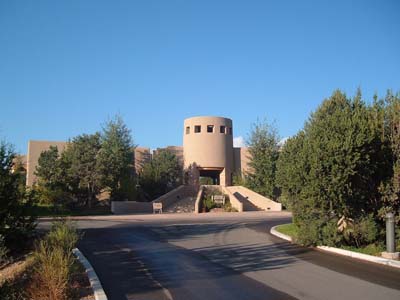 PAA-KO RIDGE CLUBHOUSE
This is the most spectacular of the eight golf trail courses. It is just breathtaking. It reminds me of the Golf Club at Bear Dance at Larkspur north of Colorado Springs, but with more fairway and more hills. The head professional, Warren Lehr, was in the next day when I came back to play this beautiful course and we had a nice visit about the UCCS PGA/PGM program, SeniorFriendlyGolf.com, and Advantage Golf of Colorado.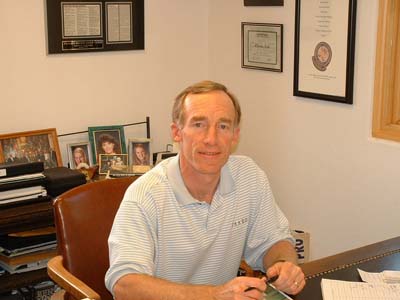 WARREN LEHR HEAD GOLF PROFESSIONAL
I don't know exactly what hole is the signature hole, but course marshals kept reminding me to go to the top of holes number 16 and 17. They were right, especially about number 16. The rough is green but deep. One friendly thing about the course is that there are no out of bounds. However, good luck finding your ball and hitting it out. I lost six balls and found 23. That tells you how much time I spent in the rough. Best to take the stoke for unplayable lie or lost ball.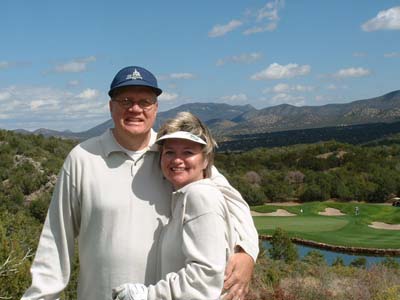 MY PLAYING PARTNERS AT PAA-KO GOLF RESORT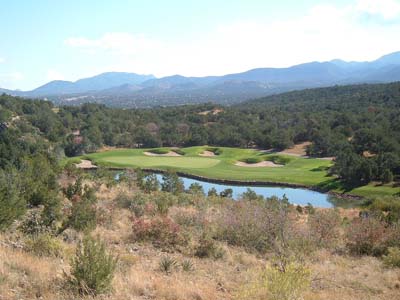 PAA-KO RIDGE SIGNATURE HOLE #16
Other nice folks I met at the course were Joey Castanedo, who gave me great directions to get to the course, and Ramon Valdez, Shane Crabtree, Dave Harris, Jerry Weber, a starter who gave me some great history about the course, Bill Nickell, Ed Beebe, Bill Maguire, who took me around the new nine holes to open in 2005, and Rob Murphy, who is the superintendent of the golf course. Rob went to Iowa and then got his agronomy degree from Rutgers. As I left the course I met Shane Neff and Suzanne Camp, the attendants at the bag drop. The temporary SFG rating is 5.4. It's a tough course, but don't miss it.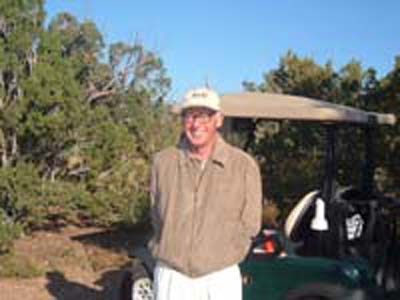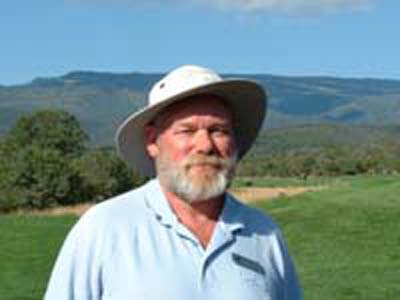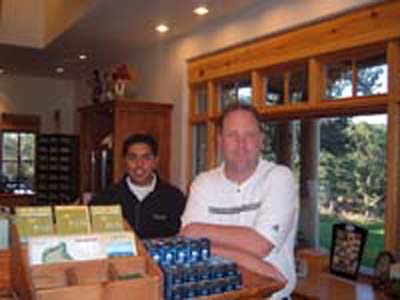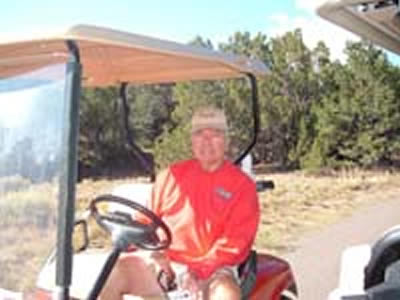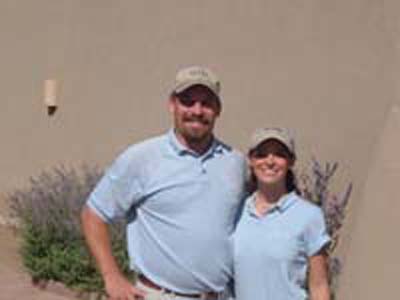 ISLETA EAGLE GOLF COURSE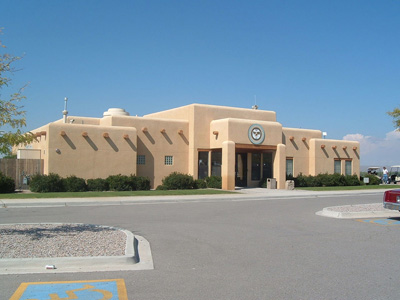 ISLETA EAGLE GOLF COURSE CLUB HOUSE
Wednesday I drove down to the Isleta Eagle golf course south of Albuquerque. The head professional is Mike Ciolek, but he was not available and I was unable to take any photos without the governor's office permission. Seems there are some sensitive areas where photographs are not allowed. The first assistant golf professional, Ross M. duPlessis accepted the information I had available and promised to email several photos to me for an absentee course review. As you can see below he did so.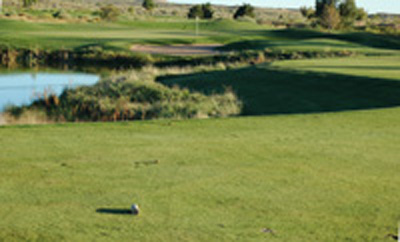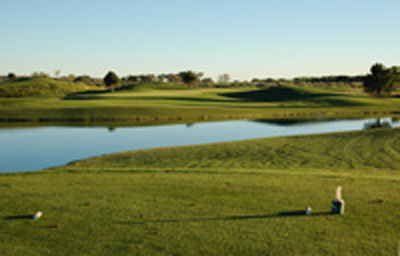 SOME OF THE HOLES ON THE ISLETA EAGLE GOLF COURSE
THE UNIVERSITY OF NEW MEXICO CHAMPIONSHIP GOLF COURSE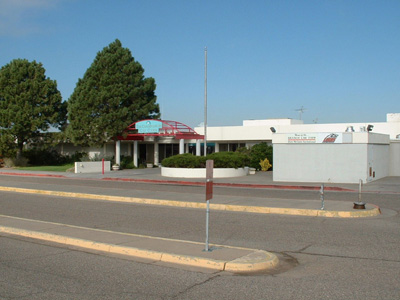 THE UNIVERSITY OF NEW MEXICO CHAMPIONSHIP GOLF COURSE CLUBHOUSE
After stopping at the Isleta golf course, I drove up to the University of New Mexico Championship Golf Course, where the Tucker Intercollegiate Golf Tournament had just been held. The Tucker is the oldest collegiate tournament in the country. UNLV won the event and Arizona took second. The tournament is the first of the year and is usually held the last part of September. It was delayed this year since the collegians were competing in Japan. In that one Arizona took top honors. Two of our Country's top amateurs competed, Ryan Moore and Spencer Levine. Ryan won the individual competition.
On Tuesday I returned to take a golf cart around the course and take photos. The Director of Golf at the University of New Mexico, George Trujeque, was very accommodating and we spent a lot of time together discussing college golf and the Santa Fe Golf Trail's history. George is the coordinator for the Santa Fe Golf Trail. I really did enjoy getting to know him and his staff, which on Wednesday included Mark Magtanis. As you will recall from above, Mark is the guy you call to arrange your golf trip through the trail. backkninegolf@earthlink.net 505-922-1323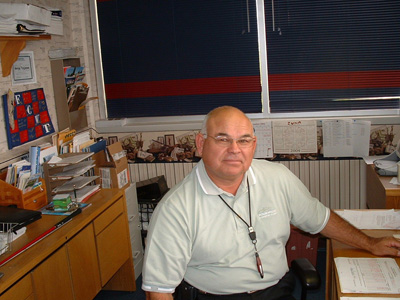 GEORGE TRUJEQUE, DIRECTOR OF GOLF AT THE UNIVERSITY OF NEW MEXICO AND THE SANTA FE GOLF TRAIL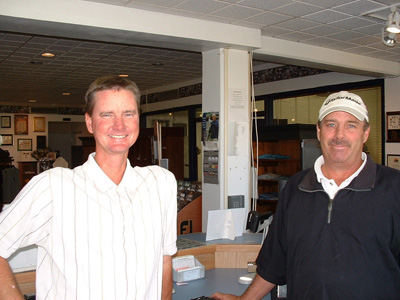 MATT AND JEFF IN THE PRO SHOP
The UNM Championship course has plenty of fairway and lots of ups and downs. I believe there are about two holes, which could be considered level. I don't know which hole was my favorite, but I really enjoyed playing this course and recommend it to anyone. Its temporary SFG rating is 6.3.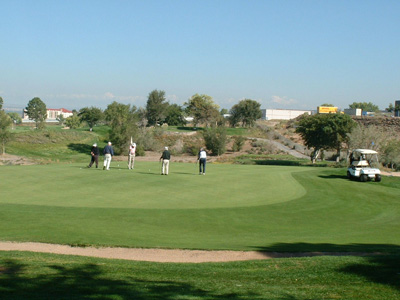 UNM GOLF SIGNATURE HOLE NUMBER EIGHT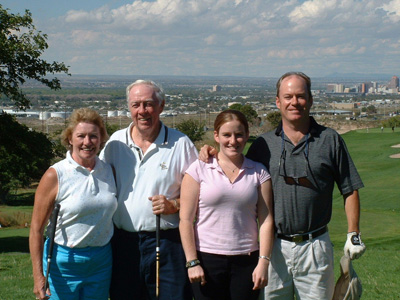 THE DAVIS FAMILY, MY PLAYING PARTNERS, AT THE UNM GOLF COURSE
The views of Albuquerque in the distance are great, and if you happened to be available this week at sunrise you would have seen hundreds of hot air balloons taking off. Yep, I hit the area right in the middle of the 2004 Balloon Festival, which doubled and tripled hotel rates. Best Western wanted $99 for their usual $49 rooms. Guess what hotel chain I will be avoiding in the future.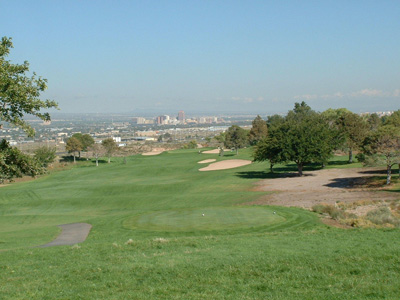 A VIEW OF ALBUQUERQUE FROM THE UNM GOLF COURSE
Back to the UNM Championship Golf Course. Ever heard the term "frequent flyer?" If you are a golfer who must have quiet to swing a club, tough luck. The golf course is in the flight path of the Albuquerque airport as well as Kirkland Air Force Base. The frequent flyers include Southwest as well as private planes and military aircraft.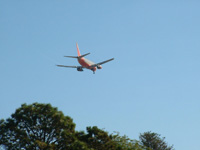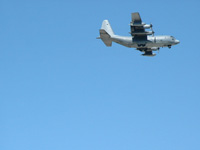 SOUTHWEST AIRLINES & MILIRARY PLANES FROM KIRKLAND AFB
PUEBLO DE COCHITI GOLF COURSE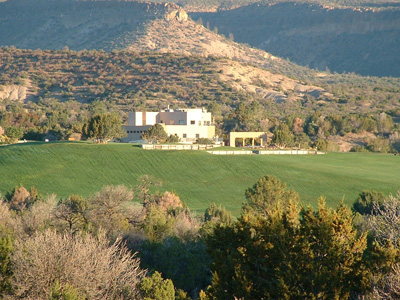 PUEBLO DE COCHITI CLUBHOUSE
I had planned to drive down to Phoenix the afternoon after playing the UNM course, but since I had invested so much time in the other seven golf courses on the Trail, I felt it unfair not to go back up north of Albuquerque to review the Pueblo de Cochiti Robert Trent Jones, Jr. course again. I had played it before (seen ARCHIVES article #19 on www.SeniorFriendlyGolf.com). Eva was there to greet me at the pro shop and I met Maggie, the starter. Both are delightful ladies.

EVA AND MAGGIE AT THE PRO SHOP
This was Thursday and I got up early and drove out to the course and was paired up with three gentlemen waiting on the first tee. The trio included two gentlemen who were Marshals at Twin Warriors golf course.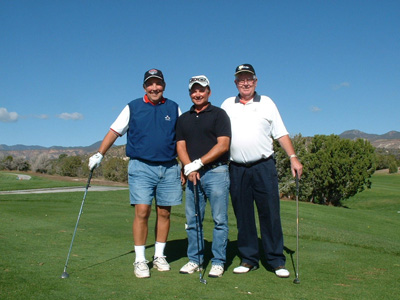 MY PLAYING PARTNERS GREG DE COURSE, RON JACOB AND JOHN KRUSICK
When we teed off the first thing I noticed was that the fairway was cut like the frog hair around the greens on most courses. I was psyched out. I was reluctant to take a divot. The greens were great too and the temperature stayed in the 60s.
When my player partners found out what I was doing, they were curious and offered to buy me a sandwich when we finished our round. I ordered a chili cheeseburger. Guess what, when they say "chili" in New Mexico they do not mean the tasty beef and red chili sauce one might expect. I got a chopped green chili garnish atop my burger. I politely ate it and then downed a pint of cold water and put some chap stick on my lips upon leaving. The SFG temporary rating is 6.6.
I enjoyed to trip and you will too…John K. Darling, Founder SeniiorFriendlyGolf
WATCH FOR GOLF COURSE REVIEWS OF EACH SANTA FE GOLF TRAIL GOLF COURSE SOON. YOU WILL HAVE A SLIDE SHOW OF EACH TO WATCH AND CHOOSE THE ONES YOU WANT TO TAKE ON