| | |
| --- | --- |
| Life After 50 readers scroll down for more Falcon Ridge and Palms golf course photos. | |
DAY ONE DRIVE TO THE OASIS HOTEL AND CASIO
At 2:30am on Monday, January 10th I wake up. Do you ever do that? Set your alarm for, like 4:00am, so you can get up in time to make a trip somewhere and then you wake up hours before and lie there wishing you could go back to sleep but are afraid to because you are not certain the alarm will go off. Or worse yet, you don't want to hear that aggravating noise that catapults you out of a sound sleep so you just doze with one eye open watching the clock. That happened to me on the eve of departing for the 2005 Argonauts golf trip to Mesquite, Nevada.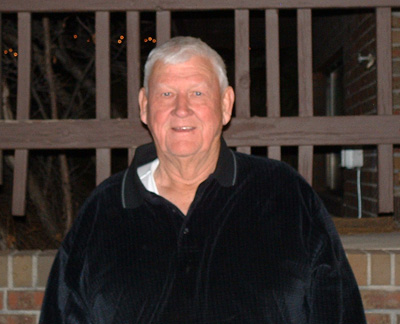 STAN THORP, TOURNAMENT COORDINATOR
Stan Thorp has been planning and conducting these trips for many years and this year was no exception. Of course there was a challenge, since both the east and west United States were experiencing heavy rain and snow. Los Angeles was getting day after day five inches or more pouring rain while the ski areas in the Sierra Madres welcomed, and then unwelcomed, up to 10 fee of snow on some days. While the Colorado Mountains had their share of participation, it did not measure up to other parts of the country.
I departed Colorado Springs with three other gentlemen, Ron Solomon, Jerry Davenport, and Tom Anderson. We went in Tom's Tahoe, which provided plenty of room for golf clubs and luggage. The trip was about 750 miles and we figured 12 hours, which was just about right. Of course we drove in fog and rain for about 500 of those miles. The weather started getting testy as we ascended Vail pass and there was very little letup from there on. Little did we know that not only California, but also Utah and Nevada were experiencing record weather assaults.
We checked in at the Oasis Hotel and Casino at sundown and welcomed others of our group of 51 for a while at a reception and organization get together. I roomed with Jerry, and we got to bed early in anticipation of getting to the Casa Blanca golf course early in the morning but the destination had changed. That golf course was under water so we were directed to a new course, Falcon Ridge.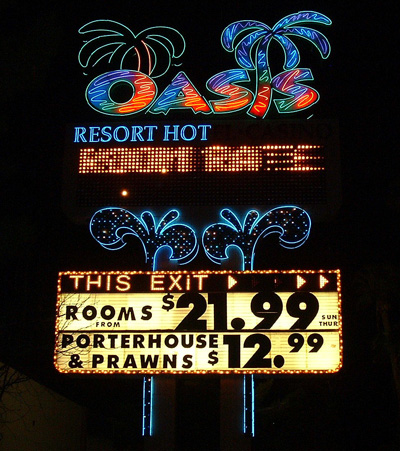 THEIR SIGN COULD USE A LITTLE WORK
The Garden Café is the breakfast place at in the Oasis. The Duces Wild $1.99 breakfast is a good bet, usually. Upon arriving at the café, I noticed three gentlemen were already there, namely Clayton Chisholm, John Bloom and Rich Lybolt. They graciously posed for my first photo of the trip while I waited for our travel group to arrive.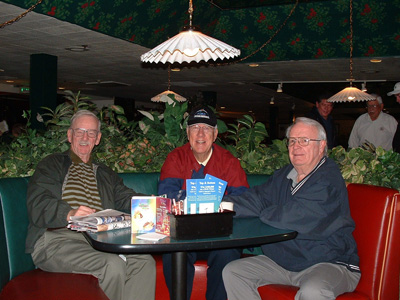 I mentioned that the breakfast was usually a good bet. I guess we angered the cook or the waitress. When we received our two eggs, bacon and pancakes the four of us asked that our almost raw bacon be recooked to done or crispy. Take a look at what they considered crispy. I can't believe we tipped the waitress.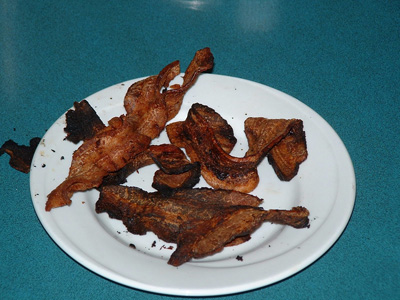 DAY TWO AT FALCON RIDGE
We arrived late for our first tee time, but no matter. The weather was so terrible that one by one our foursomes got to tee off into 50 mile an hour winds with intermittent horizontal spits of rain. My playing partner convinced me we should rent a rain/wind cover for our cart. Best decision of the day, with the excepting of choosing my seven wood on hole number 14. More about that later.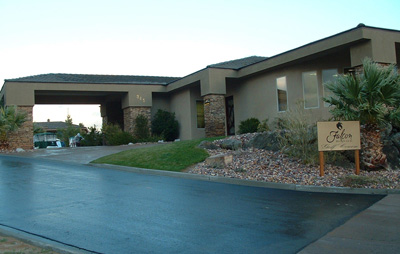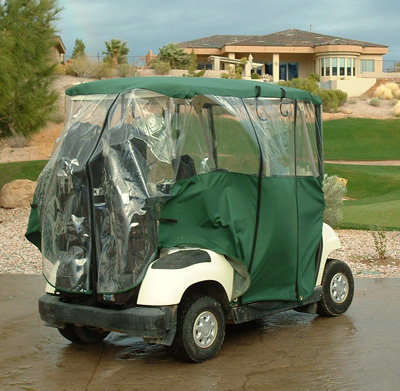 On the first tee one could literally lean into the wind at an angle and not fall over. My playing partner told me to take him back to the clubhouse and that he came on the trip to enjoy himself, and that playing in these conditions was not enjoying himself. While the temperature was in the high thirty degrees, the wind was about 50 MPH. Do the math. The wind chill, especially with occasional rain, was brutal. Pardon me, but the wind was so hard, it could blow the snot out of your nose (I know that sounds gross, but that's the best description I can come up with, and it is accurate because it did).
So our threesome ventured into the unknown. This was a new course we had never played before. My playing partners were Babe Humphrey, owner of the Chuck Wagon restaurant in Jackson Hole, and Willie Roe, one of the starters at Patty Jewett golf course in Colorado Springs. None of us had played this new course which has been open about a year, if that long. The course was in excellent condition, even with all the rain that had flooded the Casa Blanca golf course where we expected to play. Of course all three of us pulled or pushed our first drives pretty much out of play.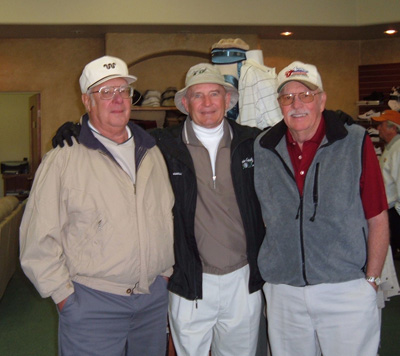 WILLIE, JOHN, BABE
To follow are a number of the more picturesque holes, but first, about the photo at the beginning of today's article. That's me, and I got my first hole-in-one using a Dunlap seven wood, which I bought at Walmart on eighth street and a Nike "OPON" golf ball. I would also like to give my thanks and appreciation to the following companies. Nike for my golf shoes, Reebok for the jogging suit I wore over my Target stores Cherokee khakis, Ashworth wind shirt, Footjoy for my winter weather left-and-right golf gloves and my Croft&Barrow mock turtle neck (really comfortable) from Kohls. I don't know who made my socks, but I wore Jockey undershorts.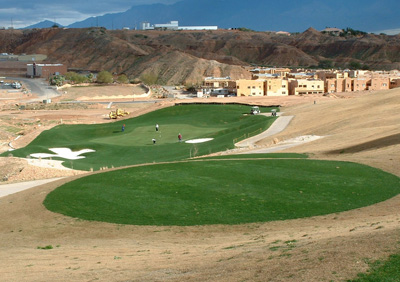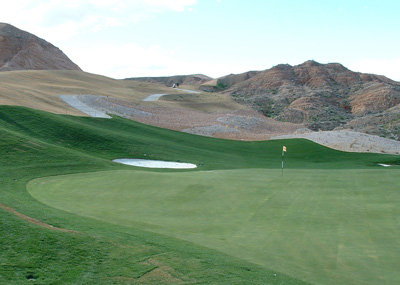 NUMBER 14 184 YARDS WHERE THE HOLD-IN-ONE HAPPENED
I phoned my wife, Marilynn, that night and she was more excited than I was. Whenever I accomplish something on the golf course I always tell her about the bad stuff after. This time my bad stuff, of which I am very proud, was that I ran the table today or hit a cycle as they say in baseball. Of all my scoring I had a 1, 2, 3, 4, 5, 6, 7, 8, and 9 during this day of play. Ugh! I shot a 108. Better luck tomorrow.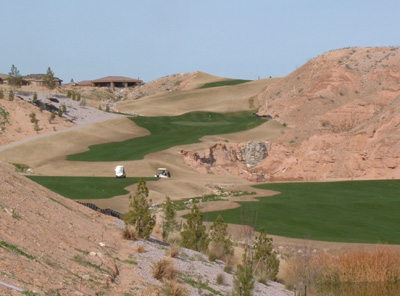 NUMBER 10 HAS TO BE THE SIGNITURE HOLE
DAY THREE: The Palms Golf course.
What a difference a day makes. Sunny cloudless skies with the temperature above fifty degrees. My playing partners included Babe Humphrey again, Don Hill, and Rudy Benevidez. Don was my draw partner the first day and believe it or not we won a low net prize. Just enough for a couple of beers. I took lots of digital photos and then accidentally deleted them all, so the only one I have is of the clubhouse. Fortunately my roommate, Jerry Davenport, took several so I give him credit for those, which follow.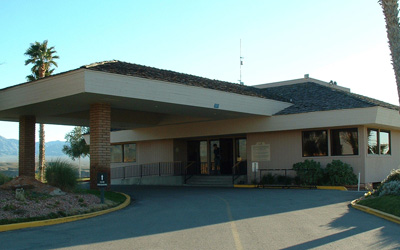 PALMS CLUBHOUSE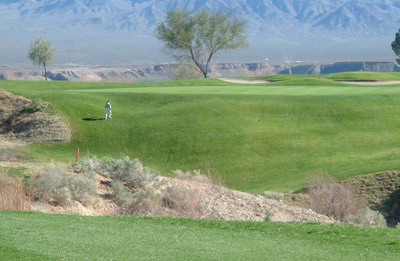 THREE PAR NUMBER 14
While we all lamented our hardships with the rain and wind on day one, the residents of the lower area near the Virgin River really had it tough. The 100-year flood caused evacuation of a large number of their homes. Jerry caught this photo from the golf course looking back to the inflow of the Virgin River.

50 YEAR RAIN CAUSES HOME EVACUATIONS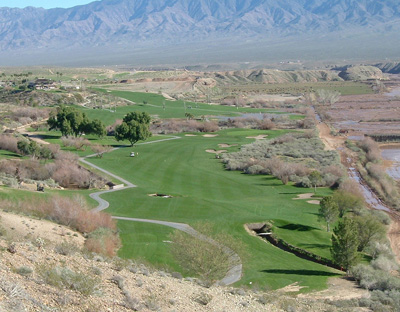 NUMBER 15 FIVE PAR WITH 200+ FEET ELEVATION
Tonight is the night we all gathered around a dollar slot machine. The tradition is for everyone to contribute $10 and this year that amount was $510. We run the dollars through the machine one time and then split the spoils. This year Sam Cameron hit a $300 payoff and then Arnold Butler covered that by hitting a $500 jack pot. So we all got back $22.15 each. By the way, if you wonder why there are no photos of inside the casino it's because there is a policy, maybe a law, that photos are not allowed inside the casino, of any of the cameing equipment.
DAY FOUR (back at Falcon Ridge)
Due to the still flooded Casa Blanca golf course, we were back at Falcon Ridge for a shotgun start at 9:00am. This day was a little chilly but no wind and no rain. I teamed up with Tom Mannino, who was my absentee cart partner the first day. Also in our foursome was Bill and Thurman, alias Wilber and Orville, Wright. We had lots of fun, but our scores were not our best. In fact, sadly, I shot another 108 without the birdie and hole-in-one I had the first time around.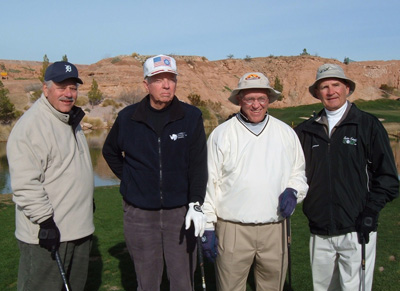 TOM MANNINO, THURMAN & BILL WRIGHT, JOHN DARLING
I'll give Falcon Ridge a preliminary 4.4 Senior Friendly rating on a scale of 10 for very friendly and 1 for very challenging. They do have a USGA course rating of 67.3 and slope of 120. That's difficult to figure out, so I just rate on the one to ten scale. If the SFG rating is over five or six, the course is friendly. Below five the challenge may not justify the investment to play a course unless you know what's coming.
DAY FIVE: HOMEWARD BOUND
We started our trip at 8:00am with hopes all the roads back were still passable. I heard on the news that I-15 into Utah had some bridges washed out. Fortunately the damage was north of our I-70 turnoff back to Colorado. We arrived safely back in Colorado Springs around 9:00pm. So that's the story for 2005.
John can be reached by email at GolfGuy@SeniorFriendlyGolf.com or 719-520-5991.