Last February when I attended the Denver Golf Expo I assisted at the Advantage Golf booth. When I broke for lunch, I happened to sit across a table with a fellow senior, Mr. Knudson. During our conversation he mentioned that his son, Michael, had a booth to display his line of new concept putters. After lunch I moseyed down to meet Mike and see his creations. After the expo I published journal article #47, which you can find by clicking on the ARCHIVES link on our home page. A couple of months later I received a message from Michael advising me he would be up from Denver and would like to meet me. So we met at the Starbucks on the corner of 31st street and west Colorado Avenue.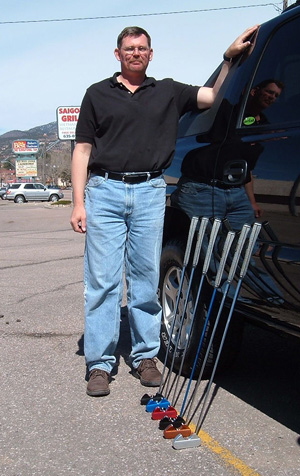 Michael works in the Colorado oil fields, and when he is not rough necking he is in his shop creating his putters. I was delighted to know that in fact there is still oil drilling in our country. Too bad we have not built a new refinery in 25 years. Wake up America!
Over a cup of coffee we discussed his innovative approach to building putters. Basically there are five variations. The focal point of each putter is the "sweet spot." Did you know putters have a "sweet spot?" The term generally applies to woods and irons, and all club manufacturers strive to develop one or more sweet spots on a club to help us duffers hit the ball farther and straighter.
Let me digress a moment. I know there is something to the "sweet spot" theory and club manufacturers have proven this by enjoying an ever-expanding market for their new clubs each year. I was using some generic driver with little success. I bought a Nike 350 and the sweet spot worked. My drives were immediately straighter and longer. I guess equipment does make a difference.
The sportKnuts putters come in five varieties according to club head weight. The weight is centered on the "sweet spot," or center, of the putting blade. The unweighted club, known as the "Anxiety," is a blade putter that weighs 208 grams and is unweighted. This club is designed to keep the putter head square to the ball. The other putters are mallet style. The "Excitement" comes in two weights, 260 and 375 grams. A weighted ball that centers on the "sweet spot" accomplishes the weighting. The third club weighs 429 grams and is named the "Conquer." This club has two weight balls centered behind the putter blade's sweet spot. The last in the line is the "Triumph." It weighs 429 grams too, but the smaller weight slides back and fourth so on long putts the inner small weight actually slides forward at the moment of impact to enhance propelling the ball.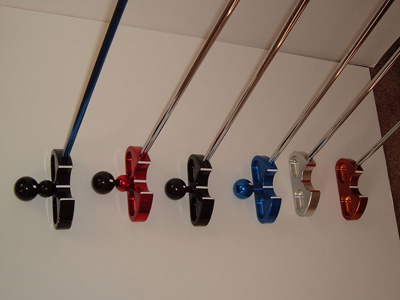 Another feature of sportKnut's putters is the markings on top of the putter. You may be familiar with some of the new putters over the last couple of years that have an extended back area with one, two or three white circles simulating golf balls. I believe White Hot was the first to use this innovation to help players line up their putts. Note on the top of sportKnut's putters there are three lines, or scores, so you can line up not only one but three lines to set up for your putt.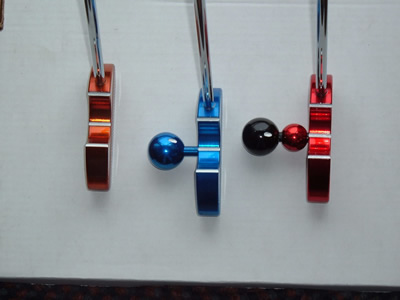 Michael left me with one of each of his putters plus one extra blade putter. My intent was to introduce his line of putters at one of our golf tournament planners training seminars, of which we have successfully held three this golf off-season.
Once I got home from our meeting I quickly set up my putting range, my living room, with an automatic ball return and tried out all the variations of sportKnut's putters. For me, the unweighted putters worked best, but that's on a carpet. On an actual golf course I suspect the 260-degree "Excitement" will work best, especially on longer putts.
One reason Michael wanted to meet with me was to discuss not only his putters but also how he might market them. After some thought, my advice would be to share the company ownership with a known professional that would use one in tournament play. Due to the nature of his clubs, i.e., they need to be fitted to each person buying them, they might have to be fitted and sold by golf course professionals who sell clubs. In the latter case, he might have to convince an established club manufacturer to buy or share his patent.
One thing the club really has working for it is its appearance. It's a striking and pretty putter. I have always loved bright and sparkling colors. Good luck, Michael. In the words of Payne Stewart, "The thing about dreams is sometimes you get to live 'em out."
PS: Pricing is:
$179 for the Anxiety 208 grams
$219 for the either of the Excitement 260 or 375 gram
$239 for the Conquer 429 gram
$239 for the Triumph 429 gram
Mention that you read about these putters and Michael may give you 25% off. You can specify the color: clear (silver), red, black, blue or copper. To order call Richard at 303-810-1686 or email rchrdbgnt@aol.com.
---
John K. Darling, Founder of SeniorFriendlyGolf may be contacted by email at GolfGuy@SeniorFriendlyGolf.com or mail to P.O. Box 38951, Colorado Springs, CO 80937.