THE FOUNDER AND NEW NEW OWNER
A couple of times a year I journey down to Phoenix to collect golf memories and editorial fodder for my articles. I try not to miss golfing in New Mexico on the way. The average golf traveler might overlook these exceptional golf courses. On this trip I had the pleasure of touring the Magique golf club manufacturing facility located in Tempe. www.magiquegolf.com.
Bill and Kathy Cornelius started Magique Golf in 1985. Kathy is a charter member of the LPGA who helped start the LPGA both as an innovator and player participant. Another party acquired the company in 1999 and it lost ground in its quest to build custom fitted tools for golf (golf clubs). Come April 9th this year the new owners, Sean Sheppard, president, and brother Heath celebrated their company's first anniversary as the new owners.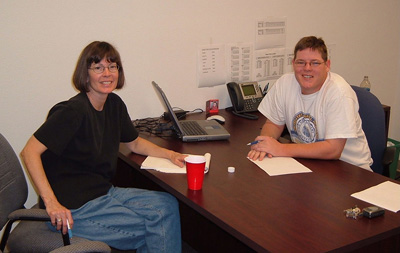 KAREN (CORNELLIUS) MECKER AND HEATH SHEPPARD
A key part of Magique's current marketing plan is their arrangement with Advantage Golf, a national tournament-planning company, to give away custom fitted rescue, or recovery, woods which take the place of those long irons most of us cannot appreciate anyway. If you don't have access to a tournament served by Advantage Golf, send me an email and I will send you a certificate so you can have one made for yourself….Free! Email: GolfGuy@SeniorFriendlyGolf.com.
The marketing objective of Magique is to get a performance fitted club in your hands that will hopefully yield the purchase of a set of customized irons or woods. I had already ordered my recovery club, and when I arrived, I learned that it had just been shipped. I look forward to using the club with its 21-degree loft. If you read a few articles back, you will note that I made a hole in one with my 22 degree seven wood. Anyway, I bought a new driver after being fitted, which will be shipped later.
Let's talk a bit about these clubs. Sean Sheppard is the innovator of the new Magique line. Just who and why is this guy? He was formerly the Director of Instruction for John Jacobs Golf Schools. During seven years in this capacity Sean noticed a number of consistencies among students of all skill levels. It's all technical to me, but what it boils down to is that club heads and flex points on shafts for us (I use this term loosely) bogey golfers are different from those golf professionals and scratch golfers prefer. Magique has identified those customer- focused specifications and is ready to serve us.
I enjoyed my short tour of the facility where I observed Greg Brown constructing several custom orders. I also metTim Borchand who has worked at both the Colorado Springs Country Club and the Pine Creek golf course in Colorado.
| | |
| --- | --- |
| GREG BROWN | TIM BORCHAND |
I have had lines of communications with other custom club makers, so I asked what a set of irons would cost and was quoted $499. Magique is under that range with its steel shafts at $399 and the same with graphite at $499. My driver is from what is known as the "Blue Steel" line. Woods come in 1, 3, 5, 7, and 9 verities. I opted for the top of the line M400, which is competitive with the big boys who pay millions for endorsements from high visibility pros. In fact, the forged wood head manufacturer is the same as Taylor Made, Callaway, Cleveland, Titleist, etc. The shafts too are the best. My M400 cost about $225 plus S&H. Try pricing name brand 400s. I bought a Nike 350 driver a couple of years ago and found that equipment does matter. With the Nike my drives funneled down about 25 yards on either side for my draws and fades. That's a nicer term for hooks and slices. I look forward to my M400. I might even hit the fairway once and awhile now.
---
John K. Darling, Founder of SeniorFriendlyGolf may be contacted by email at GolfGuy@SeniorFriendlyGolf.com or mail to P.O. Box 38951, Colorado Springs, CO 80937.