Journal Entry #57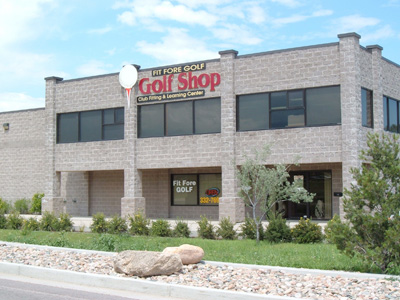 FIT FORE GOLF, 3185 JANITELL ROAD ACROSS I-25 FROM
THE WORLD ARENA, COLORADO SPRINGS, COLORADO
719-332-7692, OPEN M-F 8:00AM-7:00PM, S-S 9:00AM-5:00PM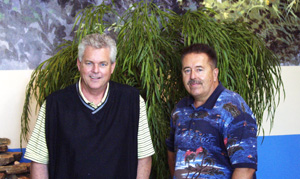 INNOVATIVE OWNERS JEFF CARPENTER AND JOHN SNUCKLE
Every once in awhile someone comes up with a new concept designed to help us duffers break a hundred. Fit Fore Golf will do just that and bring along with it lots of fun and fellowship with other golfers. In addition, I believe this high tech facility will help any golfer achieve what ever score or handicap goal they may have. Oh, by the way, don't let the name fool you. It's not a physical fitness place. It's a golf learning and playing place. I'm getting ahead of myself.
Seven years ago Jeff Carpenter and John Snuckle were hired by Champions Golf and Games to develop a retail and teaching program. At the time the golf and fun center just off I-25 and Filmore was doing about $150,000 in retail business and there was no professional teaching offered. In the seven years they were there, the retail sales soared to over $700,000 and lessons peaked at around 4,000 a year.
A couple of years ago Jeff and John recognized that there was a need in the community for winter golf services and decided to develop their own business. They were turning people away from their winter lessons at Champions where they were booking as many as 14 lessons a day. After investing a lot of blood, sweat, and tears and about half a million bucks, here it is.
Fit Fore Golf and its merchandise and teaching facilities is available to the general public, but the real bargain is their yearly membership, which they will hold to 200 maximum. This means when a member wants to book a time to sharpen their pitching and putting skills on the 2,000 square foot indoor range, they will not have to wait in line. As any top golfer, pro or amateur, will tell you, your scores are lowered in proportion to how well you do around and on the green. You can practice this philosophy year round. Just think, when spring comes each year you can go out and win some of those skins in your local golf association.
The indoor range consists of four pads and nine holes to pitch to. There will be pitching and putting tournaments for members, which will include a "beat the pro" event. Fit Fore Golf will also have numerous parties for members throughout the year to include Halloween, Christmas, and whatever others this duo of innovators and their members come up with.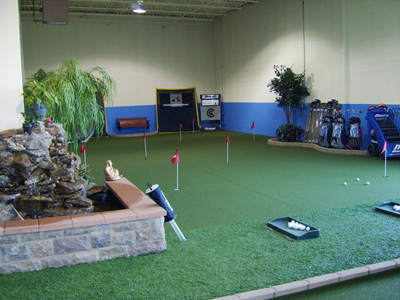 INDOOR PITCHING AND PUTTING RANGE OFFERS FOUR PADS YEAR ROUND PRACTICE
There is a neat lounge available with a hotdog, snack and beverage bar as well as tables for cards and a big screen television to watch those great tournaments. It has a roof over it. I can't think it has any practical purpose but with the plush seating area it is classy.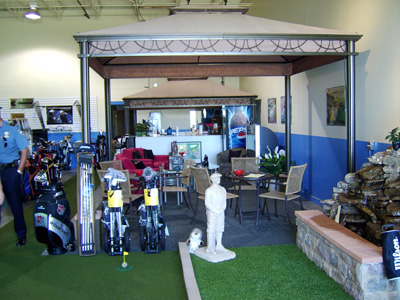 THE LOUNGE AREA TO REST, PLAY CARDS, WATCH BIG SCREEN TELEVISION
When it comes to learning to play golf and improving your game, this facility has state of the art equipment. I was invited to experience it. Wow, sometimes you do not even have to have one of the teaching pros there. Of course you need their instruction and there will be three or four to help you by appointment. Anyway, Jeff watched me take a swing and without my knowing he videotaped me. I looked great! At least I thought so and Jeff was a gentleman and did not correct me. My taped video swing came up on the split screen monitor and right beside me on the screen was Ernie Els. My twin. Right. Point made was that my swing could be compared with just about any professional golfer I would like. The best thing is that with or without a teaching pro you can take swings and then go to the monitor and look at how you are doing.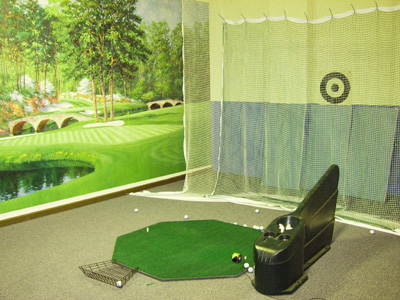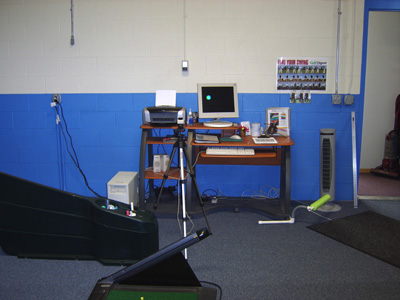 TWO TEACHING BAYS FEATURE HIGH TECH VIDEO EQUIPMENT AND PROGRAMS
So you want to buy a set of Nike irons, a Big Bertha driver, or a Snake Eyes wedge? John tells me that they will not be undersold…even by a discount golf shop. Of course I asked, "how's that?" I was skeptical. I have heard of shoppers that get all their information and practice from a pro and then go on the Internet to find a cheap price. There's a word for that type of person who takes advantage of all the professional services and then buys somewhere else. John and Jeff have no problem with this. For fifty bucks they will fit every club to your specifications. You can then go try to find the clubs wherever. However, here is the service they will give to customers. If a set is to be bought here it will be fitted exactly as needed for the best performance. Then, check this out, the customer takes the fitted set out and plays golf for two days. When they return, if they buy the clubs, the $50 fitting fee is waived and a new set is purchased at a cost competitive price. They feel their price cannot be beat and if it can they will match it. Of course the clubs you buy from them will also be custom fitted. Sorry, I did not mean for this to be a commercial, but it's too good not to tell you about it.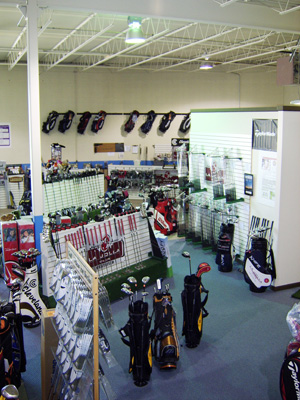 HUGE RETAIL AREA OFFERS UNLIMITED CLUB SELECTION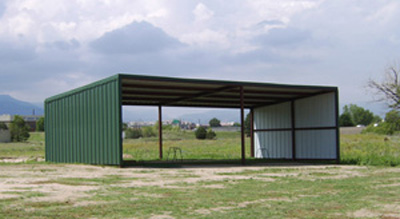 Would you go out to a driving range and hit balls in the winter when it is snowing and the temperature is below 30 degrees? Not even Tiger would do that. He might do some rain work, but not snow and not twenty something degrees. At least I don't think he would. Guess what, you can and in relative comfort. On the adjacent Vineyard Golf Course driving range behind the building, Fit Fore Golf has erected a shelter that will be heated for winter use. It can accommodate up to six users. I can't wait.
In closing I encourage you to accept Jeff and John's open invitation to come in and look around. Have them show you how the high tech equipment works and even hit a few chips or putt a round. For a limited time charter memberships are available for only 200 members. The memberships are annual and begin in October. Pre grand opening memberships receive an extra month free plus 25% off the annual and five-year membership plans. Memberships include five digital video lessons with practice sessions,10% off lesson packages and exclusive use of the covered and heated practice range. There is a member's buying program, which allows golf item purchases at 10% over wholesale and the sales tax is only 2.5%, since the facility is in the county and not the city. Members also have exclusive access to practice areas after lessons. Soon there will be a body "fitness" program to help you build strength specifically for golf. With this program you will enjoy golfing more and avoid injuries.
So there you have it. Go on out and take a look. October will be here soon. And soon means when I get back from a month's trip to Ireland. That will be reported in a later edition.
---
You can email John K. Darling, Founder at GolfGuy@SeniorFriendlyGolf.com and Doug at dwert@uccs.edu. Better yet, call Doug 719-262-3609.