Journal Entry #58
This summer I was invited, along with five other golf writers and photographers, to fly to northern Montana, the Big Sky state, to review nine golf courses in five days. This journal entry is an overview of our trip. In the weeks to come most of the courses will be reviewed in depth on www.SeniorFriendlyGolf.com. Click the COURSE REVIEW link and then MONTANA where you will see flash slideshows with hundreds of photos of the courses. You will need to be patient, for with the huge number of photos it will take awhile to download but you will not be disappointed.
Montana has an interesting way of marketing their recreational areas. There are seven distinct and independent territories, so to speak. The area we visited is know as Glacier Country and it boasts of 18 golf courses.
I hope after reading this journal entry you will want to golf Montana. For information and trip planning call 1-800-338-5072 or www.glaciermt.com for the Missoula area and 1-800-392-9795 or www.golfmontaqna.net for the northern or Kalispell and Whitefish areas. At the end of this article there are many more web sites for you to visit, but the focus in this article is golf.
Missoula is a college town where the University of Montana (Grizzlies) is located. This makes it a fun place with lots of downtown action not to mention three great rivers that provide many water sports and fishing activities. And there is Flathead Lake an hour or so north. It is the largest natural freshwater lake in the west. Just north of Flathead Lake is Whitefish at the base of the Big Mountain ski area. The town of Whitefish rocks in the evening with bands and great eating establishments. Still going north there is Glacier National Park. Because of Big Mountain, 18 golf courses, and numerous lakes and rivers, there is fun year round in Glacier Country.
Day one we played the new Phantom Hills Golf Club course in Missoula and the second morning the family owned King Ranch golf course in Frenchtown. Phantom Hills is a semi-private course open to the public. In fact, all courses we visited are open to the public. Rick Reed is the Head Professional rreed@phantomhills.com. King Ranch is a great links course of the pasture type. The course has an interesting history and I was delighted to play with one of the owners, Shad Ockler kingranchgc@aol.com. In the afternoon we drove up to the Highlands Golf Club back in Missoula. We had dinner at their restaurant, Shadows Keep, and the food was fantastic www.Shadowskeep.com. I played Highlands again in July and had a marvelous sunny round. Their golf professional is Kyle Cianflone kylecianflone@hotmail.com who is one of the most personable pros I have ever had the pleasure of meeting.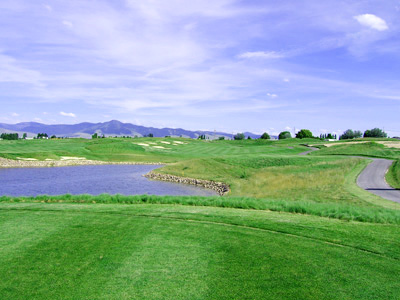 PHANTOM HILLS GOLF CLUB IN MISSOULA
www.phantomhills.com 406-532-1000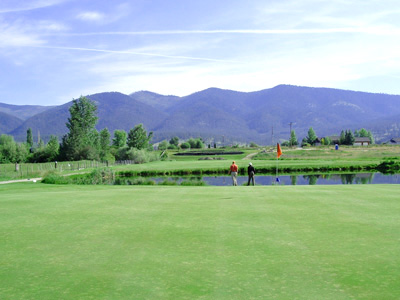 KING RANCH GOLF CLUB IN FRENCHTOWN
kingranckgc@aol.com 406-626-4000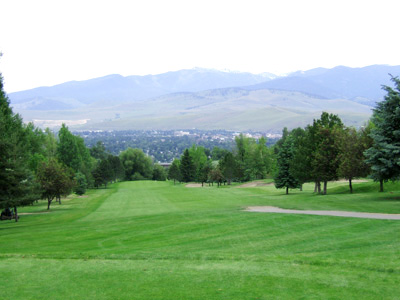 HIGHLANDS GOLF CLUB IN MISSOULA
www.Shadowskeep.com shadowskeep@montant.com 406-728-7360
The third day we journeyed to northwest Montana known as the Flathead Valley. The first course we stopped at in the Flathead Valley was the Polson County Country Club located virtually on the banks of Flathead Lake. The head professional there is Roger Wallace polsoncc@digisys.net.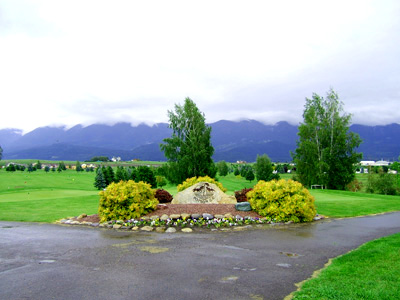 POLSON COUNTY GOLF CLUB COURSE ACCESS
www.polsoncountyclub.com 406-883-8230
That afternoon we were introduced to the Buffalo Hill Golf Club course in Kalispell. There was intermittent rain and a couple of us opted to join the general manager, Steve Dunfee, for a cart tour and occasional pitch shots and putts on various holes steved@golfbuffalohill.com Steve is also the President of the Flathead Valley Golf Association. He is a delightful person who is in love with his golf course and rightly so. I returned to play this course in July and the COURSE REVIEW will be up soon.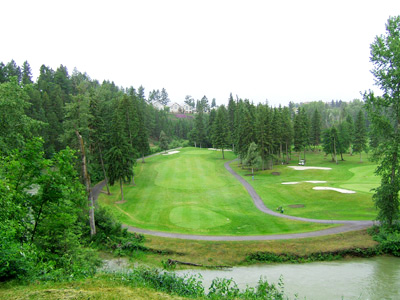 BUFFALO HILL GOLF COURSE IN KALISPELL
www.golfbuffalohill.com 406-756-4545
The fourth day we played the Whitefish south and north courses. Terry Nelson is the head professional wfgc@aboutmontana.net. Something unusual happened when I sliced a tee shot into the rough. My ball landed near of piece of plywood propped up against a tree for some reason. When I looked under it there was a tiny little deer. The story is that the fawn was three days old and had been abandoned by its mother.
After this day's outing we were treated to a gondola ride up Big Mountain. The trip was through the clouds. One the way back down we had a wonderful panoramic view of the town of Whitefish and its lake. Whitefish is a great little resort area known for its winter sports, golf and fishing…and party time any time. We enjoyed a fantastic dinner at the Tupelo Grille www.tupelogrille.com.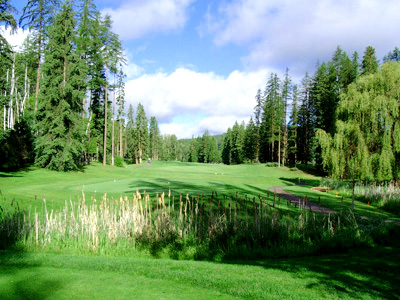 WHITEFISH LAKE GOLF CLUB SOUTH GOLF COURSE
www.golfwhitefish.com 406-862-4000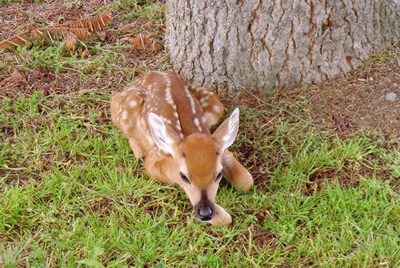 ABANDONED FAWN
The morning of our last full day we played the Big Mountain Golf Club course. The head professional is Brian Schott pr@bigmountain.com. The name is not reflected of the course itself, which is not on the mountain. I was impressed on the first hole because there seemed to be several frog hair cuts of various lengths. Some of the other holes also used this treatment.
In the afternoon we played what I consider to be the most beautiful of all the courses, which was at the Meadow Lake Golf Resort. The head professional is Kyle Long kylelong@meadowlakegolf.com. Technically Meadow Lake is in Columbia Falls, which is close to Whitefish. At dinner there was an unbelievable selection of exotic items from Moroccan Spiced Pork Tenderloin to Buffalo Stroganoff.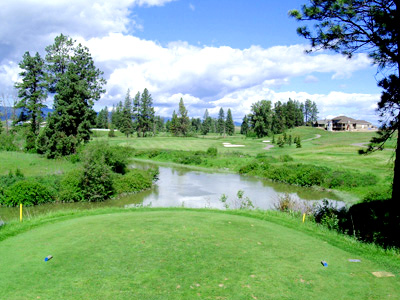 BIG MOUNTAIN GOLF CLUB
www.golfmt.com golfmt@golfmt.com 406-751-1950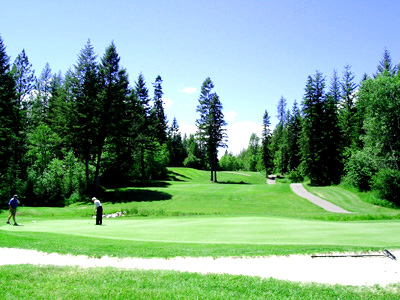 MEADOW LAKE GOLF RESORT
www.meadowlakegolf.com
vacation@meadowlake.com mlgolf@meadowlakegolf.com
406-892-2111, 800-321 GOLF (4653)
We spent the first two days of our trip at the C'mon Inn in Missoula. www.cmoninn.com 406-543-4600. That's a funny name for a motel, but believe me it was first class with a rustic twist. The indoor waterfall and Jacuzzis were impressive and breakfast comes with your room. If you want heavier fare, there is a Cracker Barrel next door.
The remainder of the trip we enjoyed staying at the Grouse Mountain Lodge. This is an exceptional resort and conference center with both the south and north Whitefish golf courses adjacent to it. We were given three breakfast vouchers but were out of the lodge every morning before the restaurant opened. I still have the vouchers and there is no expiration date, so next time I am in the area maybe I'll use them.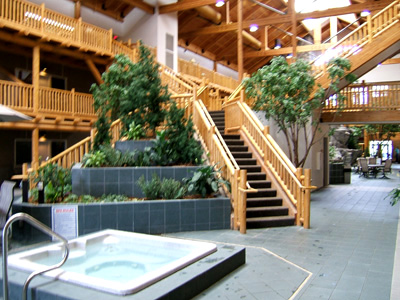 C'MON INN IN MISSOULA
www.comoninn.com 888-989-5569

GROUSE MOUNTAIN LODGE IN WHITEFISH
www.montanasfinest.com info@montanasfinest.com
877-862-0326, 406-862-3000
The sixth day came early with Onie Knutson of Hometown Hospitality picking me up at 5:30am to catch my flight out of the Glacier International Airport. Did I mention that you can fly directly into the Whitefish? Onie was our chauffer for the entire week lknutson@cyberport.net 406-756-7518.
Every course we played had its own character and each is well worth a trip to Montana to play. They all have what is known as a soft approach to the green, so pitch and run shots are in order in the majority of cases. Most offer links design on many of their holes. The price is right for all the courses and the quality was very, very good.
Yes, I was exhausted after the trip and even canceled my first two days as a marshal at the 2005 U.S. Women's Open at Cherry Hills in Denver. Now it's back to work doing my SeniorFriendlyGolf thing as a golf tournament consultant and newspaper-contributing columnist. Be sure to check out COURSE REVIEWS over the next few weeks.
---
You can email John K. Darling, Founder at GolfGuy@SeniorFriendlyGolf.com.