Journal Entry #61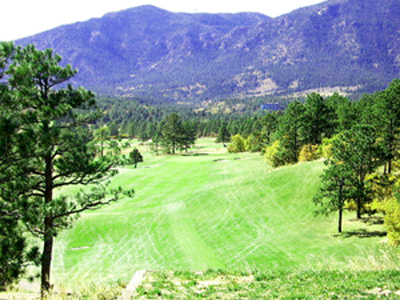 I have enjoyed playing golf in Colorado Springs and Southern Colorado over the past five years since my retirement from the Army and Air Force Exchange Service (AAFES). In fact, I have enjoyed playing golf in Hawaii, Ireland, Mexico, Arizona, New Mexico, California, and Texas and probably other areas as well. You can find journal entries about my golf travels in the archives and in course reviews of this web site.
Today's journal entry, however, will give you a look at eleven holes I especially enjoyed playing. Let's start with the United States Air Force Academy. This is the number one military golf club in the world. There are two courses; the Eisenhower Blue and the Silver.
Number one on the Eisenhower Silver course will take your breath away with the Rocky Mountains directly in your face. This is a four par and looks deceptively simple. Unfortunately the fairway has an aggressive slant on one side and is heavily wooded on the other. The problem you will have getting on this course is that you will either have to be with a military friend or play in a tournament held there. To find out what tournaments are available for you to play in at the USAFA go to http://www.SeniorFriendlyGolf.com and click on tournaments.
Number 11 on the Blue course is a five par. It's mostly a straight five par, but the water in front of the green on your approach and the deception that the green is closer to the water than it is makes for a challenging hit. I rate both the Silver and Blue courses SFG 6.0. For more information on SFG ratings click course reviews.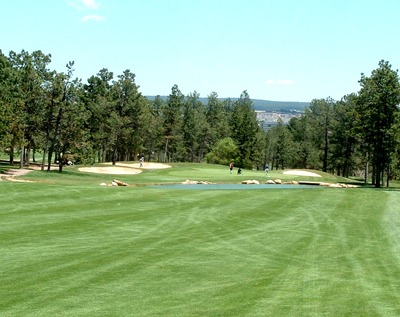 Up the road a piece near Larkspur, Colorado is a course starting its third year. It's The Golf Club at Bear Dance. Number six begins from an elevated tee. This signature hole dog legs slightly to the right. If you chance to cut the corner, you can end up in the woods if you slice or hit short and the same goes if you hit a long straight drive, which might go through the fairway and into the woods. This four par is a signature hole specifically because an array of bunkers, shaped like a bear's paw, guards the green. Bear Dance is a challenging SFG 4.5 course. This course is open to the public and green fees when I played ran just under $100. The price is about right. Play this course for the beauty and experience, but don't expect to shoot your best score there your first time around.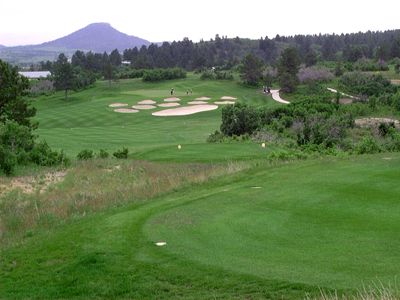 Just outside the U.S.A.F.A. north gate is the community of Gleneagle where you will find a golf club of the same name. I found number eight to be very challenging, especially from the blue (men's) tees. It's a 190 yard three par and it's all carry. Fortunately for seniors, the white tee is 159. My rating for this course is SFG 7.62 for seniors. Men's tees SFG 6.62. What this means is the course will play well for you and you might even just beat your handicap.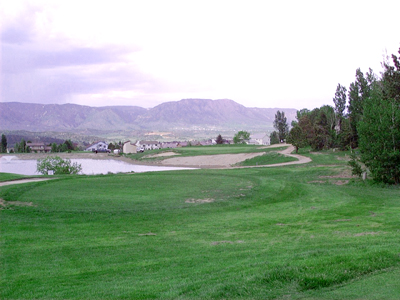 The Woodmoor Pines Country Club in Monument offers you the opportunity of walking in a forest of pine trees. This course will challenge your ability to keep virtually every shot as straight and targeted as possible. Fairways are generally narrower than most courses you may be use to playing. Three par number thirteen is a beautiful hole where you have to shoot through the forest and over a pond. It's quite friendly for those of us who occasionally push or fade our short shots because there is no problem to the right of the green after clearing the pond. If you pull or hook your shot, it may land in a left side bunker. My SFG rating for Woodmore Pines is SFG 6.3. To play Woodmoor pines you will have to go as a member's guest or, then again, check tournaments on the SFG web site.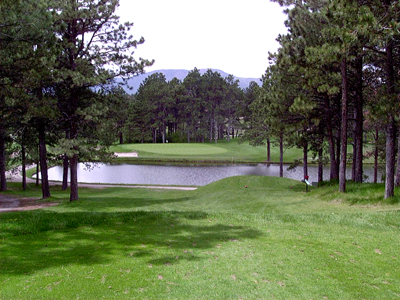 Castle Rock is the next town north of Monument and just south of Castle Pines where THE INTERNATIONAL PGA golf tournament is held each year. This is where you will find the Red Hawk Ridge golf course. It's just a short distance west of I-25. This course will challenge you with its many fairway variations and links appeal. I especially like the final hole, which is a down hill five-par that slightly bends to the right over a large pond with the clubhouse in the background. Try to reach this green in two and you will be confronted by both the pond and a huge bunker. Another thing I noticed that was out of the ordinary was their driving range. It is unusual in that it goes uphill. Bear Dance, Kissing Camels, and many other golf course ranges are either level or down hill. I rate Red Hawk Ridge with SFG 7.1, so maybe you can improve on your handicap here as well.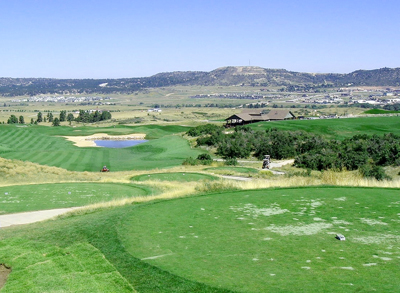 Let's turn our attention south now and roll into the Patty Jewett municipal golf course in the heart of Colorado Springs. This golf course is over 100 years old and now offers three legitimate nine-hole courses, Plains, Peak, and Prairie. One of my favorite holes here is number two on the Prairie nine. Now it is a four par links hole you dare not top the ball or hit a low line drive. It also has an abrupt elevation as you approach the green. You'll have a soft approach from the left, but there are five pot bunkers guarding an approach from the right side. Before restructuring, this hole was a three par on what was called the "Pop Corn" course. SFG 7.2 will invite an enjoyable day of golf for you.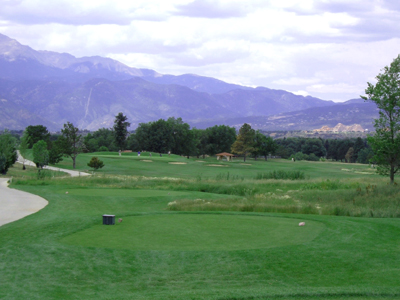 Across town is the Valley Hi municipal golf course. Most of the holes here are very friendly in accepting slight fades and draws, if you are so inclined. I like hole number fourteen. It's a three par with a large pond and bunker on the right side. If you can mentally block out those hazards and just imagine there is fairway all the way you may be successful in hitting the huge green. From what I recall the green is the largest on the course, but putting will offer unforeseen breaks. Hitting the green in one does not insure a par no matter where the pin is placed. SFG rating 7.2, so get ready to improve your handicap.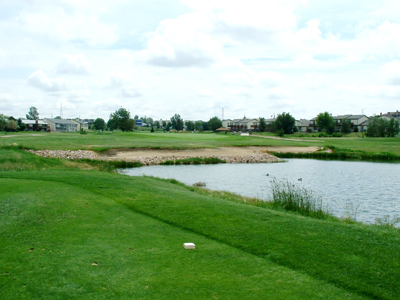 At the five-star Broadmoor Hotel you will find three courses, the East, West, and Mountain, which has been under reconstruction for a couple of years now. In 2008 the PGA Senior Open will be held there. To play any of these courses you will have to go with a member, or here again, play in a tournament. There are lots of tournaments held on both the East and West Courses. If you are lucky you can find one to play in for $175 and by doing so benefit a charity or non-profit organization by buying mulligans and entering fee based contests. One of my favorite holes there is the final one on the East course. I like it because of the beautiful view as you hit your final approach over a pond with the hotel and golf club in the background. The SFG rating is 6.8. Not too hard, but you will need to be on your game to score well.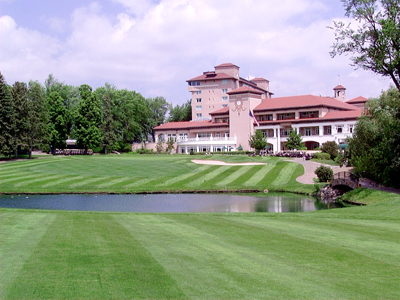 One of the first golf courses Pete Dye designed is the Country Club of Colorado and it is just south of downtown Colorado Springs. In true Pete Dye style the course is not an easy one. As you pass the course on highway 115, which goes to Fort Carson, you will notice a huge lake. This lake has an impact on five holes, so if you have an affinity for water holes, here's your course. My favorite is the four-par number 10. It's my favorite mainly for the view of the acre, it seems, of sand to test your approach skills. To the right and you are in very big trouble if your shot strays. If you take too much club and hit through the green you get wet. This is one of those shots where you might consider setting up your third shot from the fairway rather than trying to nail one on the pin. SFG 5.8.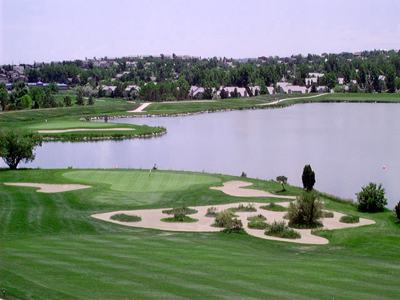 My last hole to share with you in this journal entry is located at the Cheyenne Shadows Golf Club at Fort Carson. While Fort Carson is one of our country's foremost infantry and Calvary Army Posts, its golf course is open to the public. All you have to do is have a valid diver's license, vehicle title and proof of insurance to get through gate number five. This gate is just south of the main gate on highway 115. Green fees are low and the Army invested over $4,000,000 in a new clubhouse and course improvement in 2004-2005. My favorite hole is number 14. It is a three par from elevated tees. This course is very friendly with six sets of tees and the fairways have 100, 150, and 200 yard markers to place your ball by. My SFG rating for the Cheyenne Shadows Golf Club at Fort Carson golf course is 6.5.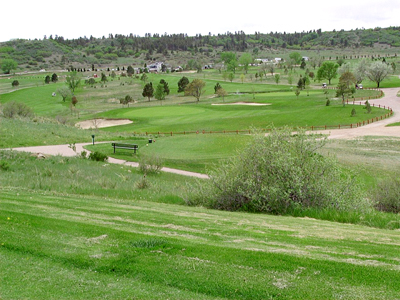 The 2006 golf tournament season kicks off in April and there will be over 1,000 tournaments played this year in our area. You will have an opportunity to play any of the courses in today's article and there are two more courses to choose from this year. They are Antler Creek out east of Powers Boulevard, which is into its second full season, and Flying Horse, which is the new country club just south of Gelneagle. To make your selection make www.SeniorFriendlyGolf.com one of your favorites or bookmarks on your Internet computer and check out tournaments frequently to select the courses and tournaments you would like to play in.
If you want to find out about other courses email GolfGuy@SeniorFriendlyGolf.com. You can also find out about over 16,000 other golf courses in America by visiting the SFG web site.