Journal Entry #62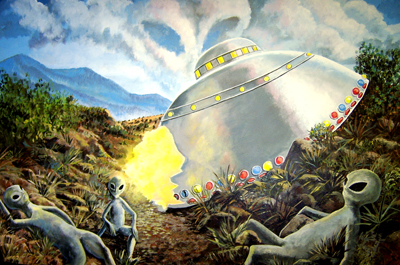 As my readers may know, my wife, Marilynn, retired from teaching mathematics at Cheyenne Mountain High School in Colorado Springs this school year. What that means is that we are no longer restricted to summer vacations. Our first venture this year was to Ireland in September (see journal entry #59) and the second a snorkeling trip to the British Virgin Islands aboard a Clipper Cruise Line small ship in December. Come this February temperatures hit the single and below zero Digits, so off we go south among the many other "snow birds." We usually take a two-day drive through New Mexico to visit family members in south Phoenix, namely Sun Lakes, where Marilynn's mom resides on the ninth fairway of the Sonora golf course. This year we elected to take our time and make a few overnight stops along the way.
Our first destination was Roswell, New Mexico. I was a fan of the series "Roswell" several years back. It was filmed in California, of course, but the town still focuses on UNIDENTIFIED FLYING OBJECTS (UFOs) and alien (not Mexican) folklore of fact or fancy, depending on your point of view. The old downtown area has deteriorated, but the community has grown to the extent there is Walmart, Target, Home Depot and many other big box retailers. Nearby is the Bitter Lake Wildlife Refuge. This time of year the snow geese were in abundance and their flights can be caught at sunrise and sunset.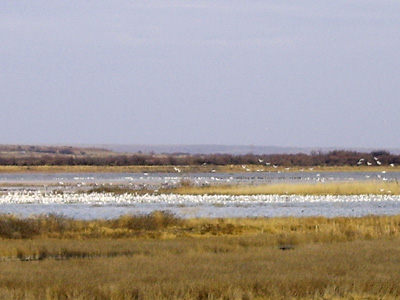 I use to be a pharmaceutical representative for Alcon Laboratories and my territory covered Arizona, New Mexico, and El Paso. While I had visited the Carlsbad Caverns back in the 60s, Marilynn had never experienced this wonder of the world. It took us an hour to walk down to the bottom and another to take the mile walk around the "Big Room." We took the elevator back up and the next day we experienced aches and pains associated with the hike into the mammoth cave.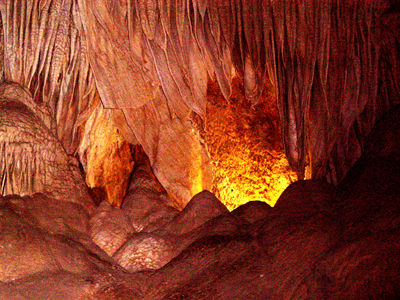 Our next stop was El Paso. Don't bother. This was the most disappointing leg of our trip. We arrived there on Sunday and were really in the mood for some Mexican food. We couldn't find a place open and enjoyed Chili's for the second night in a row. We recommend this restaurant for good food at modest prices, but two evenings in a row is enough for a while. We had considered taking a walk over to Juarez, Mexico, but heard that you have to have a passport, not a driver's license, to get across. Later we learned that the passport policy is coming soon and was not in force when we were there. Of course coming from Mexico all you have to do is just slip through the fence somewhere along the border or walk over some of the shallows of the Rio Grande River. Speaking of the Rio Grande River, that was disappointing too. At El Paso it is just a small concrete culvert with fences on each side.
Monday we visited Tombstone, Arizona. We had planned to visit the Kerchner State Park Caverns, which is said to rival Carlsbad, but it has a reservation only policy, so we did not get in. Had we done so the fees associated with the tour run around $20 each. Carlsbad was free with our Golden Age Pass. Tombstone was somewhat interesting. That's about all I can say about this destination. This historic town is now just a concentration of commercialism and there is a fee to go in just about any of the old west storefront stores and establishments. Boot hill is a farce too. Its too spiffied up to bring any old west visions to mind. We decided to be typical tourist and attended the shoot out at the OK corral event. This was probably a fun family event if you have small children who can handle loud gunshots.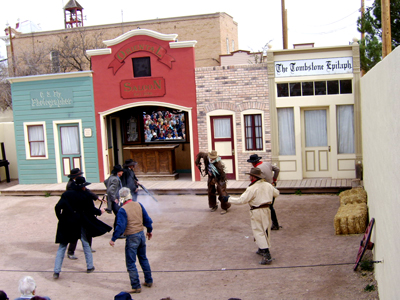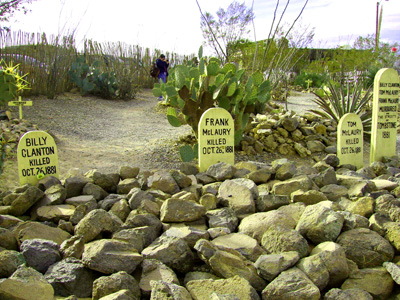 We had planned to stay in Tombstone, but since we did not do the caverns we drove on into Tucson for the evening. Our hotel desk attendant, recommended the Crossroads restaurant over on 4th street north of 1-10 for Mexican food. It was authentic and very reasonable. Can you imagine three Mexican beers and two dinners and without the tip did not break a $20 bill. My kind of place.
My main focus on the trip down was to visit friends of mine, Sharon and Wayne Williams. A few years ago I enjoyed meeting them when I drove through Sedona where they lived at the time. Wayne is the President of Golf Test U.S.A. Check it out www.golftestuse.com. They have moved to Green Valley, Arizona about 30 miles south of Tucson. The community's population is around 75,000 and is age restricted. 95% of its population is 50 or older. Wayne's company tests golf clubs and golf related equipment and products. He is also a columnist for GOLF ILLUSTRATED, our country's leading golf teaching magazine. Check it out at www.golfillustrated.com.
Wayne had arranged, through Bill Brooks, General Manager/PGA Professional, for me to play and review the San Ignacio Golf Club course (520-648-3468). Bill also is the manager of the nearby Canoa Hills Golf Club. He is associated with the Tucson Golf Schools at San Ignacio as well as the IRI Golf Group, which is similar to companies like Troon Golf and Neiberg Golf, which is located in Colorado Springs. Both courses are open to the public. Try these web sites for more information: www.irigolfgroup.com, www.wildcattrail.com. One last thing. Green Valley is several thousand feet higher than the Phoenix valley so the temperature is about five degrees cooler. Of course when it's 120 in Phoenix will 115 really be any cooler?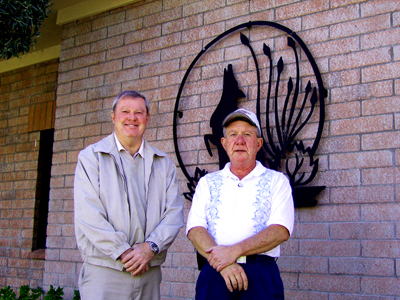 BILL BROOKS, GM, PGA PROFESSIONAL & WAYNE WILLIAMS PRESIDENT GOLF TEST USA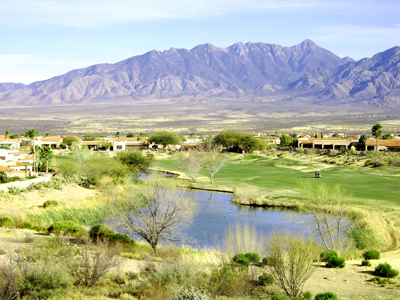 SAN IGNACIO GOLF CLUB SIGNATURE HOLE #13
We finally arrived at Sun Lakes, Arizona in the early evening on Tuesday. Come Wednesday morning I'm out on the driving range at the Oakwood Golf Club. While in Sun Lakes I enjoyed a round of golf with my friend, Sean Shepard and his wife Tanja. Sean is the co-owner of Magique Golf in Tempe, Arizona. He offers a free hybrid recovery wood, which you can get by going to the www.SeniorFriendlyGolf.com web site and clicking on the FREE GOLF CLUB link in the upper right hand corner to get a certificate. I use the club and it is great. I can leave my 2, 3, and 4 irons at home. Anyway, we played the Chandler Bear Creek Golf Course. We had a late tee off time and finished the last few holes in the dark. I missed a 15-foot putt on the 18th because I literally could not see the hole. At least that's my excuse.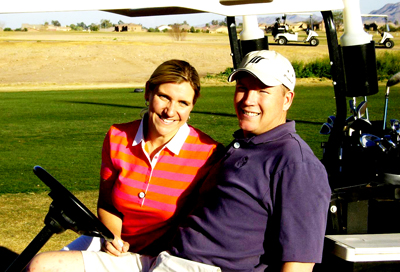 SEAN AND TANJA SHEPARD OF MAGIQUE GOLF COMPANY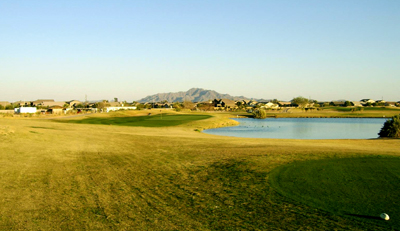 BEAR CREEK GOLF COURSE HAS A WIDE OPEN FEEL
Winter and spring golf is great in Arizona, so don't stop when you get to the Phoenix or Tucson area. Take a drive on down to Green Valley and play in the shadow of the Santa Rita mountains. It's a great area and I believe there are about eight golf courses to choose from. Say hello to Bill Brooks at San Ignacio for me.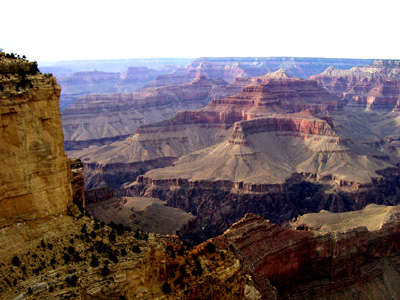 On our return swing we decided to drop by the Grand Canyon. We arrived just before sundown and managed to click a few photos. We spent the night at the Kachina Lodge on the south rim. It rained that night and there was lots of fog or low clouds the next morning, but just as we departed the sun came out for some final breathtaking views.
Our last night was spent in Old Town in Albuquerque. There was lots of opportunity to buy things at the Old Town Square. The merchandise, however, was not tacky. There were real art galleries with real prices should you wish to make an investment. We could have stayed longer that last morning, but when I get started homeward bound I usually like to get on with getting home.
If you want to message with me about this or any other trip please do so. Just email to GolfGuy@SeniorFriendlyGolf.com.