Journal Entry #66

TEE MARKER
One of the newest golf courses in Colorado is located just north of Colorado Springs off highway 83 and south of Gleneagle, Black Forest, and Monument. The course is part of an elite country club by the same name, Flying Horse. This posh country club and spa (under construction) is nestled in a community development surging northward, similar to the boom growing east of Colorado Springs. There is no doubt the building boom north will eventually merge into Castle Rock and Denver. It may take a little longer for the eastern migration to hit Kansas.
Enough about the building boom. This private golf course will demolish the average golfer and challenge the Pine Creek golf course as one of the most difficult in the state. When I played the course in the Fisher Duberry Foundation Celebrity Golf Tournament benefiting Home Front Cares, I was fortunate to be doing so with a scratch golfer who told me that he always goes back to Pine Creek to be humbled. He had no problem with Flying Horse because 300-yard drives are not unusual for him. Low handicap golfers will probably enjoy it more than us double-digit bogie guys. However, you owe it to yourself to play if you can. One of the easiest ways to play Flying Horse is to join a tournament open to the public playing there. For a list of area tournaments access www.SeniorFriendlyGolf.com and then click on Tournaments.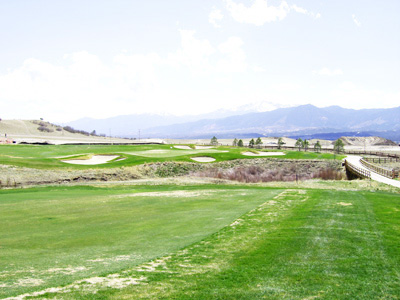 FOUR PAR HOLE NUMBER SIX
Up front, the preliminary SFG rating is about 2.5 for this links style course, which means it's will be very challenging for average and most senior golfers. You can find out more about SFG ratings on the web site as well. Flying Horse is one of the most difficult I have ever experienced. Walking Stick has its arroyos, the Broadmoor courses have some elevations, Antler Creek has its lengthy challenge, King's Deer is famous as a links course and Gleneagle offers a challenging three par over water. Roll those attributes all together and you might approach what Flying Horse has to offer and then some. Once the grass fills in with summer night temperatures over 60 degrees and the course matures, there will be few that match it in the state or our country.
While the view of Pikes Peak is spectacular, the course will pay a price on windy days, which may be often. I expect Golf Digest and other major golf publications to feature it in the future. Tom Weiskopf was the designer, and I name number six "Weiskopf's Revenge." The most beautiful hole, which is likely to be the club's signature hole, is number four, which is bordered by an expansive lake. Look up and there is the breathtaking Front Range with Pikes Peak in all its glory.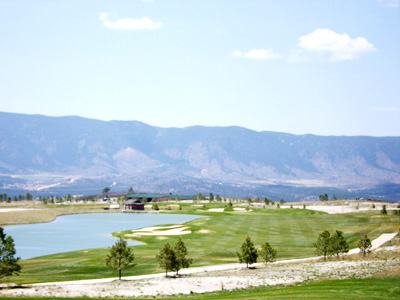 NUMBER SIX QUALIFIES AS A SIGNATURE HOLE
There is no clubhouse yet. There are a couple of restrooms on the course, which are on a quality level with fine hotels. Right now there are only a few porta-potties and a few tee ball washers and trash receptacles. The multi-ball ball washers are modern and copper colored and the trash bins were sunken in the ground with foot pedals to open them…classy. Hopefully both ball washers and trash receptacles will be on every tee. The hole markers are beautifully engraved in native stone. I wonder if they were cut from the front range scar west of Colorado Springs in the Front Range.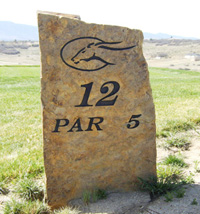 On the down side, the scorecards do not have a course schematic on them. You will need a yardage book. On the upside the yardage book is excellent. Yardage markers on the course are not easily distinguishable. The 150 marker is a hitching post and it blends into its surroundings so they are difficult to find. Many of the fairway sprinkler heads do have yardage marked on them. The course would be more friendly if it had those barber posts in the middle of the fairways at 250, 200, 150 and 100 yards out from the greens. Don't plan on walking the course. Some green to tee distances I approximate as a quarter mile walk. The cart paths are concrete, and there are some elevations that you will welcome a ride up.
Since the score card and tee markers do not have illustrations of each hole, you will need a yardage book or someone in your group who has played the course before to find your way. The yardage book is very comprehensive and worth the price, what ever that will be.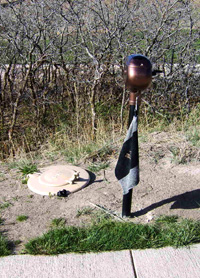 Click here for the hole by hole review...