Journal Entry #68
CLICK HERE TO LIST YOUR 2007 TOURNAMENT.
Click here to voluneer for the 2008 Senior Open.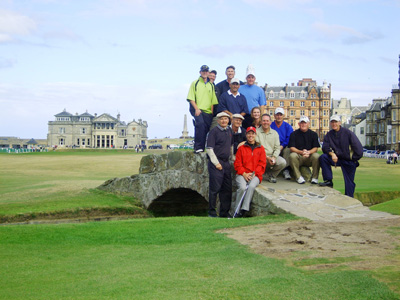 This summer I joined a group of 10 Coloradoans, one Pennsylvanian, and one Arizonan, to fulfill our life long dreams to play the Old Course at St. Andrews in Scotland. The trip was put together by Doug Wert, the director of the PGM (Professional Golf Management) program at the University of Colorado at Colorado Springs. Our group included Doug, Paul and Karen Stellick, Tyler and Galen Van Kooten, Mikeal Taylor, victor Crespo, Dick Althouse, Dr. Paul Miller, Ed Tomlinison, and Shawn and Michele Pagel.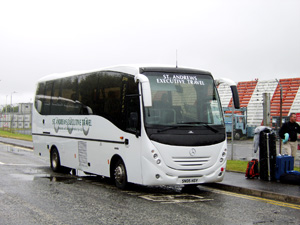 Upon arrival we hopped on the St. Andrews Executive Travel bus, which was our transport for the week and headed for North Berwick.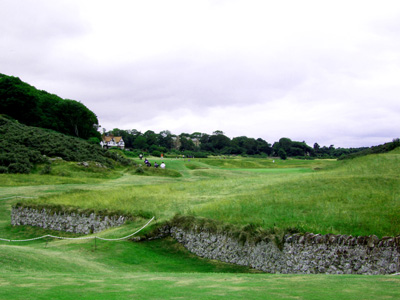 NUMBER FOUR FROM THE TEE AT NORTH BERWICK GOLF COURSE
By noon we were teeing off on this magnificent course, that stretched along the coast of St. Andrews Bay. This day was one of sunshine and mild breezes. The weather would change frequently as the week went on.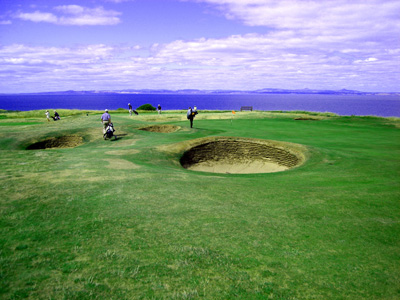 THE APPROACH TO NUMBER NINE AT GULLANE #1 GOLF COURSE
On day two we journeyed to the Gallane Golf Club and played their #1 course. That's the name of the golf course, Gallane #1. This was a wide-open links course and like all the golf courses in Scotland, it was well bunkered. On one of the holes I had a very unusual bunker shot. I drove my ball into the back wall and it stayed there. Fortunately there was a local rule that if that happened I could drop back of the bunker without penalty for my next shot.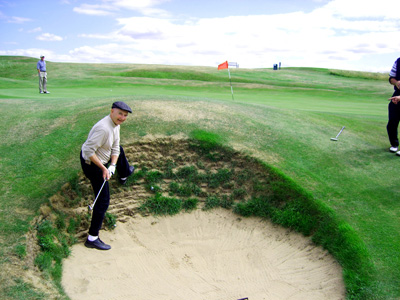 AN UNUSUAL BUNKER LIE ON GHT GULLANE #1 GOLF COURSE
Day three we arrived at the town of St. Andrews. St Andrews Links has six golf courses and a seventh is under construction along windy St. Andrews Bay. The Old Course at St. Andrews Links is the one we often see The British Open played on. Over there they call it "THE" Open and not the British Open. That's sort of like the University of Texas calling itself "THE" University.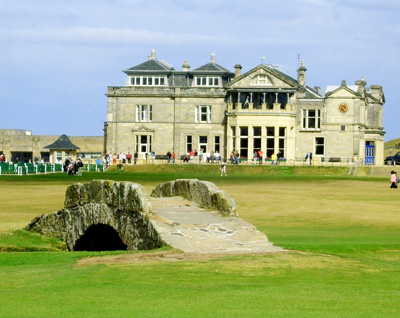 THE VIEW OF ST. ANDREWS FROM THE SWILCAN BRIDGE
This course had its beginning back in 1552; however, experts agree that golf in one form or another was played there for at least 300 years before. Now that's old. The Old Course boasts of having 120 bunkers and it has six double greens that have to be at least 100 yards wide with pins at each end. The majority of the bunkers are virtually invisible, so you have to have a caddy to help keep you out of them. There are lots of blind holes too and without caddies you would not know which way to drive your tee shots. Our entire golf group managed to make good use of all the bunkers. We played in the wind and rain, as it should be this day. I felt like I had Bobby Jones walking right beside me the entire day.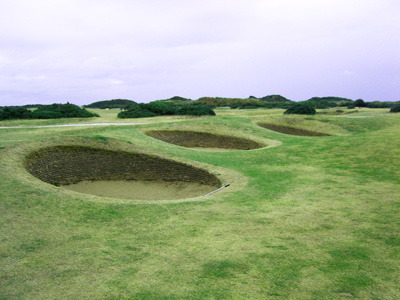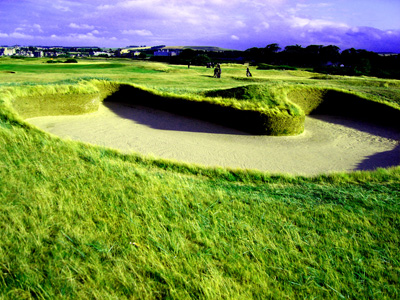 The New Course at St. Andrews Links is 130 years old. It will continue being called the "New" course forever. Both the Old and New courses are not photogenic. They are real pasture golf courses with lots of blind shots and gourse bushes to rip you to shreds if you dare try to find your ball in them. Not too many years back the powers-that-be decided to cut down all the trees. There is only one left and it is on the New Course. We played this course on our fourth day. A cloudy overcast and wind and rain was the order of this day too.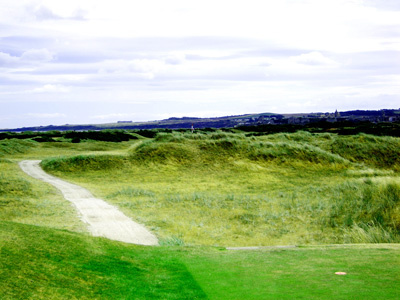 NUMBER NINE TEE ON THE NEW COURSE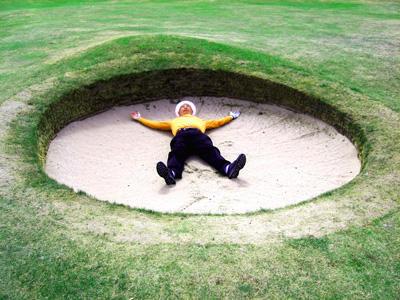 JOHN COMMUNING WITH A BUNKER ON THE NEW COURSE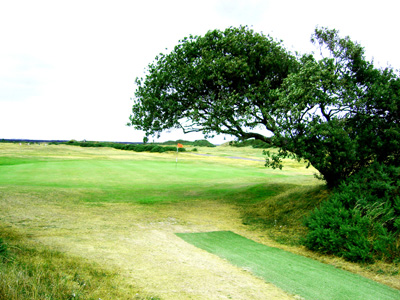 THE ONLY TREE REMAINING ON THE NEW COURSE
On day five we ventured to the St. Andrews Bay Golf Club directly on the bay. The wind was unusually strong. If you hit your ball into the thick grassy rough, you could not find it because the 18-inch to two-foot grass was blowing almost horizontally to the ground. Believe it or not, I hit my pitching wedge 180 yards with the wind. I also hit my three wood no more than 100 yards into it. The wind was so strong it blew over our bags on trolleys. Here in America we call those trolleys pull carts. This course's personnel were exceptionally accommodating. When they saw what was happening with the wind, they brought out power, or electric, riding carts for everyone without charge. It is usual for any courses to have power carts in Scotland. The cost to rent one is fifty pounds sterling, about $100 with today's exchange rates.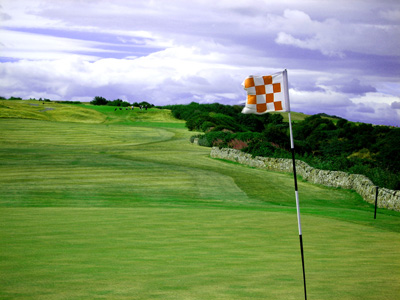 STRONG WINDS ON THE ST. ANDREWS BAY GOLF COURSE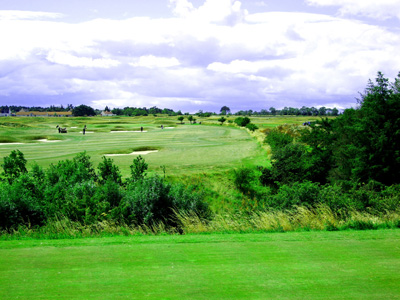 THE APPROACH TO NUMBER FOURTEEN ON THE ST. ANDREWS BAY GOLF COURSE
This course is a mix of both a parkland and a links course. Both challenges were there. The definition of a parkland course would be like a posh country club in America with nice wide fairways. A links course here is one where you have to hit over rough or grass to get to a fairway with lots of grass for rough. I asked one of my caddies what a links course was and he said simply "one that tries to remain as natural as possible". An Irishman once told me that links courses were build on the sandy perimeters of oceans and bays. Anyway, you get the idea, right?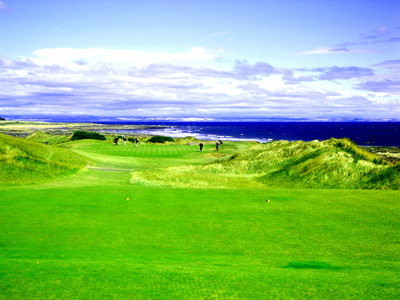 THE APPROACH TO NUMBER THREE ON THE KINGS BARNS GOLF COURSE
Our last course was Kingsbarns Golf Club in Kingsbarns. Like St. Andrews Bay, this course was well groomed on many holes like back in America, but there were plenty of links roughage and bunkers to challenge us.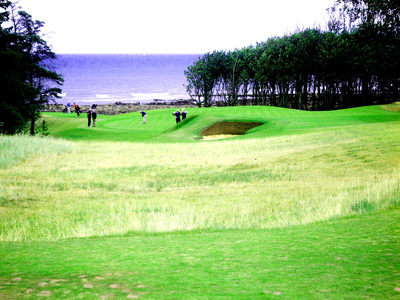 THE VIEW FROM NUMBER FOURTEEN TEE ON KINGSBARNS GOLF COURSE
I hired a caddy on all the courses and believe me they are worth the money. The greens we played had their own personality, and the caddies were great in helping us make our putts as well as pointing us in the right direction for tee shots. My goal going over there was to break 100, and I managed to on three of the six courses. The 94 I shot on the Old Course at St. Andrews Links was worth the most to me.
As the group flew out two days following the terrorist plot to bring down jet liners out of England to the United States, my wife flew in to meet me for three more weeks of UK travel. We spent a week in Northern Ireland, and that's where I discovered the best course I have played this year. It is named The Royal Portrush and it is near the town of Bushmills where the famous distillery is located.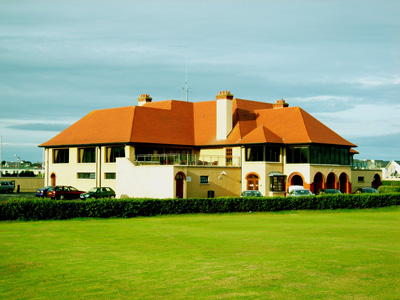 THE CLUBHOUSE AT THE ROYAL PORTRUSH GOLF CLUB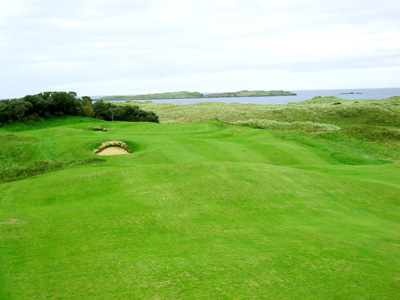 THE APPROACH TO NUMBER THIRTEEN ON THE ROYAL PORTRUSH GOLF COURSE
This course has been named the third best in the world by Golf Digest magazine. I believe it. It was the most beautiful and the most difficult of all the courses. Only one, to my memory, is equally interesting in the UK and that is La Hinche in Ireland.
Access Course Reviews as well as Archives to get an in depth look at courses I have played and specifically all of the Scotland and other United Kingdom golf courses.
John K. Darling may be emailed at GolfGuy@SeniorFriendlyGolf.com