Journal Entry #69
CLICK HERE TO LIST YOUR 2007 TOURNAMENT.
Click here to voluneer for the 2008 Senior Open.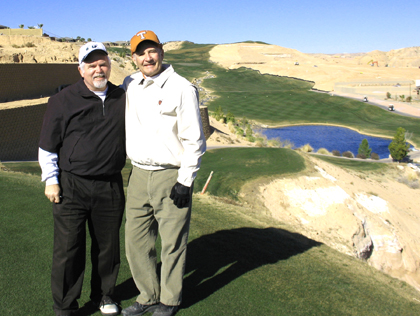 KEITH SMITH (Arizona SFG consultant)
JOHN DARLING (SFG founder)
Stan Thorp, a familiar figure around Patty Jewett Golf Course, has been managing this trip to Mesquite, Nevada for at least a decade. This year's event included a record 75 golfers. Most were senior players although a few kids under age 50 slipped in.
This senior trip takes place every January and one can depend on chilly mornings and usually warm enough temperatures to shed sweaters and windbreakers by the turn of nine. I have enjoyed attending this tournament for the past four or five years. Check the ARCHIVES on the SFG web site. The first year I participated the weather was great, the next was cold to warm, the next rain, wind, and cold but I did not mind, since that was the year I made my hole-in-one at Falcon Ridge which is reported in the ARCHIVES as well. That was also the year the Virgin River overflowed and took several homes with it. Last year was another cold one, but this year saw temperatures in the 20s on two of the three days and the third day at the Casa Blanca golf course the wind came up and the wind chill was probably around zero. When we were allowed to use the practice range before our 9:00am tee time my practice iron shots could only scrape the grass off and there were no divots. What we golfers, I use the term loosely, will go through to get out of the snow and on to a golf course, eh?
My friend and playing partner, Keith Smith, and I decided to fly out this year rather than make the 12 to 14 hours drive across the Rocky Mountains. By the way, Keith and his wife Mary are retiring to Casa Grande this year and he will be taking the Senior Friendly Golf concept to Arizona next year.
Our first day was played at the Palms Golf course, which is just across the Arizona border on the east side of the town. This course is a half pasture and half mountain course. I always manage to win something and this day I was closest to the pin. My ball stopped jise 10 inches from being an ace. The second day was at the spectacular Falcon Ridge Golf Course. This is a mountain/canyon course. It has spectacular views. I took a five on number 14 where I made my hole in one in the rain and wind two years ago. The third day we played the desert golf target course, Casa Blanca. As I mentioned the wind was brutal.
Friday the 19th most of the players took off for their homes in Colorado, California, Texas, and other states around the country. Keith and I had planned to stay an extra day and play the world famous Wolf Creek Golf Course. Because most days' starting times were delayed due to frost on the greens we canceled our reservations. Had we tried to play we would have missed our flight back to Colorado Springs from Las Vegas. When playing Wolf Creek you have to allow six hours because of the challenging terrain even between holes. However, Steve Sergeant, the Director of Golf, did give us a cart to cruise the course and take photos. It was windy and very cold, but we managed to get around in a couple of hours and make it back in to catch our flight. We were advised that number 14 was their signature hole, but in my opinion every hole qualifies for that distinction and there is not an easy hole on the course. Wolf Creek is the most dramatically sculptured golf course I have ever seen in my life. Take a look soon at the COURSE REVIEW on the SFG web site. You will find all these courses reviewed there as well.
Anyone interested in making the trip with us next year just send me an email and I will get you in touch with Stan. By the way, he has done a great job over the years. This year we stayed at the Oasis Casino and played three great courses for $250 total. We each contributed $45 extra for prizes and a one time run through a dollar slot machine, which we shared the results. We got back $12 each for the $15 per person played. Email me at GolfGuy@SeniorFriendlyGolf.com and don't forget to volunteer for the 2008 Senior Open at the Broadmoor.
The next journal entry I will report on my first trip to Orlando for the Annual PGA Expo I just attended. I brought back lots of goodies to share with tournament planners for their 2007 golf events.
But first I am off to an Antarctica Cruise on the Clipper Cruise Line. I highly recommend them. 130 passengers on a converted ice breaker ship.