Journal Entry #70
CLICK HERE TO LIST YOUR 2007 TOURNAMENT.
Click here to voluneer for the 2008 Senior Open.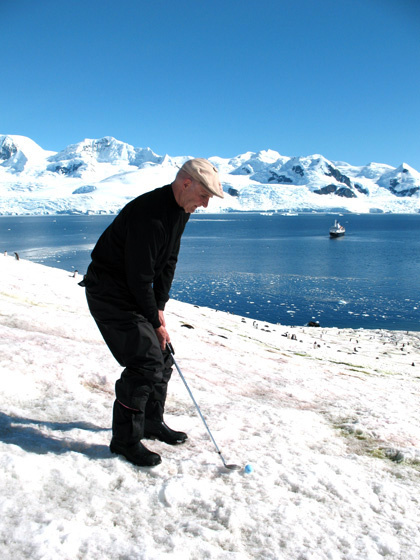 NOT!
I am kicking off this journal entry with a photo of myself addressing a blue Volvik crystal golf ball (THERE ARE 10 COLORS) www.volvikgolfballs.com with a 4-in-One gap wedge loaned to me by Short Game Travel Clubs, Inc. www.shortgametravelclubs.com. The site is the frozen mountainside of Atcho Island in Antarctica. My writing is usually about golf and this one will be too. It is about the evolution of Senior Friendly Golf since 2003 and what we are all about today.
But first, a little teaser about our cruise aboard the Intrav Clipper Adventurer ship. A slide show worth waiting for will follow the update. One of the photos you will see is of over 100,000 Chinstrap penguins surrounding us. Seals, whales, albatross and more varied penguins species will delight you as they did us.
Antarctica is a continent larger than the United States. Less than 200,000 people have visited it. My wife Marilynn, son and web master, Michael and I took the cruise in February. December, January and February are summer months down there. The weather was exceptional. Most days were around forty degrees. Back in Colorado it was still snowing and freezing. We had one blizzard day and rightly so. We needed it to experience the arctic cold. We were fortunate to have an excellent crew and a naturalist staff consisting of many experts who gave superb lectures during our days through the Drake Passage and within the Falkland and South Shetland Islands. They did not put any special emphasis on global warning, although one of our Zodiac pilots pointed out a glacier where melting has been going on for millions of years. Of more concern to humanity might be that 70% of our planet's fresh water is in the glaciers of Antarctica. If you are a science fan and want something more to worry about, consider the changes in sea life the abundance of fresh water into our oceans might make.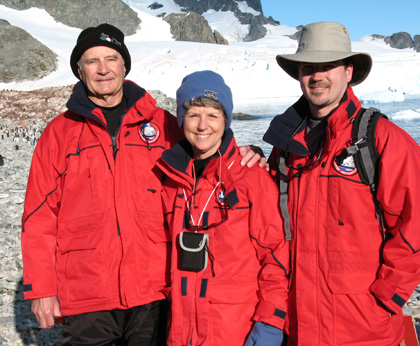 THE EVOLUTION OF SENIOR FRIENDLY GOLF YEAR FIVE
How it all started? Four years ago I was inspired by Bobby Steiner, golf professional and national golf writer, and Dave Csintyan, now President of the Business Division of the Colorado Springs Chamber of Commerce, to launch a senior golf focused venture.
I met Steiner at the Weston Hotel and Resort in Rancho Mirage, California. Steiner was a Golf Digest teaching professional who opted to join the Weston's teaching staff. At the time, he asked me to review a manuscript he was writing to publish the book MUNI, THE JITTERBUG COLLECTION, that has since published its second edition. After reviewing the material, I made suggestions and then voiced that I too would like to publish golf writings. Steiner encouraged me to do so Bobby says that the reason why most writers do not write is simply that they just do not sit down and start writing. This motivated me and immediately upon my return to Colorado Springs I sat down and wrote several articles and submitted them to golf publications. The response was universal that none needed golf contributors at the present time.
Since I had cultivated a friendship with Dave Csintyan, I asked him to read the articles and give me feedback. Dave did so and advised me that I needed to do something with the articles, since they had an unusual and delightful slant. He also suggested that with my golf course reviews I develop a senior guide, or rating, to enlighten golfers about how enjoyable playing specific courses might be. Dave's reasoning was that a senior could go on vacation and pay an extremely high green fee only to be disappointed by being torn up by the degree of difficulty. I took his advice and developed a simple system of one, extremely difficult, to ten, extremely easy and boring. The rating system can be adjusted for low handicapped skilled players as well as any gender or age golfer. No more having to consider slope and ratings and all the mathematics involved. See Course Reviews.
Dave became a mentor to me and arranged a gathering in his home for several community movers and shakers to hear the vision of Senior Friendly Golf. While I did not have a long-term vision at the moment, I quickly developed one. The result of the meeting was that they recommended that I establish myself, and Senior Friendly Golf, as the focal point for senior golfers on the Internet.
Senior Friendly Golf was about to come into being. There was one big obstacle to launching. Since I had recently retired from the Army and Air Force Exchange Service, I was reluctant to invest the vast sum of capital needed to create a presence on the Internet with a professional web site. Enter my son, Michael Darling, who was an innovator ahead of the wave in Internet marketing. Michael Darling is now the President of the Internet firm Veretekk, http://www.veretekk.com, and a Senior Vice President of Education Logistics, Inc. http://www.edulog.com, the dominant national school transportation logistics company in America. His price was right for his father, free. Today's Senior Friendly Golf web site is varied and reflects many interesting links including periodic journal entries, free membership, golf links, and free advertising.
Senior Friendly Golf has evolved to be the most service oriented golf tournament consulting company in Southern Colorado. There is no charge for these consulting services when helping non-profit and charity organizations with their golf and other fund raising events. Corporate, or company, consulting services are also available. We believe many companies have not learned how to maximize the six-hour sales call opportunity they have with customers and suppliers on the golf course. We can help. All tournaments are welcome.
The daily golf tournament listings on our web site were free four years ago www.SeniorFriendlyGolf.com and continue to be so today. Three years ago the publisher of the Colorado Springs Business Journal, Lon Matejczyk, approached me at a Chamber governmental affairs committee meeting and asked if his newspaper could pick up our listings. The Journal reader's annual income averages over $140,000 per year with a net worth of over $1,400,000. Lon was pleased to have our permission, and every Friday during the golf season they are published. According to Mike Boyd, Managing Editor, the listings have become a favorite reference source for their readers, since a large number are avid golfers and welcome the opportunity to play at many exclusive golf clubs and support the charities and non-profit organizations holding golf events.
Shortly after the Journal began including the tournament listings, Dennis Ingmire and Bruce Schlabaugh, publishers of Life After 50, approached me. They suggested I should be writing articles for their readers. I agreed and periodically I contribute golf course reviews and other golf related articles.
During the first and second year I concentrated on reviewing golf courses and writing articles for my web site and both the Journal and Life After 50. At one of the tournaments my gift bag contained a certificate for a free golf club. I traced the source of the free golf club certificate in hopes that I could get them for the organizations I was meeting with. That company asked me to present their product line and I did so for three years as I built our golf tournament consulting service. Last year the company decided to terminate my services and employ a full-time representative to take over my accounts. This created a monster. I now compete directly with them and offer more services and better price structures.
That was four years ago and now Senior Friendly Golf has been accepted by PGA WorldWide Golf EXHIBITIONS. They hold PGA Merchandise Shows in Las Vegas and Orlando each year. I have attended both and established relationships with manufacturers and distributors of golf and related products and services. These contacts are important for golf tournament planners to keep their events fresh and interesting. At this year's Orlando show there were over three hundred new exhibitors introducing their products. With 1,200 exhibitors covering 12 miles of isle space it took me two days to walk the show.
Golfer gift bags rank high in retention of players each year. Golf balls, caps, tees, towels, and golf shirts just do not make a strong impact any more. With hundreds of new products coming on the market each year, there are excellent alternatives.
With three new golf courses and close to 100,000 new residents in our metropolitan area in recent years, competition among organizations using golf tournaments as fund raising vehicles has markedly increased. There will easily be over 1,000 tournaments this year. I am aware of one golf course hosting over 350.
Several organizations have abandoned tournaments due mostly to their inability do the hard work and make the right decisions to compete. Others have taken theirs to the next level. Senior Friendly Golf provides advice and innovation for both established and start up golf and fund raising events. The same-ol' same-ol' way of holding golf events does not work as well any more. Hard work by golf committees is required, and tournaments flop if they are not fun and worth the entry fees required.
As a result of my attendance at the PGA merchandise events, companies have given me numerous samples to leave with tournament planners. Among companies participating in this distribution program are Expand-A Sign, Balzee pocket ball cleaners, Golf Rounds pocket terry club and ball cleaner, Grip Dry EZE device to keep golf grips dry in play, Sharpee pens and bag tags, Windage wind gages, Tasty flavored tees, FineTune clip-on accessory carrier, Starting Time FixMaster divot repair tool for putter grips, Pocket-Pro recorder devices, E-Quick water mate clip for carrying water on golf bags for walkers and pack-packing, Volvik crystal cover golf balls, Sureway jeweled golf balls, SuperCool damp & scented neck towels for sweaty golfers, Certain Tee designed for today's oversized drivers, ANCI golf weights for iron and wood club warm up exercises, McLoone metal printed invitations and other items. Best of all, more and more samples are arriving daily for us to take to meetings with tournament planners and their golf committees.
In addition to product referrals, Senior Friendly Golf has new services to meet organization needs including securing all levels of sponsorships, financial budgeting to insure a successful return on investment, professional emcee service and even managing tournaments and other events. These are provided by fee-based referrals to companies in Colorado Springs.
Nationally the biggest new moneymaker was silent auctions. Gaining popularity is our no-risk auction program featuring over 3,500 golf and celebrity photos, sculptures by Michael Garman Galleries, and other interesting and desirable items. Items are generally hard to find on the market. Discounts are given on products sold at auction, and all money over established bid prices is retained by organizations. Auction items usually come with prepaid shipping and handling, but unsold items must be shipped prepaid back to the source.
To enhance golf player gift bags, Senior Friendly Golf distributes coupons for free golf clubs, golf swing analysis, free indoor range and video use, printer ink cartridges, and even an exotic divot repair tool one-free-with-one offer. Our company's distribution program accepts coupons and merchandise from companies to give to tournaments only if they are free, half off, or one-free-with-one offers. Another free service for tournaments is therapists to discuss golf exercises and injuries and even a masseuse to get the kinks out as golfers round their first nine. Certified Titleist Performance Program experts provide these services.
Local promotional product companies have been identified that are willing to give special consideration to non-profit and charity organizations. They are also experienced with corporate promotional needs.
In closing, Senior Friendly Golf will be responsible for crowd control on one of the holes at the 2008 Senior Open at the Broadmoor Hotel and Resort. The total number of volunteers needed is over 3,500 and Jeff Yeager, volunteer manager, has told us that the goal is over half way there. We believe that people waiting to come on board after January 2008 may be disappointed because the goal will be met this year.
Now CLICK HERE for the ANTARCTIC SLIDE SHOW.