EVERYTHING YOU EVER WANTED TO KNOW ABOUT A FUND RAISING GOLF TOURNAMENT BUT COULDN'T FIND THE INFORMATION
Journal Entry #73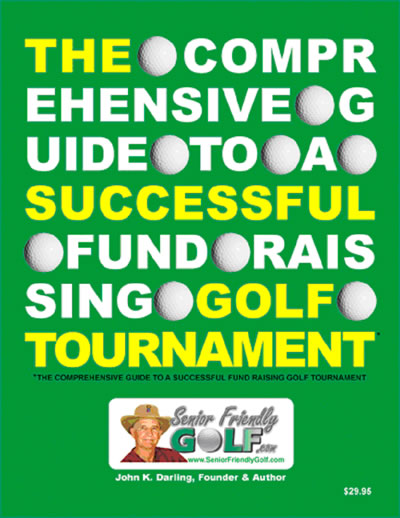 For the past four or five years I have played the role of golf tournament consultant on a person-to-person basis for charity and non-profit organizations. I have done this on a no-fee basis. I have also conducted a number of training seminars for golf tournament planners, which were endorsed or sponsored by the Colorado Springs Chamber and The Colorado Springs Business Journal. The time has come to say good-by to those activities. At age 71 many fun personal pursuits are now calling to me. I am not abandoning my passion to help charity and non-profit organizations. In fact, I am going a step further in providing them even better counsel through a book to be published soon in both book and CD ROM format.
To follow are some of the pre-publication reviews, which I hope will tease readers into securing their copies to enhance their fund raising efforts in the years to com. Since the publication of the book is not expected until May, the CD ROM may come first and can be ordered through www.SeniorFriendlyGolf.com for $29.95 plus shipping and handling $4.95. THE GUIDE WILL BE AVAILABLE THROUGH Barns & Noble, Borders and other book stores. Outskirts Press of Parker, Colorado will be the publisher. THE GUIDE book will also be priced at $29.95 plus S&H.
One very unusual benefit being offered by way of the CD ROM format is that I am allowing something few, if any, authors allow. The book may be reprinted and the salient parts distributed to members of golf tournament planning committees. Read on.
WHAT THEY ARE SAYING ABOUT THE GUIDE
"...I believe associations/charities nationally will find great value in this guide. It is extremely well written, logical, and very easy to follow…especially for the novice...The one thing that rings through to me is your steady state passion to offer a product not easily found in the market place."
Dave Csintyan, CEO, Colorado Springs Chamber of Commerce
"I do not know anything about golf, but after reading your manuscript I feel I can put on a golf tournament myself."
Lizzy Meinon, proofreader
"I recommend to anybody who hopes to raise money through a golf fund raiser to take advantage of John Darling's extensive experience. From finding the most suitable facility, to knowing what questions to ask, whom, and making the experience a memorable one for all, John's GUIDE will take you through every step. It's written in an easy-to-grasp style, and is something everybody can read inside a couple of hours…"
Bobby Steiner, Author of MUNI, The Jitterbug Collection and Head Teaching Professional at The Westin Mission Hills Pete Dye Resort Course, Rancho Mirage, California.
"The manual or hand book as I would describe it, "The Comprehensive Guide to a Successful Fundraising Golf Tournament," is just that, very comprehensive. I work at a resort that hosts at least 2 guest tournaments a day and I see daily the problems and errors associated with this type of function. This guide would be so useful to these groups and head off many problems that we as the course operators have to fix on site. It helps you with anything from formats to goodie bags to sponsors and is just an all around complete handbook to running a tournament properly. I would recommend this guide to any group or company looking to do a golf outing, as it is the complete guide that it says it is. I give this guide four stars and look forward to our groups using the copy that I have. Excellent!" Barry Clayton, Author of A to Z SECRETS from a golf pro and Director of Golf Instruction at The Westin Mission Hills Resort in Rancho Mirage, California, 2003, 2006, 2007
Desert PGA Teacher of the Year in Southern California.
"This is so thorough! It's excellent! Although we netted nearly $60,000 last year, THE GUIDE gave me some fresh ideas and great resources! I especially enjoyed the conversational tone. I felt like you were right here with me as I read through your manuscript. Please put us down for a book!"
BETH ALESSIO, Executive Director, Ronald McDonald House Charities of Southern Colorado.