THE 5,158-MILE 13 STATE ROAD TRIP INTRODUCING THE GUIDE TO CHAMBERS, CHARITY AND NONPROFIT ASSOCIATIONS AND THE 93RD ANNUAL KIWANIS INTERNATIONAL CONVENTION
Journal Entry #77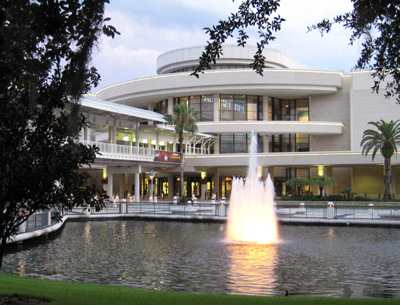 WEST CONCOURSE ORLANDO ORANGE COUNTY CONVENTION CENTER
I hardly know where to start. So, I'll start at the beginning. This is my adventure and you are welcome to join me for some or all of it. I just need to make this record before my memory fails me. There are 11 pages to follow, not counting the photographs. This is a short/long story.
"THE GUIDE" is THE COMPREHENSIVE GUIDE TO A SUCCESSFUL FUND RAISING GOLF TOURNAMENT, which was officially published by Outskirts Press on June 12, 2008. In the words of that guy who advertises the Men's Warehouse on television…"I guarantee it" will provide charity/nonprofit event planners what they need to make money when starting up or enhancing a golf tournament event.
DAY ONE
On Sunday morning I hopped into my 2000 Cadillac STS, which was packed full of more than I really needed. Using high mileage driving techniques, I was able to maintain 26MPG on highways but the total gasoline expense was still close to $1,000. Before I left I had the Red Noland Cadillac service department fill my tires with nitrogen. I don't know if it helped with the mileage but at least they didn't blow up.
The load included samples and products from several golf related companies, which I would like to list now and encourage review of their web sites and consider buying their products for your next golf event. If you are a fund raising golf tournament chairman, I believe they all will make you a great deal when you mention Senior Friendly Golf has referred you. Some contributed to my gasoline expense, and we all know about this problem our nation is experiencing. You can click on any of them right now and go directly to their web site to review all the products they offer. I have used their products, which are of the highest quality and worthy of your consideration. You can also find more information in the PRODUCT REVIEWS.
www.StartingTimeGolf.com (info@StartingTimeGolf.com)
www.GreatGolfUSA.net (sales@GreatGolfUSA.net)
www.L3Screen.com (Greg@L3screen.com)
www.ExpandaSignUSA.com (Judith@ExpandaSignUSA.com)
www.GolfRound.com (rcholms@GolfRound.com)
www.NoJokeGolf.com (sales@shotgunparty.com)
www.StickTips.com (cj@StickTips.com)
My plan was to present "THE GUIDE" to Chamber of Commerce and charity/nonprofit associations with 1,000 or more members.* Unfortunately time did not allow to do as much of this as I would have liked to have done. I had sent out, and had with me, a letter of introduction from Dave Csintyan, the Colorado Springs Chamber President and CEO. Since there was no way I could adhere to a specific appointment schedule, my visits were mostly unannounced. In many cases I was fortunate to be welcomed and presented "THE GUIDE" to presidents and/or event coordinators. By the way, Dave has been my main mentor from the beginning and even helped name my little organization Senior Friendly Golf. I am sending the associations I missed follow up materials and a copy of "THE GUIDE" CD-ROM.
*I should note that most, if not all, organizations have members who sell promotional products and those associations tend to be very protective to send business to them only. That's okay. If these companies mention to suppliers listed in "THE GUIDE" referral by Senior Friendly Golf and explain what charity or nonprofit they are ordering for discounts or other considerations may be granted to pass along clients. Otherwise direct purchase will likely be available to save tournament expenses.
KEEP READING, IT GETS MORE INTERESTING
DAY TWO
First stop was the Greater Topeka Chamber, Kansas www.topekachamber.org. A disappointing start. I could only leave a "primer" CD-ROM and samples. Neither their president nor their special events coordinator was in.
The "primer" explains how associations can refer "THE GUIDE" to their members who may be involved with fund raising golf tournaments. It also includes a complete copy of the book and supplemental Information with EXPANDED SOURCES, which they can link directly to web sites when reading the information on the CD. In some cases I left a copy of the book, depending on the size of their membership. Since my publisher was unable to get "THE GUIDE" into print before I left, I had to take a master copy to Office Depot on Eight Street, and they printed sixty books for me. They did a good job.
My first face-to-face meeting was with Bob Grant, a scratch golfer and the Senior Vice President of the Greater Kansas City Chamber of Commerce www.kcchamber.org. I felt elated after that meeting.
Usually my days ended with a positive interview (Someone was watching out for me). This day it was with Julie Swope, Director of Special Projects at the Columbia Chamber of Commerce, Missouri www.ColumbiaMOChamber.com. Julie had a golf committee meeting planned and appeared to be thrilled to present "THE GUIDE" to her group.
My purpose in introducing "THE GUIDE" to Chambers is not for "their" golf events because they are usually already generating results they may feel are satisfactory. My purpose is to encourage them to let their members know about "THE GUIDE", which they can now order on line: Click Here. "THE GUIDE" also comes in an expanded CD ROM version through www.SeniorFriendlyGolf.com.
DAY THREE
My main disappointments were usually with the larger Chambers, like St. Louis, and a few months ago, Dallas. I can understand that with the huge Chambers those guys are very busy raising money for their organization and enhancing commerce in their cities.
One of my fondest memories was with Matt Meadors, President/CEO and Laurel Meny, Director of Marketing, at the Chamber of Commerce of Southwest Indiana www.ccswin.com. They helped end my day on a high note. The only problem with that contact was getting there.
Mabel is the name my wife and I have given our GARMAN GPS. When there is new highway route construction and improvements, she tends to take me in circles. Mabel was confused with all the roadwork going on. Many cities nowadays have two seasons, winter and "construction." That night I spent in Louisville, Kentucky.
DAY FOUR
Looking back on this day is a bit fuzzy as exhaustion set in. I was experiencing some physical difficulties I'll explain this in more depth at the end of this journal entry. I think I made stops in Lousiville and Lexington www.CommerceLexington.com, Kentucky, Knoxville, Tennessee www.knoxvillechamber.com and finally into Asheville, North Carolina www.ashevillechamber.org. I met with Laura Wolf, Director of Events and Sponsorships at the Asheville Area Chamber of Commerce. This Chamber of Commerce was housed with their Visitor's Bureau. The building was one of the most impressive I saw on this road trip. Too bad our Colorado Springs Chamber is crammed into two floors downtown. They deserve a better site for such a growing community.
I wanted to get to the Asheville Municipal Golf Course before it closed to meet the golf professional. I had a special reason to want to go there. The person who probably has had the most influence on me to start writing golf articles is Bobby Steiner. Take a look at his web site http://bobbysteiner.com. His book, MUNI, The Jitterbug Collection is fantastic, entertaining and instructive. It taught me a lot about how to play golf. The book makes a great golf gift bag item for golf tournaments, and the price is ridiculously low in my opinion.
Why meet with the golf course professional? If you read the reviews on "THE GUIDE" click here you will find that when it is given or sold to golf tournament planners, especially novices, it eliminates many of the problems that may be encountered the day of the event. Barry Clayton, author of A to Z SECRETS FROM A GOLF PRO, made these comments. Order his book at any bookstore. ISBN number is 978-0-595-68256-0 published by iUniverse, Inc. www.iuniverse.com/bookstore to order on line. Another neat goodie bag gift.
DAY FIVE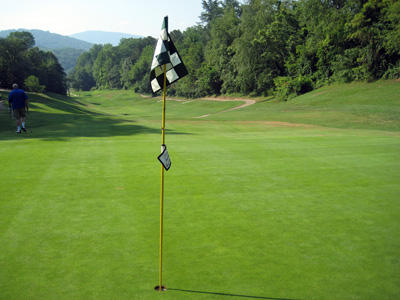 FOUR PAR NUMBER 10 AT ASHEVILLE MUNICIPAL GOLF COURSE FROM THE GREEN
Bright and early Thursday morning I teed up with a couple of other senior golfers. They played from the white men's tees, but I have learned at my age that playing from the senior tees is more fun. I shot a disappointing 49 on the front nine, which is flat and similar to many municipals, and left my lob wedge somewhere. After the back nine, it had not been turned in. Someone else must have liked it more than I.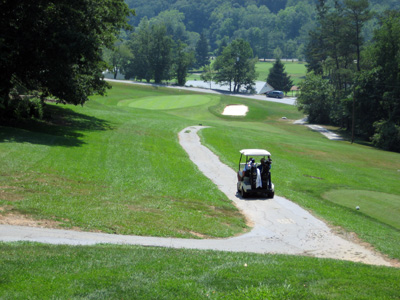 PAR THREE FROM THE TEE AT ASHEVILLE MUNI
On the back nine I shot a 39 for an 88. My lowest score ever. Breaking 40 on the very difficult back nine will always be memorable. The eighteenth hole ends with an elevated tee box down to the green of the three par. Asheville is a generally mountainous area. The back nine is so also, and I will put a review of the course on www.SeniorFriendlyGolf.com soon. I had about a 40-foot uphill putt and I drained it for a birdie with a putter my son, Michael and his fiancé Andrea, gave me for a combined Father's Day/birthday gift. I wonder if Someone was watching out for me? That putt was a real motivator. The putter is "A Ross Taylor Original" made from the reproductive organ of a bull…ouch! "Ouch" is what I have named it. www.mikedarling.com and www.montanalowden.com. By the way, Michael is my web site designer and webmaster.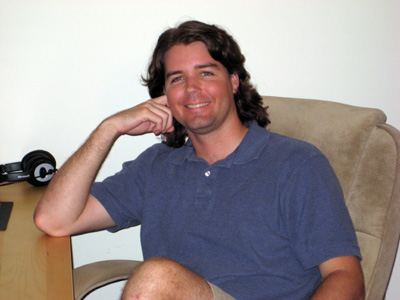 MY YOUNGEST SON, DR. ERIC DARLING
That afternoon I headed for Durham, North Carolina, where my youngest son, Dr. Eric Darling, is doing post-doctoral research at the Duke University Medical Center. I wanted to take him to dinner before he left on a vacation to Vancouver with his wife to be, Louise, and her family. He loaned me his apartment for the weekend before I journeyed to Orlando for the 93rd Annual Kiwanis International Convention. I had lots of CD ROMs to burn and labels to print.
DAYS SIX-EIGHT
I set up my printer and two laptops and made many copies of THE GUIDE. I planned to offer Kiwanis clubs a free expanded CD version and a bag of samples worth over $300 for buying the book at my exhibit booth.
Another reason I was having to stay over the weekend was because two of the companies sending me samples to present to potential golf tournament planners had failed to get their products to me before I left my Colorado Springs home. I had suggested that they send them to me at my son's address in Durham. One did so and I had to wait for those before I could leave for Florida. The other company decided to ship them to the hotel where I planned to stay. I was also waiting for some unique items from one of my long time supporters, L3 Screen Printing, Embroidery and Promotional Products, www.L3screen.com. They shipped to the hotel as well.
DAY NINE
So Monday I was anxious to meet the mailman. My son had stopped his mail. I was concerned because if the mail was to stop today I would probably have a problem trying to get my package from the branch post office. Someone was watching out for me because when the mailman arrived so, did the package I was expecting.
I struck out having the opportunity to meet with anyone for any length of time at the Durham www.durhamchamber.org and Raleigh www.raleighchamber.org chambers as well as the North Carolina Center for Nonprofits www.ncnonprofits.org. I left them the bag of samples, book, and primer CD.
I spent the night at the Microtel in Florence, South Carolina. This whole trip lodging was courtesy of the discount coupons I could find along the way. Microtels are okay. Rooms are small but comfortable. The next day I would stop in Sumpter.
DAY TEN
My reason for routing through Sumter was specifically to meet Tom Winstead, President of The Christian Golfers Association www.christiangolfer.org. We spent the morning together and lunched at Shoney's. I was also introduced to Wayne Chappell, Director of Golf at the Crystal Lakes Golf Course. There is a wonderful program going on there www.thefirsttee.org. The World Golf Foundation created it in 1997. Take a look. I believe Tiger Woods was once associated with it before he started his organization to bring golf to kids.
The CGA office is at the golf course and the association membership is huge. Tom manages it with several volunteers helping. There should be an annual membership fee, but there is none. My membership card is number 981,120. In a few months Tom plans to let the word out about THE GUIDE. I asked him how many he thought might be involved with fund charity golf tournaments. He said "about 99%." Wow!
I promised Tom I would make an effort to get some CGA clubs started in Colorado Springs once he sends me the information. I intend to do this by meeting with rectors of Christian churches once I get my book business in order. That probably means fall and winter.
While on the road I must have received over 30 emails from my publisher offering ways to help me promote THE GUIDE and buy more of their services. They have to wait too. After almost four weeks on the road, I will be catching up for weeks, and being a hole captain at the 2008 Senior Open will delay this effort as well.
This afternoon I drove to Columbia, South Carolina where some interesting things happened. First I met with Mason Hardy, the president of the South Carolina Association of NonProfit Organizations www.scanpo.org. I enjoyed visiting with him, and he gave me directions to the Greater Columbia Chamber www.columbiachamber.com, which was just a block away.
Mabel, my GPS, kept saying I had arrived, but I could not believe the building. It was really southern and majestic. When I went in, the receptionist said I was expected and that I should go on up. I was very surprised because, to my knowledge, I had not arranged an appointment. When I walked into the room it was assembled with their board of directors. We all understood the error immediately. Mr. Ike McLeese, the president and CEO, asked that I leave the materials and he would review them. So, I left the book, primer CD and samples.
I actually did have a real appointment the next day so I was off to Brunswick, Georgia, only 230 miles south.
DAY ELEVEN
My meeting was with "Woody" Woodside, President of the Brunswick-Golden Isles Chamber of Commerce www.brunswick-georgia.com. He was very knowledgeable of tournaments, and he enjoyed seeing many of the new items that have surfaced in the golf industry which I have accumulated from attending PGA Merchandise Shows. He was gracious to call Johnny Paulk, PGA member and Director of Golf and Tennis, at the Jekyll Island Golf Club to meet with me www.jekyllisland.com. The drive over there was beautiful.
After meeting with Johnny, I was off to Jacksonville, Florida for a meeting at the Jacksonville Chamber of Commerce.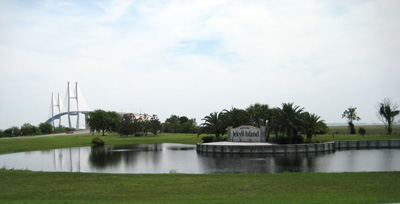 BRIDGE TO JEKYLL ISLAND FROM BRUNSWICK, GEORGIA
READ ON. THAT STARTED A CHAIN OF HARROWING EVENTS
DAY TWELVE
With Jacksonville being such a large city, I decided to stay about 17 miles away and drive in after the rush in the morning. Construction was heavy with many overpasses and bridges being built or modified. I entered what I thought was the right address, 3 Independent Drive, into Mabel and she did not recognize the address. It didn't matter because I failed to punch the "GO" button and found myself driving past downtown and in the direction of all the beaches. When I discovered this, I took the first bridge I saw that looked like it went downtown. Guess what, Someone was looking out for me. As I crested the bridge and drove into the city there was one building standing out directly in my line of vision…JACKSONVILLE REGIONAL CHAMBER OF COMMERCE www.myjaxchamber.com. I was early for my appointment so I parked in their pay parking lot and walked to the waterfront to get some exercise and pass the time.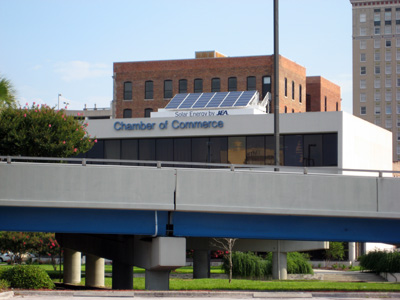 JACKSONVILLE, FLORIDA CHAMBER OF COMMERCE.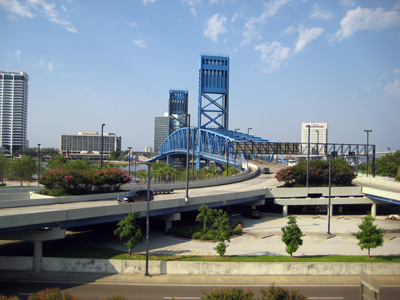 VIEW FROM THE JACKSONVILLE CHAMBER BOARD ROOM
I had a wonderful meeting with Walter Lee III, the president, and Anna Valent, Director of Events & Member Benefits. On the way up on the elevator I met a couple of ladies, one of which was once in charge of their Ambassador Club. I asked how many Ambassadors they had. I have been an Ambassador at the Colorado Springs Chamber since 1999 so I was just interested. They have about 40. We have about 60, so we are doing pretty well, since we are a much smaller city.
After the meeting I went to drive out of the parking lot, which is unattended and requires depositing cash or a credit card. I opened my wallet and there was no driver's license or credit card. Fear and panic hit me. I must have spent half an hour going through everything in my vehicle except my golf clubs. Finally I decided the only place they could be was back at the motel, 17 miles away. I prayed all the way, since the $300 or so in my wallet would hardly cover expenses for the rest of the road trip. My prayers were answered. Someone was watching out for me. The motel had kept them.
That afternoon my next stop was the Daytona Beach Chamber www.daytonachamber.com. I had emailed ahead so they were expecting me. Larry McKinney, the president, was not available, but their Senior Vice President was. I spent quality time presenting THE GUIDE to Kevin Kilian. Not only is he the VP, but he is also the person who is responsible for their annual golf tournament. Their building is right in the heart of the boat docks and their tourist market district.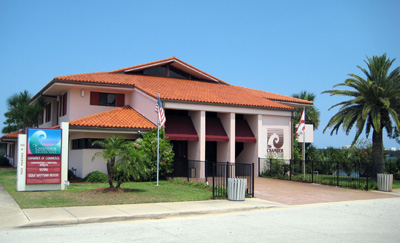 DAYTONA BEACH, FLORIDA CHAMBER OF COMMERCE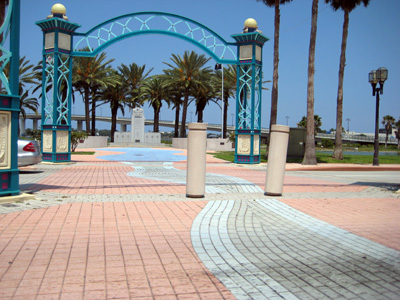 VIEW FROM DAYTONA BEACH MARKET DISTRICT
After our meeting, I decided to make the drive to Orlando. I still had lots of preparation to do for the 93rd Kiwanis International Convention. Since expenses were mounting, with gasoline pushing $4.00 a gallon, I wanted to get there a few days early in hopes of finding a cheaper hotel and cancel my more expensive reservations. I also wanted to pick up the two packages that I expected to be there. I found a coupon for the Howard Johnson's at $20 a day less and only a block away from the Orange County Convention Center where the convention would be held. I stopped by the hotel where I had reservations and the packages were there. Someone was watching out for me.
When I called to cancel my previous reservations I was advised that they were not cancelable and had already charged for the week. I thought I had made reservations direct with the hotel, but it turned out that it was a service, and the only way reservations could be canceled was at the hotel's option. Someone was once again watching out for me. The hotel allowed the reservation to be canceled.
I checked into the Howard Johnson's and asked if I could extend my stay. Because I was using a coupon, I was told I could only stay one day and would have to get another coupon to get a room for the next day and the week. I had already canceled my other reservations. For some reason, here again Someone was looking out for me, I had picked up several coupon books at one of the welcome centers on the highway. The desk clerk was especially accommodating and helpful. I was able to get a room for my entire stay in Orlando at the discounted rate. The only problem was that it would have to be a smoking room. I am allergic to cigarette smoke. She gave me the key to three rooms to choose from and one of them was not too bad. With the help of a lot of deodorizing spray I picked up at a grocery store, the room became tolerable.
DAY THIRTEEN
I went to Sea World. I had never been to the Orlando theme park. I enjoyed it very much, even though the humidity was very high and the temperature in the 90s but felt like 117 degrees. My wife was going to Chandler, Arizona that week to visit her mother, and it was actually that hot there.
My day at Sea World was notable. At one of the shows they asked for a volunteer. A gentleman agreed to become part of the show and was asked where he was from. England. At least 75% of the crowd roared. Our miserable exchange rate is a great bargain for Europeans and everywhere else. Thank you Congress with your 14% approval rating by Americans.
For lunch I had one of the worst and most expensive bar-b-que chicken breasts I have ever had in my life. Since I was by myself, I asked to join a couple at their table. This turned out to be very interesting. She was a hotel maid on her day off with her husband who was unemployed because of a serious automobile accident. The conversation evolved to politics. They advised me that they felt that Obama was the answer to all our county's problems. I politely asked them why? They said they just "felt" like he would be a good President. They could not explain to me anything he has done or what they thought he could or would do. I was polite.
CLICK HERE FOR A SLIDE SHOW OF SEA WORLD
DAY FOURTEEN
Mainly rest. The day at Sea World had really exhausted me. The temperature was in the 90s and humidity equally as high. I went to see Get Smart, the movie. Wow. That was more fun than Sea World and a lot cheaper. I was always a fan of the old television program.
DAY FIFTEEN
Last January prior to the 2008 Annual PGA Winter Merchandise show in Orlando, my wife and I stayed at the Disney Orleans Resort. We enjoyed that mini-vacation very much and I met a young gentleman, Tod LeBelle, who was a part-time bartender there. We got to talking about Senior Friendly Golf and he said that on my next trip to Orlando he would like to play golf with me at one of the Disney golf courses. I took him up on his gracious offer. We played the Osprey Ridge Golf Course, where I believe a number of PGA tournaments have been held.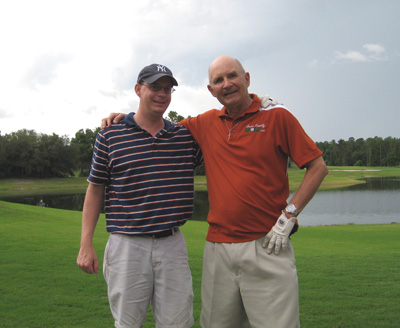 TOD LEBELLE AND ME
Orlando was going into a week of afternoon thunderstorms. These were periodic heavy downpours. We probably played half the course in the rain. I do not have a web site for the golf course, but try www.waltdisneyworldgolf.com to see what you can come up with.
I had a terrible score, but sank a 75 -foot putt on a wet saturated green with my special putter. That was of course just "fate" and had nothing to do with "faith." I can't say Someone was looking out for me this time. This was just luck. However, I hope Someone is looking out for one of our playing partners. He told me he was waiting for a liver transplant. He was in his early 40s. I asked him if he knew how far down the waiting list he was. 1,600. He said he relishes one day at a time now days.
I presented THE GUIDE to an assistant pro, Paquiry Oganathan who promised to pass the information on to Kevin Weickel, head golf professional for Walt Disney World Golf.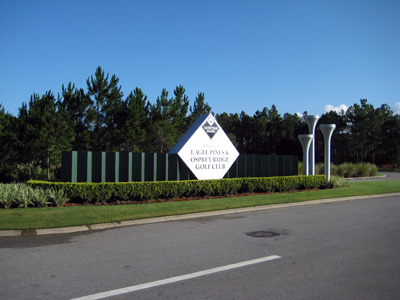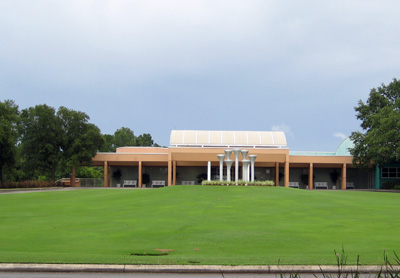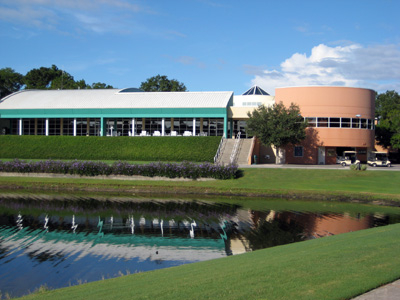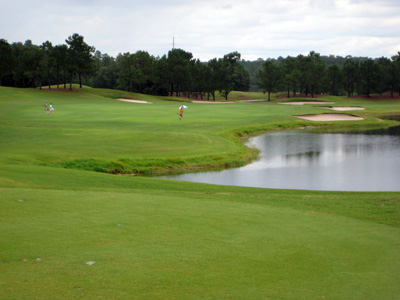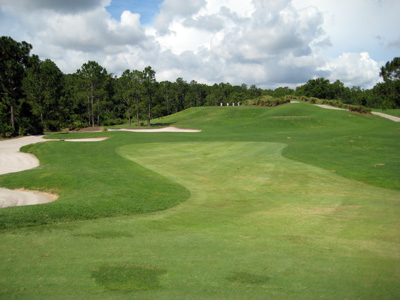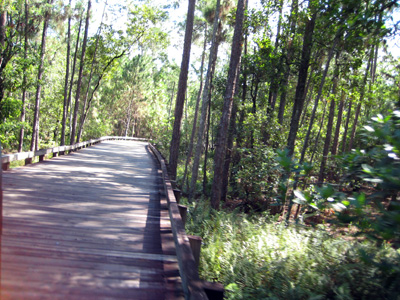 YOU CAN STOP READING ANY TIME, BUT THE BEST IS YET TO COME
DAYS SIXTEEN AND SEVENTEEN
I continued to prep for the convention printing reviews, assembling sample bags and burning more CDs. I had to make several trips to Walmart and Office Depot for office supplies, labels and other exhibit booth needs.
I decided to take a break and see a movie. When I got to the theaters there was really nothing I was really interested in, but it was cool inside so I chose Wanted. $10. Ugh! Don't bother and I want my money back.
DAY EIGHTEEN
The attendees had requested more time with exhibitors. We were asked to set up early so the exhibit hall could open Wednesday afternoon rather than Thursday morning. I was nervous about setting up because this was my first exhibit on a national scale and Orlando is heavily unionized. All went well, however, and I had no problem setting up the Senior Friendly Golf booth myself. I was fortunate to be next to the National Hole-in-One Association www.hio.com, which was the only other golf related company there. Also of importance was that our booths were directly across from the Kiwanis retail store area.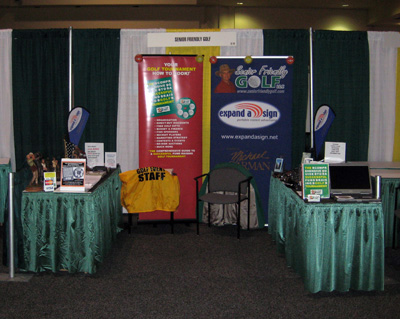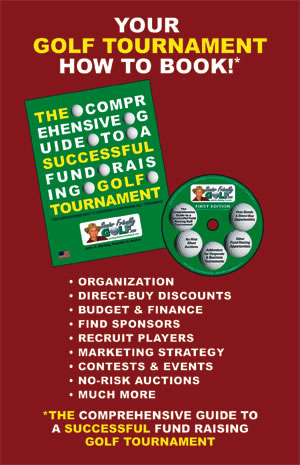 DAYS NINETEEN AND TWENTY
Kenn Smith, a retired NHIOA employee, manned their booth and we became good friends. Several years ago he arranged for Senior Friendly Golf to refer golf tournament planners to them for their insurance needs. You can still get special treatment when you call their national number 1-888-464-1912 and give the code word "FRIENDLY." Kenn, though retired, has arrangements with them now to captain 10 conventions a year. The NHIOA is the largest sports risk company in the world. They started it all over 28 years ago. I hope I have that right.
As I mentioned before, my offer to Kiwanis clubs was that if a club bought THE GUIDE I would include the CD with extended information and include a bag of samples worth over $300. I don't know if that was the reason or not, but I sold 50 copies at the convention. I only had 40 left so I had to send the 10 short when I got home. The publisher included 20 free copies with the package I selected to produce THE GUIDE.
It was a pleasure getting to know Kenn. After he learned of my medical history he said my name should be "Lucky." I have had two hip replacements, a stroke at age 50, and survived prostate cancer. Maybe lucky, maybe fortunate, maybe blessed but certainly I am thankful.
DAY TWENTY-ONE
Kenn and I were both tending our booths solo, so we decided to have dinners together. I had my STS, which gave us the mobility to go anywhere we wanted. Thursday we went to Bubba Gumps and Friday Margaritaville at Universal Studios Theme Park. Both places had very good food and terrific service. The only problem we had was with parking. We found out the hard way that it costs $12 before 6:00pm and nothin' after 6:00pm. The Bubba Gump manager told us to go to the park's customer service office and they might refund our parking fee. We went there and Kenn was smooth as usual and got his money back.

JOHN DARLING AT MARGARITAVILLE
DAY TWENTY-TWO
Saturday was take down day. Kenn told me several times that I had no idea how successful my exhibit was. He suggested that on my way back to Colorado that I make it a point to meet the president of his company, Douglas Burkert, and Brad Henderson their Advertising Manager. He volunteered to arrange the meeting.
DAY TWENTY-THREE
I had planned on continuing my Chamber contacts down to Tampa and St. Petersburg, but be to be honest, I was wearing down and getting a little homesick. It was Sunday and I still had over 2,000 miles to travel. Tallahassee was my next target. I would stay there the night before visiting the Greater Tallassee Chamber of Commerce www.talchamber.com. Unfortunately neither the president nor the coordinator for member services and events was available. I left my package of information and started toward Panama City.
The thunderstorms were beginning to move into midday and even all day. On my way to Panama City it poured. Visibility was limited. Just as I parked a block away from the Chamber office the downpour stopped. This was fortunate for me because on each stop I had to get out of the car, put on my sports coat and assemble my presentation materials. Someone was watching out for me.
I had a wonderful visit with Jill McKinzie, Vice President of Member Services www.panamacity.org. She has relatives in Colorado Springs. I told her that my next stop was going to be Pensacola. She said I could get there in a couple of hours. Didn't happen. It took four.
I had to go through Destin, Florida and all the beach resort communities along the way on the Gulf Coast. There were lane closures due to construction and then it started to pour again. This time the traffic was extremely heavy. Visibility dropped to about a hundred feet and this continued for hours. I finally arrived at the Chamber in Pensacola at 4:40pm. Guess what. As I parked, right in front of the office, the rain stopped. Someone was looking out for me. I asked to see Evon Emerson, the President and CEO. She thought I had an appointment and appeared to be embarrassed for forgetting. I told her not to be concerned and that I did not have an appointment and would like to have only ten minutes of her time. I made the presentation in exactly ten minutes.
I'm back out the door and on my way to Theodore, Alabama, near Mobile, where my cousin, Richard Kimbrell, lives. The "K" in John K. Darling is for "Kimbrell." He and his family, which includes his wife Sheila and daughters Kayla and Kara, welcomed me. Depending on a possible meeting at the NHIOA, I was going to either spend the fourth of July with them or drive on to Granbury, Texas and enjoy the fourth with my son, John and his wife Brenda and my granddaughters Stephanie and Lauren. John is an EMT at Children's Hospital in Dallas and operates out of Love Field. Either way, I was going to go through Meridian, Mississippi to find relatives I had knowledge might live there.
Kenn Smith of the NHIOA had asked me to call him this day to confirm if he could arrange the appointment with the president of his company. July 2nd looked good so my visit with my relatives would be short. My stay with Richard's family would be just this one night and I wanted to visit with my other cousin, his sister Brenda, too. Brenda once told me I was special. I asked why and she told me I was her only cousin, thus the same is true of Richard. We spent most of the evenings viewing photos of my trips to Antarctica, Galapagos, Peru, and swimming with Manatees last January in the Crystal River in Florida. You can see a 30-minute film about Antarctica on Michael's web site www.mikedarling.com. Michael is a Senior Vice President with Educational Logistics, Inc. in Missoula www.edulog.com and President of Inetekk, Inc. in San Diego www.inetekk.com.
DAY TWENTY-FOUR
The next morning I had a nice breakfast with Brenda at her home. While in Tallahassee I called a number I had for the Kimbrell family in Meridian. They did not even know I existed. My mother was a Kimbrell from Lucedale, Mississippi. I asked if I could drop by to meet them.
When I left Brenda's I took with me a fruit lunch she had prepared for me. On the way out of town I stopped for gasoline. I went into the food mart at the station and when I came out a young man in his mid twenties and well dressed approached me and asked if I had some money for him to get something to eat. I said I had something for him and gave him the bag with my lunch in it and walked back to my car. He looked in the bag and frowned. Sad, he either did not like fruit or needed the money for something else. Go figure.
I set Mabel for the address of the Kimbrell Lumber Company in Meridian and off I went. It took several hours to get to the address and I arrived at 11:45am. No thunderstorms. When I arrived I met Royce, his wife Bobbie and two other generations at work at the lumberyard. All were named Royce after the patriarch of the family who even had great grandchildren in Meridian. I could write a book about this family. They are so interesting. Royce senior, senior and maybe senior again is an avid model railroad expert. His passion is as much restoring as it is having a model rail yard in his home, which I visited. I asked his grandson son, William, how they could compete with Home Depot and Lowe's. He said their business is 90% contractors and has been for over 60 years.
I departed Meridian around 1:30pm to make the long drive to Texas. I had decided it was just too much of a strain to go all the way to Granbury so Dallas was my target. I had found a coupon for a Best Western that I thought was on the same side of town as the NHIOA office. Mabel would not take the address, which was a highway address, so I was on my own to find it off the 635 loop. Shouldn't be a problem, right? Have you been to Dallas lately? What a mess. I got lost and it was into the night. I finally decided to just take the next exit and hold up some place until the morning. Guess what, I took the next exit and the exact Best Western I was looking for was there. Someone was watching out for me, again.
DAY TWENTY-FIVE
I spent the next day unloading and reloading my car for the home stretch. Also, Kenn had mentioned his concern that so many other hole-in-one companies had entered the market and that they were eating away at his company's share. I spent most of the day developing a proposal that might help them regain their share. It's tough being number one.
At about 4:00pm Kenn Smith called and said his company's president, Doug Berkert, could meet me as soon as I could get over to his office. I was given his cell phone number to call him on my way. This was just to be a "hello and glad to meet you" introduction. Any business to be conducted would have to be on the phone and by email. Mabel took me to the address that I had taken from Kenn's business card. When she said "arriving at destination" I had difficulty finding the parking lot for the high golden skyscraper where the office was suppose to be. So, I called the president's cell number. Kenn had given me an old business card and I was advised they had moved 10 year ago to another address. Doug Berkert's daughter had a volleyball game that night at 5:30. There was no way we were going to meet each other that day.
DAY TWENTY-SIX
Doug invited me to come to their present office at 1:00pm the next day if I could arrange to stay in town. No problem, of course, and I asked if Brad Henderson, the marketing manager, could be included. Turns out Someone was watching out for me. Instead of a five or ten minute introduction, I spent an hour with them discussing how THE COMPREHENSIVE GUIDE TO A SUCCESSFUL FUND RAISING GOLF TOURNAMENT might be effective for the company. We are both considering the proposal. I am not at liberty to discuss what the meeting entailed. I hope it comes to fruition. These people are really top quality with everything they do.
That evening I took Kenn and his wife Kaye to dinner at one of the nine Outback Steakhouses in the DFW metroplex. The one we selected was hidden virtually within a huge highway interchange. Mabel could not do her job, but I finally found the place by cell phone conversations with Kenn. Dinner was great. When I reached for my wallet to pay for the check it was not there. Kenn paid for dinner and I sent him a check the next day. It was a lovely evening and Kaye was a perfect match for Kenn. Someone was watching out for me again. When I got in my car to leave, my wallet was on the seat next to me. I had taken it out to find Kenn's cell phone number and did not put it back in my pocket.
DAY TWENTY-SEVEN
I had the meeting, as mentioned previously, and decided I would try to make it to Amarillo for the night. Brad had suggested a local steakhouse in Dumas, Texas and that near it were some economical motels. He did not remember any restaurant or motel names, so I thought I could find them. It was a long drive to bypass Amarillo and go the extra hour to Dumas. When I got there I could not find a local steakhouse, so I settled for one that was not a chain. It was filled with locals. How bad could it be? It was the worst meal I had had in years. It was equally as bad as the Sea World chicken. After dinner I asked the owner if she could recommend an economical clean place for the night. She said right next door. I should have know better. It was the most expensive and the dirtiest place I stayed in the whole trip. It was so bad I had to laugh. There were even dead roaches on the floor in the bathroom. I was so tired I just went to sleep and took off home early in the morning.
THE ENDING
I had mentioned previously that I encountered some dizzy spells and fatigue throughout the trip. The heat had a lot to do with it, I am sure. I was constantly exhausted. There were even times on the golf course when I could not stand up on putting greens. I had to bend over to maintain my equilibrium. I also found it difficult to stand up for any length of time at my Kiwanis exhibit booth. I admit I was apprehensive about making this drive in the first place at my age and by myself.
Upon my return, the first chance I got to see my doctor I went in. He found that my medications were all screwed up. Early this year I hade a TIA and major adjustments were made with my prescriptions. As it turned out, there were several duplications because of care by different doctors, including my oncologist. My primary care physician realigned my drugs and within a few days I felt fine. I'm doing great with more exercise and a better diet. Someone is watching out for me, and my wife, Marilynn, is too.
Several months ago a friend of mine, Ron Maw, who is one of my assistant hole captains for the 2008 Senior Open, told me about a group of Christian golfers and that they would meet and play golf together. Ron hooked me up with Jim House, who heads the group. They mostly attend the New Life Church north of Colorado Springs. I thought this was going to be a Bible study group. Only in the past few years have I really started finding out more about the Bible and Christianity. I guess that comes with getting older. Anyway, the group turned out to be more of a prayer group than Bible study.
The agenda for the meetings was to take a chapter from the book, IN HIS GRIP, and discuss how God is present in both golf and life. At the first meeting I attended I was amazed at how much I have to be thankful for compared to all these wonderful gentlemen. Many are approaching "seniorhood" and some are already there. Some are dealing with serious family illnesses, struggling to sell their homes, job losses, family challenges, etc.
Before I left on my road trip at the end of a meeting, Jim took me aside and prayed for God to be in the seat next to me, to protect me, and insure my safety on the road. No one had ever done this with me before. When I left the next week my anxiety lessened as I departed to points east. As difficult situations arose, I just reflected on Jim's prayer. Someone did look out for me many times.