TOM LEHMAN WINS 71st SENIOR PGA CHAMPIONSHIP
(or a senior's view of the tournament)
Journal Entry #90
TOM AT THE FAC LUNCHEON AND WINNING THE CHAMPIONSHIP
My participation as the captain of the Special Marshals Team started on May 22, 2010 when I drove the 55 miles from Colorado Springs to the Colorado Golf Club in Parker, Colorado. I met a number of wonderful people with whom I would be spending five days of intensive service to the players and spectators at the 71st Senior PGA Championship golf tournament. We received our training and began bonding. Our responsibility would be gallery control for player access to their practice areas, the first and 10th tees and ninth and 18th greens. Tournament activities requiring our service started with Pro-Amateur rounds on May 25th.
My direct contact with Tom Lehman actually started several years ago when I was asked to come down to Phoenix for the FBR Phoenix Open and volunteer as a walking marshal at their pro-am day. I drew Tom to walk with. I wish I had taken the opportunity to speak with him and get to know him personally, but since the four gentlemen playing with him had contributed $7,500 each for the opportunity, it was their day. At the end of that round, I did introduce myself at the 18th hole and told him I enjoyed the round with him and that I was his walking marshal. We shook hands and he smiled and said, "Yes, I know, thank you."
The next opportunity I had to meet Tom was at a luncheon sponsored by the Fellowship of Christian Athletes www.fca.org and the Golf Links Fellowship www.linksplayers.com on the first day of play, May 25th. I had read several motivational golf books, that Tom had written forwards for. One was IN HIS GRIP and the other was GOLF'S SACRED JOURNEY-Seven Days at the Links of Utopia. I presented IN HIS GRIP to Tom at the luncheon and he graciously autographed the cover.
The program featured Tom's being interviewed by Mark Johnson, a Denver radio personality. I learned some new things about Tom. His father was a professional football player with the Baltimore Colts, thus, he was from a successful athletic family. This placed high expectations on him, which he met early in life. As a fifteen-year-old high school athlete he had achieved great success and began to wonder "was there more to life." That reminded me of a song by Peggy Lee years ago, "Is that all there is?" Many athletes face this in their careers as they accomplish their goals. To become the best as an athlete, a person has to have total focus, commitment and dedication to become the best at what they do. This means other aspects of their life take a back seat. Once they become among the best, what's left? Tom mentioned that if all an athlete is remembered for is being the best in his or her sport, then they are not a success.
Back to Tom and how he faced the question at his young teen age. He began studying the Bible and became associated with the Federation of Christian Athletes. He learned and still practices that "my only responsibility is to do my best and leave anything else to God." This philosophy paid off Sunday as he won a sudden victory playoff with Fred Couples and David Frost for the $360,000 first prize and golf immortality on the Alfred S. Bourne trophy.
During the interview, Tom expressed other truths that made an impression on me. One was the truth that it's easy to look to God when we are down. We should do so as well when we have times of success. He reflected on the impact John Wooden had on him concerning character. Wooden's advice was that it is character, not image, to be concerned with. Have good people around you to give you good advice and have a mentor who will counsel you with unconditional love. The most important thing Tom said in the interview was that we should be willing to forgive ourselves and to remember that "Christ died to forgive you, so forgive yourself."
We did not expect it, but being the golf professional he is, Tom gave us a golf tip and it was on putting. We all know the saying "drive for show and putt for dough." The tip was that in golf, have one thought at a time, and that when his ball hits the green, he is thinking only about that ball going into the hole and how he is going to get it there. This reminds me of "singleness of purpose." A good philosophy for any achievement in life.
Thank you Tom. You are an inspiration to me and made my week at the 71st Senior PGA Championship golf tournament. How joyous it was for me, and no doubt for you, that you won…even though it took two putts on the playoff hole.
CLICK HERE to see a slide show of the players.
CLICK HERE and enjoy a 119-photo review of the Colorado Golf Club 18.
CLICK HERE to see a slide show of the spectator's view of the tournament.
CLICK HERE to see a slide show of dedicated volunteers and others.
ANOTHER REASON FOR ATTENDNG THE FCA LUNCHEON
Extension of Journal Entry #90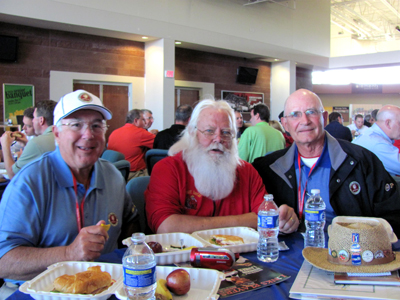 ROY GIBSON, THOMAS CARMODY, JOHN DARLING
Since this journal entry is of a religious nature, I would like to take this opportunity to inform you about the Christian Golfers Association. Roy Gibson, a friend and fellow member of the Special Marshals Team who works at the Pine Creek Golf Club, and I met with Tom Carmody at the Tom Lehman luncheon to explore starting a chapter in Colorado Springs. By email Tom Carmody told me we could recognize him because he would be the only one there that looked like Santa Claus. Tom is the a regional director with the CGA.
The CGA is a worldwide organization of over a million golfers. Anyone interested in helping us form a chapter, please take a look at the CGA website www.christiangolfer.org and if interested, email me GolfGuy@SeniorFriendlyGolf.com and I'll let you know when we will have an organization meeting.
We will be devoted to encouraging and enhancing Christian fellowship and fun among those who love the game of golf. You do not have to be a religious person to participate.