THE PGA MERCHANDISE SHOWS ARE FOR GOLF PROFESSIONALS
THE DENVER GOLF EXPO IS FOR THE PEOPLE
Journal Entry #95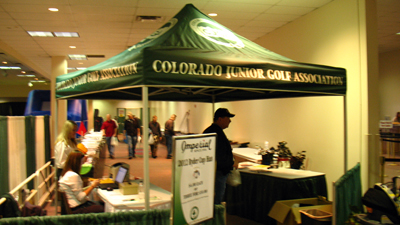 For many years I have attended national PGA Merchandise Shows. The big show is in January in Orlando. My wife and I have planned vacations to stay the month of February somewhere warm, like in the Florida Keys. February is the month Denver has its annual golf show. Unfortunately this has meant I would always miss it. However, this year I decided not to attend the PGA shows and will apply those funds to exploring the Audubon Golf Trail of Louisiana in the fall. You see, Senior Friendly Golf is a no profit, although it was not meant to be, venture. All my expenses are out of pocket, except for the slow growing royalties from my book (click on the scroll above or the BOOK REVIEW link of this website). The main thing is that after many years I had the opportunity to attend the Denver show this year. They lucked out too. Sunny skies after a week of subzero weather in Colorado and all over our nation.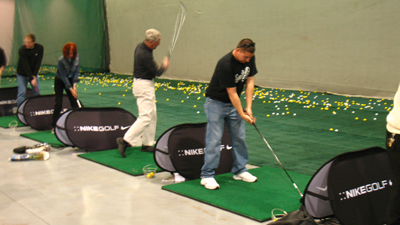 The Denver show is in the Denver Merchandise Mart on the north side of the city. Unlike the PGA show at the Orange County Convention Center in Orlando, the facility is not a big open space, but with perseverance one can make your way around all the exhibits in an hour or two. Orlando, with over 1,200 exhibits, takes two days to walk the six miles to see everything up close and personal.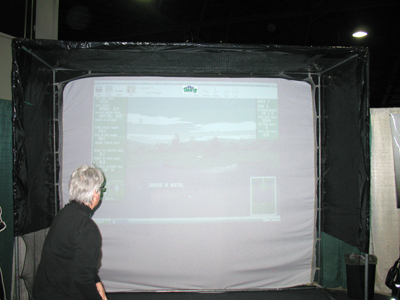 My first impression in Denver was that there was a significant emphasis on junior golf, and that's a good thing. Next, I noticed that the show was big on retailing items to attendees, who were not golf professionals but golfers of all ages. Like any merchandise show, the exhibitors were there to sell stuff. There was a golf equipment swap area hosted by the Colorado Golf Association and virtual golf and actual driving range exhibits if you wanted to hit or putt. What impressed me most was the abundance of golf courses exhibiting. They were soliciting memberships, giving away rounds of golf, and encouraging golf vacations. That hit the spot with me. I was looking for a place to go for a few weeks this winter.
What about "golf trails?" Look into them. Last year a friend of mine and I played the Santa Fe Golf Trail in New Mexico. My review of that golf tour will be coming soon to this web site. I recommend the Santa Fe Golf Trail to everyone, regardless of skill level. Mark J. Matanis manned their booth and is the reservation director. The prices are modest and the views are breathtaking. www.GolfontheSantaFeTrail.com. May is the right month, since the courses will have greened up, but take a windbreaker and sweater just in case.
I visited with Berith Jacobsen who was representing both the Arizona golf Trails http://www.arizonagolftrails.com and Colorado Golf Trails http://www.coloradogolftrails.com. Both are worth looking into. There are over 150 golf courses around Phoenix, so Arizona Golf Trails packages will help you avoid being overwhelmed. I will be headed for the Tubac Golf Resort south of Green Valley, Arizona soon. www.tubacgolfresort.com. I am really looking forward to reviewing their 27 holes, bird watching and strolling around the artist colony in which it is located. Keep in touch with this website's COURSE REVIEWS.
Being a Texas Ex, I was pleased to see a new golf trail in my home state, although I am now firmly planted in Colorado. Chip Gist, the founder, represented his Austin Golf Trail www.AustinGolfTrail.com. Give that trail a look. Austin in itself is a great place to visit.
Nevada was well represented with Doug Chalmers of the Suncoast Hotel and Casino offering 81 holes of world class golf http://www.suncoastcasino.com and Darrell Edwards of Mesquite http://www.itsmesquite.com. I visited with Darrell about my only hole-in-one on the three par 184 yard hole number 14 at Falcon Ridge. 30+ MPH wind gusts and heavy rain. No one saw it but me until we pulled the pin and the ball popped out. My name is on the plaque in the pro shop. Play that course if you can. Take a look http://www.golffalcon.com.
There were several new, or relatively new, golf courses represented. One was the Emerald Greens Golf Club, a three par nine hole course across from the Common Grounds golf club. http://www.windsorgardensdenver.org/golf. Eric J. Twesme is the Head professional. The other was the Golf Club at Heather Ridge, represented by Audrey Romero http://www.golfclubatheatherridge.com.
I met Steve Simianer of http://www.EdgeGolfGroup.com. What they do is manage golf courses around the country that are having difficulty surviving. I understand in 2010 there were several dozen new courses opened in our country, but over twice as many closed. One of Steve's courses is 4-Mile Ranch in Canon City. That's a fun golf course. No bunkers, but good luck finding some of the greens from the tee. The last time I played there, there were patches of snow on some of the fairways. Mid 30s when we started, but 60 degrees by the time we finished. Fun.
Southern Colorado courses were well represented. Tom Morris, PGA Professional was there for http://www.gleneaglegolfclub.com just north of Colorado Springs. Jodie Hale, the golf course superintendent of http://www.shiningmountaingc.com represented Shining Mountain in Woodland Park, Colorado. Over the past several years millions of dollars have been invested in this privately owned public course. I remember the last time I played there in a tournament we had to leave the course when we were on the fourth hole. Snow. I'll be back. They gave us a replay pass and a free lunch ticket. By the way, the food is great there.
One of my favorite courses around Colorado Springs is the Country Club of Colorado. It was the first Pete Dye designed golf course west of the Mississippi. This course wraps around a huge lake at the base of Cheyenne Mountain and in the shadow of Pikes Peak. The resort was represented by Sean Holveck and John Branciforte at the http://www.cheyennemountain.com booth. This is a private club, but just about every Monday during the season there is a tournament there. Most are for nonprofit and charity organizations. If you would like to join one of those events, contact Jemerson@benchmarkmanagement.com. In fact, if you are hunting for a place to hold a meeting for your organization, plan a Monday overlap for a tournament when you book your meeting at the Cheyenne Mountain Resort. You'll have to plan a year ahead. They are just about fully booked for 2011.
Everyone knows about Keystone as a great place to ski, but once the snow melts and the grass greens up, you'll find two premier golf courses there. Jim Banks, head professional and Philip Tobias, PGA, manned their exhibit. http://www.GolfKeystone.com. You can book on line and they have specials for the spring and fall. Check the website and choose to play either the Keystone Ranch or The River Course with a cart and practice balls.
Other exhibits I visited include the following: Jeremy Schmitz, GM of Grand Elk Ranch & Club http://www.grandelk.com, Robbie Finley of Saddleback Golf club. I have played there and it's a challenging course in Firestone, Colorado. http://www.saddlebackgolf.com, John Underwood, PGA head professional and Ryan Parr were there for Lakota Canyon Ranch and Golf Club http://www.lakotacanyonranch.com, Doug Rohrbaugh is the head professional for Ironbridge in Glenwood Springs http://www.ironbridgeclub.com. Ironbridge has recently opened to the public for play.
To round out the golf clubs I visited with, was the Arrowhead Golf Club. If you play golf in Colorado, Arrowhead is one of the courses, like Castle Pines, you hear about. I visited briefly with Kyle Bryant, Director of Tournament Sales. I say briefly because this was one of the busiest booths at the Expo. Visit their web site http://www.arrowheadcolorado.com, breathtaking.
I had the pleasure of meeting Charles Santaularia, Tournament Director, Denver golf Channel Amateur Tour. http://www.GOLFCHANNEL.COM/AMTOUR. If you are a skilled and competitive golfer, you might check this out. Beginning April 30th there are 11 amateur tournaments in and around Denver.
There were two major tournaments represented. One I will be an area captain for. The 2011 Women's Open in Colorado Springs. This USGA event will be held the week of July 4th at the Broadmoor Hotel and Resort. There are still 200 volunteer positions available out of the 3,000 originally offered. To volunteer go to http://www.2011uswomensopen.com or you can call Brianne Miller, Championship Manager, directly to find out what's still available 719-471-6497.
The other tournament, which is probably not accepting volunteers yet, is the 2013 Solheim LPGA tournament, which returns to the USA and will be held at the Colorado Golf Club in Parker, Colorado. That's where the 2010 PGA Senior Championship was held. If you are a volunteer nut, like I am, you might want to keep in touch with Drew Blass, LPGA Operations Director. You can also monitor http://www.solheim.com and http://www.lpga.com to see when and where you can volunteer.
In closing, if anyone reading this journal entry is involved with nonprofit or charity fund raising golf tournaments, consider the reviews of THE COMPREHENSIVE GUIDE FOR A SUCCESSFUL FUND RAISING GOLF TOURNAMENT. CLICK HERE to review the book.