GOLFING THE NEW MEXICO SANTA FE GOLF TRAIL
Journal Entry #96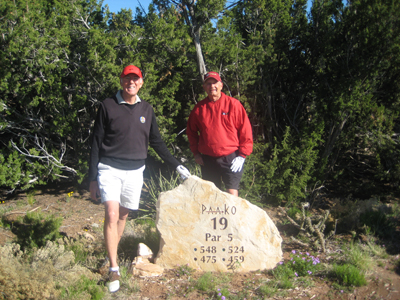 ROGER AND JOHN
My son, Eric, recently married a lovely lady, Louise. I asked her father, Roger, what our relationship would be. Brother-in-law by marriage, or what. He suggested we be considered "outlaws." So, the "outlaws" decided to do their bonding through a senior golf tour into New Mexico after warming up with a round at the Pagosa Springs Golf Club in Colorado. CLICK HERE to see the Pagosa Springs reviews of the Meadows, Ponderosa and Pinon courses.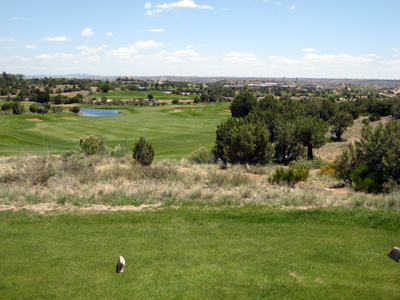 PAGOSA SPRINGS GOLF COURSE
The month of May is when mountain golf courses in Colorado and New Mexico green up. The weather forecast for our first stop, Pinon Hills golf course in Farmington, New Mexico, was 70 degrees. Not. We played in 50-degree weather with wind gusts of up to 40 MPH. It was cold out there. The course did however live up to its ranking as one of the best municipal courses in our country. To see the review of Pinon Hills CLICK HERE. We both felt the best thing about Pinon Hills was the two ladies who guided us around the course. They were very nice, helpful and patient.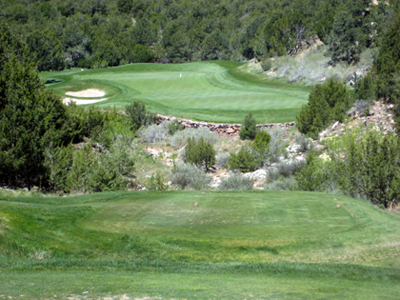 PAA-KO RIDGE CLUBHOUSE
Our golf tour continued with a long drive to Albuquerque where we hit the Santa Fe Golf Trail. We arrived in plenty of time to rest up for our next challenge, Paa-Ko Ridge in Sandia Park, which is located on the east side of Sandia Peak in the Sandia mountains. The weather forecast was 74 degrees and windy. This day was a little warmer than in Farmington, but the wind was so strong it actually blew me over as I teed off on the picturesque number 16. This hole is the signature hole of the second nine holes. Paa-Ko Ridge has three nines and their numbering is unusual. In 2004 I reviewed the "Golf the Santa Fe Tail" and the course's third nine was under construction. (See ARCHIVES October 16, 2004 ON THE SANTA FE GOLF TRAIL for the 2004 review) What is unusual about the three courses is that they are numbered one through 27 and not three one through nines. We had planned to play 18 holes, but the course was so beautiful we had to go the full 27. CLICK HERE to see the review of Paa-ko Ridge Golf Club.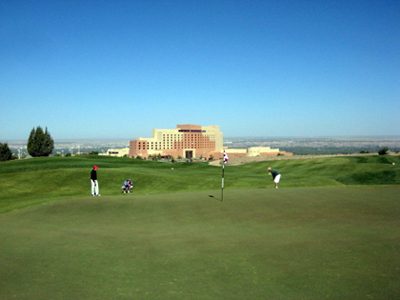 SANDIA RESORT AND GOLF CLUB
The third day of our tour we had the pleasure of playing a course that was not even in existence in 2004, the Sandia Golf Club. After three days of golf, we old guys were beginning to really "feel" like seniors. Of course we are. I was 74 and Roger 63. The Sandia Golf Club is part of the beautiful Sandia Resort and Casino complex just east of Interstate 25 in the shadow of Sandia Peak. One reason I give for playing golf is that it is like taking a hike on a land sculpture. This is certainly true with the Sandia course. It is cut out of and into a barren desert and is beautiful and challenging. It was warmer than the previous two days and less wind until the back nine as a new cold front began to come in. CLICK HERE for the course review.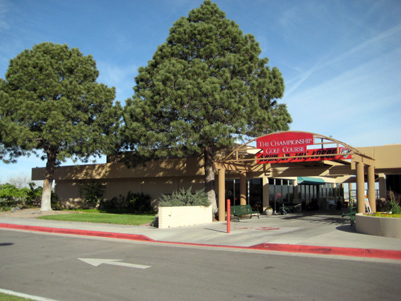 THE UNIVRSITY OF NEW MEXICO GOLF COURSE
Day four we played the University of New Mexico Championship golf course. Of note is that this course is where the first intercollegiate golf tournament is held each year. Also of note is that the UNM course rises above and looks down on the city. It is in the path of Kirtland Air Force jets as well as the Albuquerque international Airport. This was the first day we were able to play in golf polo shirts and did not have to contend with significant wind gusts. CLICK HERE for the course review.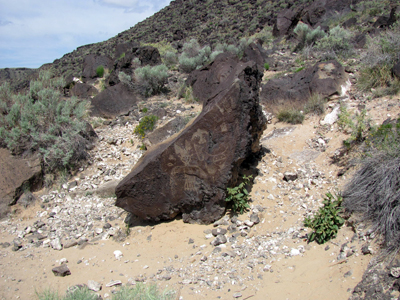 THE PETROGLYPHS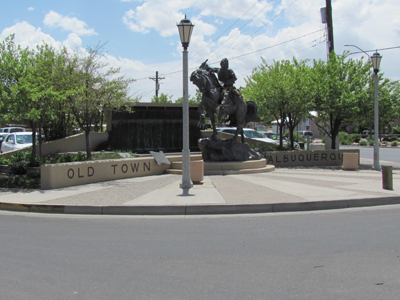 OLD TOWN ENTRANCE
Day five was rest day. We visited the Petroglyph National Monument and then lunched at the Church Café in Old Town. You can walk Old Town and visit every shop and gallery in about two hours.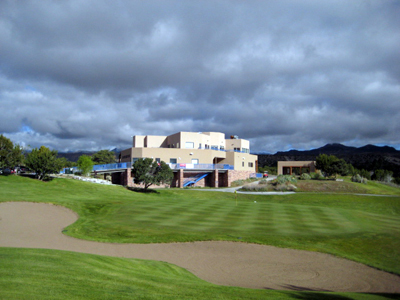 PUEBLO DE COCHITI CLUBHOUSE
Day six we were up at 5:30am and set off to play the Pueblo de Cochiti Robert Trent Jones Jr. designed course. It is not officially part of the Santa Fe Golf Trail but don't miss it when you play golf in New Mexico. Years ago I often passed NM road #20 off highway 25 where I usually gassed up on my way back to Colorado Springs from visiting relatives in Arizona. There is a sign across the road from the Phillips 66 station that reads "Golf Course 15 miles." When you look down that road you see nothing but desert and more desert. When you take the time to make the drive you are rewarded with an awesome view of the towering clubhouse. CLICK HERE to see the review.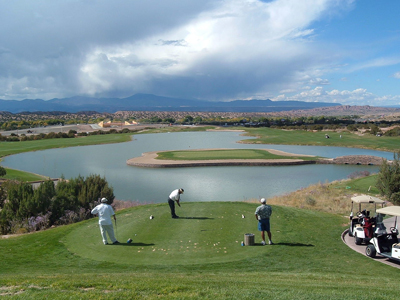 THE BREATHTAKING AND STROKE TAKING PAR THREE AT TOWA
Day seven, our next to last stop on our golf tour, was Towa. This is a course managed by Hilton Hotels as part of their Buffalo Thunder Resort. Towa has three nines but only two were open when we were there. This was probably a blessing for our bodies. We managed 27 holes at Paa-ko Ridge, but that was at the beginning of our trip. Of note on the Towa golf course was their three-par island hole. It is similar to number 17 at Sawgrass where the PGA Players tournament was held. CLICK HERE for the course review.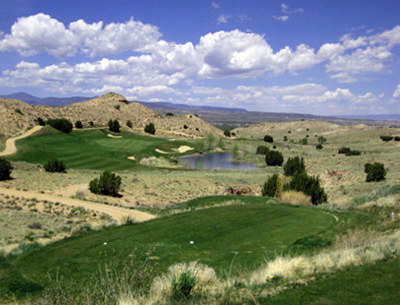 ONE OF MANY HOLES TO REMEMBER AT BLACK MESA
We saved the renowned most difficult course for our last stop. BLACK MESA. I had the pleasure of driving around the course and taking photographs in 2004, but this was my first opportunity to play it. Black Mesa is a breathtaking desert mountain course with many challenging blind holes and shots difficult to stay in the fairway. It reminded me a little of Wolf Creek in Mesquite, Nevada. Two things you need to remember when playing this course. First, be sure to take a cart because the distance between greens and tees is a long way. Second, take lots of extra balls, however you may find as many as you lose. CLICK HERE to tour Black Mesa as as you will see it when playing from tee to green.
Our next golf tour is expected to be either the Robert Trent Jones Golf Trail in Alabama or the Audubon Golf Trail in Louisiana. Be sure to keep tuned to www.SeniorFriendlygolf.com.
I have a suggestion for you. The home page for Senior Friendly Golf has a drop down menu under the "tees" and next to this journal entry. Plan a trip some time to play courses in any area you may be visiting. There are over 15,000 listed. Someday I hope to do a personal golf tour of courses less traveled. I did something like this when my wife and I drove out to Rhode Island to enjoy the changing of the leaves in October (see journal entry #93, the 5,631 MILE ROAD TRIP GOLF TOUR).