THE 2011 USGA WOMEN'S OPEN, COLORADO SPRINGS
Journal Entry #98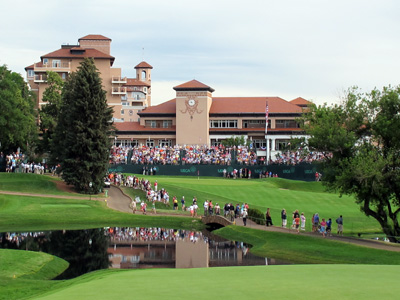 THE BROADMOOR RESORT GOLF CLUB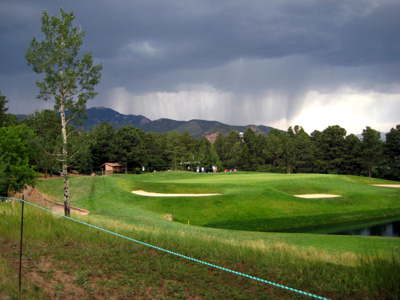 A DAILY OCCURENCE
Why this photo of dark clouds over Cheyenne Mountain? Because during the July 4th through the 10th USGA Women's Open golf tournament in Colorado there were five suspensions of play due to storm cells that sent players, volunteers, and patrons running for shelter. The tournament is over now, with So Yeon Ryu winning a playoff over fellow Korean countrywoman Hee Kyung Seo on July 11th. As I write this article, I am looking out of my office window at yet another storm moving over Pikes Peak.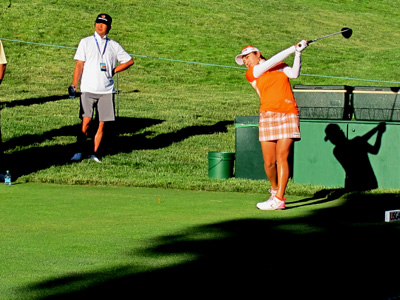 SO YEON RYU TEES OFF ON #10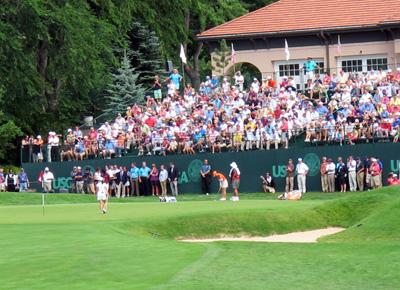 SO AND HEE ON FINAL PLAY OFF HOLE #18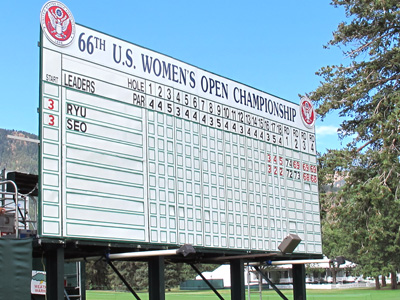 THE SCORBOARD TELLS THE STORY
ESPN, THE GOLF CHANNEL, and NBC provided the live action coverage, but this journal entry will focus on players, Marshals and other things that made this tournament interesting. I usually wear two hats (media and volunteering) when I cover professional golf tournaments, but not this time. I was recruited to be an area captain with responsibility for holes eight, nine, ten and eleven. It was a great job I enjoyed immensely but it would not have given me the freedom to cover the tournament as other media do. CLICK HERE to see a slide show of over 150 photos of the players as you may not have ever seen them before. See if you can identify your favorites. Note the form of the ladies. They all have great follow through and weight transfer. Some of these professionals are very small, but they can still poke the ball 250 years or more down the fairways. I am really motivated to get back out on the links myself and practice what they preach.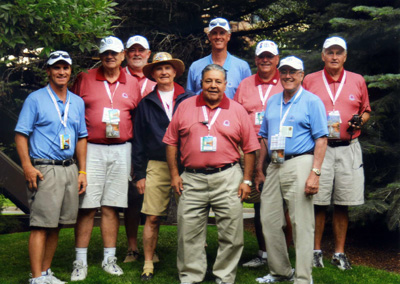 THE MARSHALL MANAGEMENT TEAM
With up to 30,000 spectators expected, gallery control was critical to allow players to do their thing and attendees to enjoy the show. The following folks were responsible for player and spectator flow without any major incident. My supervisor Scott Dougherty, Lee Lownsberry, Frankie Patton, me, Michael Maestas, chairman Doug Campbell, Ric Carlson, Bill Rezek, Jerry Peterson, Rick Roach and Jim Tierney . I must give credit to Scott for providing the photos of the bear and supervisory team. The hole captains doing a great job in my area were Don Moon, Ralph Cruz, Jim Withrow, Karla Harding, Woody Hagin, Kelly Mawhinney, Rich Landreth, Bill Asbury, Roy Gibson, Mike Lynch, and Nancy Collins. CLICK HERE to see more Marshals.
If you watched the 2008 MEN'S SENIOR OPEN, you will recall the bear running across one of the fairways. I understand prior to competitive play three bears were relocated from the area, but one hung around in a tree next to the ninth green. I witnessed animal control personnel climb the tree and gently lower a bear down after it was tranquilized. Of more prominence on the course were the deer. It was fun to watch some of the player's reaction to them as they walked down the fairways.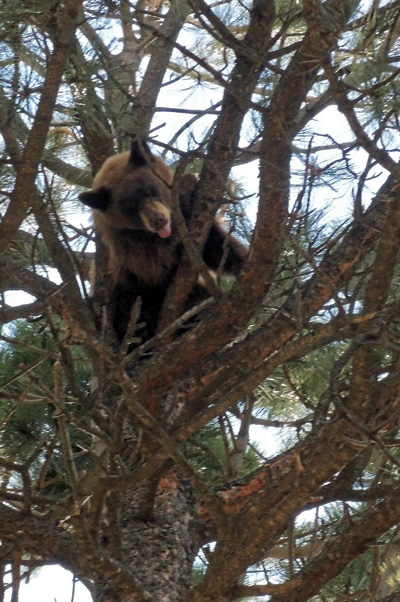 THE BEAR WAS HERE
| | |
| --- | --- |
| LADY DEER | GUY DEER |
If you ever want to get an up close and personal experience at a professional golf tournament simply volunteer. I recommend applying for Marshall positions because that puts you inside the ropes. Approximately 3,000 people from all 50 states helped at this year's Women's Open. Almost half occupied Marshall positions. Usually volunteers pay around $125 or more, which covers a couple of shirts, a head cover, and a windbreaker jacket. They are committed to work usually four shifts. The fee also usually covers a volunteer party, discounts on merchandise, and the opportunity to watch the tournament when not scheduled to work. Go to USGA and PGA websites and explore the "tournaments" link where you will find a volunteer link. Volunteer applications should be submitted at least a year in advance to insure acceptance.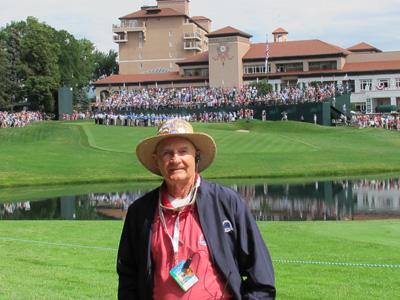 JOHN DARLING, AUTHOR GolfGuy@SeniorFriendlyGolf.com