BIONIC GLOVE
http://www.bionicgloves.com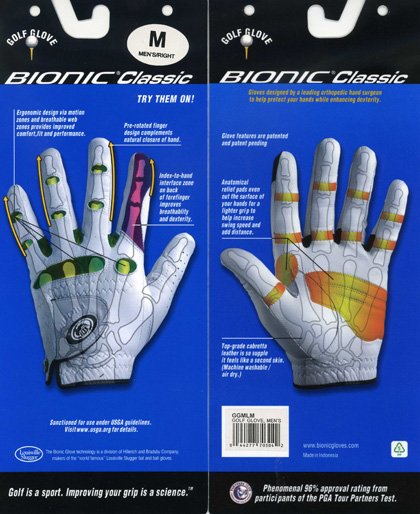 Have you ever hear of Tommy two gloves? That's Tommy Gainey
http://www.twogloves.com
. He is among the top 100 PGA pros to watch on the 2011 PGA tour. I mention Tommy only because I use two gloves too, but I'm 40 years older than him.
Back to Bionic Gloves. Be sure to visit their website for complete in-depth product information. I wholeheartedly recommend this product. As you will see, their product is designed by a leading orthopedic hand surgeon.
I was anxious to review this product because I have Dupuytren's contracture on my right hand middle finger. I had surgery to try to correct the problem, but the surgery was not successful. Fortunately, that curved middle finger contracts around the golf club grip, so it does not affect my game…if that's even possible.
I tried several of the Bionic Glove gloves and my favorite is the Bionic "Classic." All the gloves were comfortable and strengthened my grip, but the classic has a feature that I especially like. It has a padded palm. Of course if your grip is as it should be, more with your fingers and not your hand, this will make little difference. I noticed that when using other gloves the first place they wear out is in the palm where the top of the grip rests.
Bionic Gloves are also available for other sports, specifically racquetball and tennis, as well as for gardening. This is not just another glove. The company is a division of the Hillerich and Bradsby Company, makers of the Louisville Slugger bat and ball gloves. They have been around awhile and you can have ultimate confidence in their products.
Shop for the Bionic Glove on the Internet or ask your golf professional. They probably have the product in stock. If not, they should.