(At the Cheyenne Mountain Conference Resort, Colorado Springs)
The golf club is located at 125 East Clubhouse Drive.
Take South Nevada just past Cheyenne Mountain Road and exit at the Clubhouse off ramp.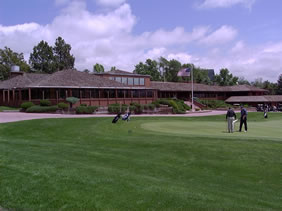 Clubhouse and Snack Shack
Provisional SeniorFriendlyGolf ratings: Senior: SFG-5.8, Men: SFG-6.8, Championship: SFG-7.8, Ladies: SFG-4.8. The golf course was designed by Pete Dye, Sr. and opened in the fall of 1973. It was built around a huge spring fed lake known as the Curr Reservoir. This is a private and resort golf club, but may be played by guests of the Cheyenne Mountain Conference Resort.

Bill Majure
Head PGA Professional
Director of Golf

Ann Finke
Assistant Club
LPGA Professional
This golf club has the notoriety of being the home course of Tom Glissmeyer, and his coach is Ann Finke. Who is Tom Glissmeyer? He is the 16 year old kid from Cheyenne Mountain High School who qualified for the 2003 U.S. Open. Tom is very consistent but occasionally breaks 70. That's 70 on the way up from the 60s. Wow!
As for the course, it is breathtakingly beautiful. As you view it from South Nevada coming down the hill, it looks like half the course is water. Actually the water comes into play on only five holes, and on only four will you be challenged to cross it.
Fairways are smooth, as is the case with most country clubs. They are also, in some cases, open enough for an occasional slice or pull, however some tighten up to demand a straight shot off the tee. There is enough fairway configuration up and down to make sure all your shots are not off level planes. There are only a few holes where the green to tee is elevated above a golfer's height. The rough can be difficult in some cases if you get into the deeper stuff.
There are 11 hazards, and they all come into play if an errant shot is made and there are 51 bunkers of which 44 can catch your ball if you are not careful.
The greens are medium size and putt smoothly, but watch out for the break. It's all away from Cheyenne Mountain to the west of the course. While the greens do not have too much undulation, they rarely putt as expected. Take your time.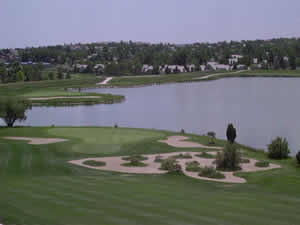 Approach to number 10 with its "acre" of sand
This is my favorite hole. When you consider "psychological difficulty" there is plenty of that. Number 10 has about an acre of sand in the huge landscaped bunker to the right of the green upon your approach. You will need a pinpoint shot on the 170 yard three par number 11 to clear water and huge bunker in front guarding the green.

Number 14 par four waits for long hitters to try to reach the green from the tee
This hole lays in wait for over confident golfers who think they can drive the green, which is highly unlikely but not impossible for long hitter scratch players.

The 17th is a no win three par
The 173 yard three par number 17 is another hole that challenges everyone. It's 173 yards with water, bunker, and rough in front and to the side. There are even two bunkers behind the green so driving over to chip back is a shaky option. You can't lay up either, so just go for it.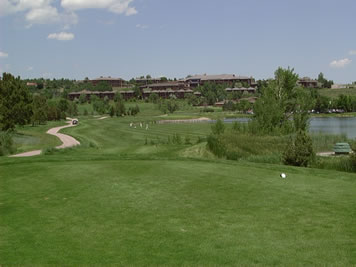 Four par number 18 is not as easy as it looks
The four par number 18 is beautiful, but the lake it's sneaky as it funnels down to challenge final approach shots. If you choose to come in from the right side over the water a large bunker in front of the green awaits your ball.
During the summer sudden lightening storms can catch a foursome out on the course. There are two shacks to hide under, but they are not guaranteed to protect you. Maybe it's better to take the chance in one rather than race back to the club house with metal clubs and carts. Your choice.
Concerning food at the snack shop, it's not open on Mondays, so I was unable to sample the cuisine after playing my round and I did not get a chance to sample the Margaritas either.
While this course is in the middle of the SeniorFrientlyGolf rating scale at 5.8, it is recommended to enjoy, but don't expect to break 90 too easily.