This golf course was constructed in 1956 as a private club. In 1957 the City purchased it. The 18 hole green fees are among the lowest you will find in the state for this quality. Resident fee is $21.50, Non-resident $28.50. Riding carts are $23 for 18 holes. Nine hole play is welcome. You definitely should play this course if you never have before or are a visitor to the Pikes Peak region.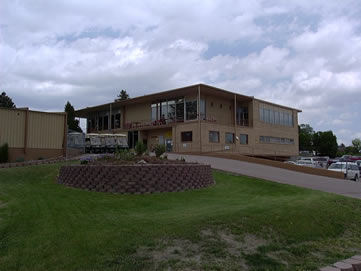 CLUBHOUSE AND MUNICIPAL SWIMMING POOL
The course SFG ratings are as follows: Seniors (sandstone) 6.84, Men's (blue) 7.84, Championship (black) 8.84 , Ladies/juniors (green) 5.84. The course has gotten away from terminology of gender and ability and now sets colors according to your golfing handicap, which is nice since it shows you where you should be teeing off from. Black 6 or less, Blue 7 to 18, Sandstone 19 to 29, Green 29 and up. This works really well for seniors who have plus 18 handicaps because sometimes you can actually reach the greens in regulation. I understand that Jack O'Brien, General Manager and director of the teaching staff, was the creator of the new system, though it is not 100% his idea. The Walking Stick Golf Course in Pueblo, Colorado has a similar scorecard.

MIKE NORTHERN
PGA HEAD PROFESSIONAL

JACK O'BRIEN
GENERAL MANAGER
Many golfers make the mistake of believing this course is a rather easy one, but it actually has in total more bunkers, hazards, and other opportunities to get into trouble than most courses across the country. In total there are 24 hazards and 13 bunkers and 10 out-of-bounds that can get you.

FIVE PAR NUMBER 17
FROM THE TEE

FIVE-PAR NUMBERS 17
APPROACH TO THE GREEN
There are three testy three pars that offer you the opportunity to send your ball swimming. Numbers 5 and 14 are good candidates, as is number 17, to do the ol' "tin cup" routine.
| | |
| --- | --- |
| THREE PAR NUMBER FIVE | THREE-PAR NUMBER 14 |
The fairways are in good condition as are the greens. Most fairways are level, so you can't blame your double bogies on bad. The greens? Good size targets, but several will send you home crying, especially number 17 and 18. There is not an easy putting surface on the course, so your judgment will come into play. Remember, your ball is suppose to break away from the mountains, and Pikes Peak looms in the near distance.
At various times of the year wild life is in abundance. You may see ducks, fox, and geese. Even swallows choose Valley Hi as a habitat.

SWALLOW NEST AT
NUMBER FIVE SHELTER

FOUR PAR #18 GREEN
THE MOST DIFFICULT
The teaching staff includes Mike and Jack as well as assistant pros Scott Laurie and Ramon Habel. All are highly skilled and personable, so call for a lesson. The cost will not break your bank. Julie Wick is a full time associate in the pro shop and you'll see Al Porter and Hal Lindfelt from time to time as well. Al and Hal are members of the infamous POOPs.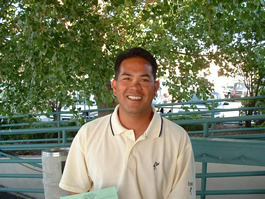 RAMON HABEL
SCOTT LAURIE
| | | |
| --- | --- | --- |
| JULIE WICK | AL PORTER | HAL LINDFELT |
| | |
| --- | --- |
| In closing, one last thing. As you motor up the driveway to the club house go slowly and respect the graveyard on your right and note the messages on the headstones. They may or may not apply to you and your game. | |
Directions: Take I-25 to the Martin Luther King (Hwy 24) bypass on the south side of town and go east, which is the only way you can go. The bypass ends at Chelton Road where you take a left (that's going north). The golf course entrance is about a half mile where you will take a left. Watch your speed. The police love to lay in wait at the entrance, but they usually catch people speeding down the street from the north.
SEND YOUR COMMENTS TO: john@SeniorFriendlyGolf.com
REVIEW MORE COURSE REVIEWS -- CLICK HERE