Bennett, Colorado (Denver Area east of DIA)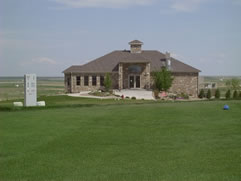 Clubhouse and restaurant
SeniorFriendlyGolf rating is: 8.16 (see rating system link on SFG home page) This is a very friendly course highly recommended for seniors, or anyone. John K. Darling evaluated the course on May 21, 2003
The Antelope Hills public golf course opened in June 2002. The course yardage from the senior (white) tee is 6076 yards and the USGA rating is 68.0, 114 slope. Temporary rates through June 12 are 9 holes $6.00, 18 holes $10.00 weekday and $8.00 - $12.00 on weekends and holidays. On June 12 rates will change and be in the $18.00 to $20.00 range for 18 holes. Range balls are FREE if you mention that you heard about Antelope Hills on SeniorFriendlyGolf.com. Also, if you bring your golf group out on your birthday, your round is FREE that day only. There is a senior discount $2.00 off Monday through Thursday anytime. Call for seven day advance tee times toll free 877-488-5901 or direct 303-644-5992.

Brian R. Sevier
Head Professional
The Antelope Hills public golf course opened in June 2002. The course yardage from the senior (white) tee is 6076 yards and the USGA rating is 68.0, 114 slope. Range balls are FREE if you bring a printout of this web review. There is a senior discount $4.00 off Monday through Friday. Call for current green fee rates and seven day advance tee times toll free 877-488-5901 or direct 303-644-5992. The club professionals are Brett and Brian Ridgway.
Fairways are narrow, but the rough is playable, and there are no significant tree or brush problems. The fairways feature rolling and slanting configurations. You might even encounter antelopes and large jackrabbits. This is not a flat course, and there are a couple of holes that will surprise you with hidden hazards. Like number 11, a five par with a switch back ditch that will catch a long second shot trying to reach the green in two. Number five, a four par, will take a super long drive right down into a ditch that is invisible from the tee. The fairway appears to have some slant, but when you get up to the 150-yard marker the slant becomes severe and will shoot the ball into the hazard. There is a bunker guarding half of the green and a severe up slope bank behind the green. That can be good if you shoot over the green. The green itself has the most aggressive undulation on the course. This hole is a real challenge, although it is only rated as the #5 handicap hole. 150 yard markers are visible, as are all greens or flags, from the tees.
Unlike most golf community courses, homes are built well back off all fairways leaving plenty of room for extreme hooks and slices, mostly slices, by the design of the course. You won't be hitting your shots onto someone's back porch. The course designer was Phelps, Ltd.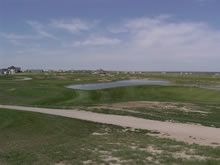 Signature hole #17
There are 11 hazards, of which 8 come into play, and 25 bunkers, most of which come into play. There are only two water holes and neither requires shots directly over them. Greens all have some slant and rolling surfaces. No flat chances, but they are readable and putt true. They do not hold as well at present due to sanding, but should be friendlier soon.
The driving range does not encroach on any fairways, so you will not have to pick your errant ball out of errant range balls. The putting green is large and reflects what you will find on the course, i.e., true reads and rolls.
The restaurant serves good food and has a panoramic eastern view. You can see Kansas. Since it was peak traffic time through Denver, I decided to delay my drive back to Colorado Springs and try the Margaritas. Brian, the Head Pro, said to make sure Windy made it for me in their sports bar style restaurant. Windy was not around when I ordered. So, the Margaritas were not that good, but the club personnel are great! Try a cold brew, which you can order along with your snack from the number nine tee on a pole powered by a solar panel. Of course you can also hold off ordering your Margarita until Windy is on duty.
Directions: Antelope Hills Golf Course is located 30 wiles east of Denver off highway 70. Take exit 305 and go south two miles to the community and golf course entrance.