At the Fort Carson Golf Club (south of Colorado Springs)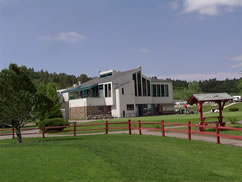 Clubhouse and restaurant
Provisional SeniorFriendlyGolf ratings: Senior Golf tees: 7.76, Championship Blue tees: 5.67, Men's White tees: 6.67, Ladies Red tees: 8.76. This course is a well-kept secret. Since it is located on the Fort Carson Army Post, one might feel it is for military personnel only. This is not the case. In fact, this 18-hole golf course has been open to the public for several years and can be accessed through gate #5 off of highway 115 one and a half miles south of the main gate #1. Admittance is allowed even in times of security alerts.
The Fort Carson Cheyenne Shadows golf course was designed by Dick Phelps and opened in 1971. Over the past several years the course has been greatly improved and offers a challenge to seasoned golfers, but high handicappers will enjoy too. Championship length is 7,008, Men's 6,680, Seniors 5,752, and Ladies 5,832.

William Fumai
PGA Professional
Business Manager
Green fees for public play: Week- day $15-nine, $27-18, M-F Twilight from 3:30 PM $20. Senior Rates: M-F before 10:00 AM walking $19, with Cart $25, Single rider $27. Cart fees: 18 $22 for two riders, $13 single rider, $11 two riders for nine hones and $7.50 for one rider. Several amenities are especially friendly. First, on each four and five par hole there are blue, red, and white stakes in the center of the fairway to aim at and mark 200, 150, and 100 distances. Golf carts are equipped with GPS systems that give precise distances from your ball to the pin on every hole. Also, you can order your turn snacks and beverages on the system. If you need refreshments before your turn at number nine, there are ladies with beverages carts to serve you.
There are plenty of water, canyons, bunkers, and varying elevations to enjoy. The vistas are breathtaking with the Rocky Mountains butting up to the course. So you won't ruin your day from the start, be warned, the first hole is very deceiving. Only 355 yards from the senior tee box, it looks like an easy par. Only problem is that there is a ground level water trough right in front of the green. Thus, no chances to skull you're second shot and have it roll on.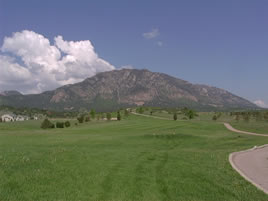 Number four fairway in the shadow of Cheyenne Mountain
Most fairways allow a slight hook or slice and the rough is low enough to find your ball and hit out without too much trouble. Most fairways are pretty level, but there are some elevations that may shake your confidence. Generally speaking where there is gradation it is mostly down. This helps your distance, especially when there is a dry spell. There are trees, but not thick stands.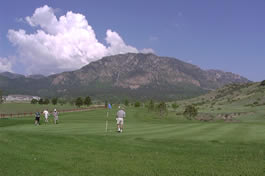 Number seven looking back from the green
The three pars are the most interesting you'll find anywhere. The first, number five is from about a 100' elevation. The second, number seven, is a 179-yard straight shot with a slight rise to the green. Only problem is the rugged canyon on the left and a St. Andrews style bunker on the right of the green. If you are in that bunker, you have no visibility out of it. Once on the green, the slants and turns will challenge you. Number 14 presents three levels to tee off from. The vertical drop is even greater than number five. Just when you recover from number 14 you will face number 16. This 184 yard three par is over "rattlesnake" canyon and you must carry all the way. The only bad shot that will avoid the ravine is a long pull or hook. Maybe it will land on good grass to the east of the green. The only friendly thing about this hole is that the green is the largest on the course.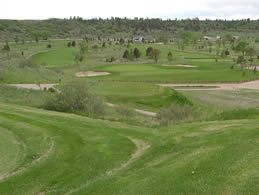 Number 14 view from the Championship blue tee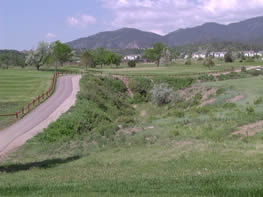 Number 16 across "rattlesnake canyon"
I didn't try the Margaritas, since there is no bar at the Divots grill, but their chili fries are good and they have those large mouth beer bottles. Those refreshing brews are available on the beverage carts as well. And, there is a little know fact about food on military installations. You don't pay taxes on your meals. You will enjoy meeting Dave and Jim in the pro shop. All personnel are very friendly and helpful.
When you are in Colorado Springs, be sure to play this course. You'll have lots to talk about after your round.
Email any comments to: john@SeniorFriendlyGolf.com