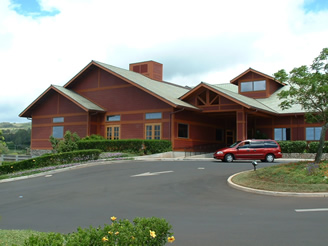 CLUB HOUSE
The first thing that captures your attention as you approach the clubhouse is the vast expansion of green hills and valleys. What you see is the Kapalua Golf Academy. Next is the huge driving range, which is shared with the Academy though separate from it. The pro-shop within the clubhouse is very large with many offerings of clothing and equipment, and there is an elegant restaurant. As with most resorts of this high caliber, staff personnel are courteous and helpful.
The SeniorFriendlyGolf SFG-rating for the Village Course is 6.62. Other ratings: Men's or regular is 5.62, ladies 7.62, and championship 4.62. To put it the USGA way, 67/118 for seniors, 68.8/129 for men, 69/116 for ladies, and 71.5/134 for championship.

The Kapalua Director of Golf for all three courses is Mark Keiter, PGA. The PGA Head Professionals at the three courses are David Rau at the Village, Craig Sasada at the Plantation, and Jerry Pang Ching at the Bay Course.


Marty Keiter, PGA
Kapalua Director of Golf
Let's play golf. Number one will challenge you right from the start. Once you get over the breathtaking view, you'll select the iron of your choice to slip between the pond and the gaping bunker to your left. Once on the green, which like most of the greens is quite large, you will face an undulating surface. The greens are smooth and putt true, but there are really no hints as to how to read them. Word is that your ball will break toward the island of Lanaii just to the west of Maui.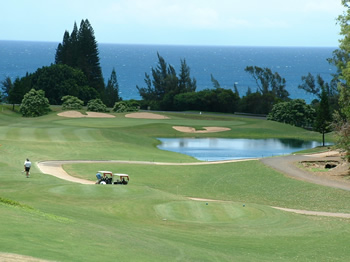 NUMBER ONE IS BOTH BREATHTAKING AND CHALLENGING
There is good news and bad news and more good news about driving on most of the four and five par holes throughout the course. The good news is that a double-digit handicap senior can probably break 100 if he/she chooses not to use drivers and three woods. The bad news is that if one has a severe hook or slice, or hits the ball too far, it will go into the jungle. What I mean by jungle is that the rough is so thick that you will likely never find your ball. If you do find your ball I guarantee you will not be able to hit it out in 99% of the cases. Now, the "more" good news. When you go into the jungle to find your ball you are likely to come out with many more balls than you will lose the whole day. I actually came out with 26 balls on one occasion.
I come from a southern family, and when I was a youngster my family use to go crabbing in the Gulf of Mexico. We would come back and cook up a batch of crab gumbo and spread lots of newspapers on the tables to crack and eat our catch. We use to say that we stopped eating, not because we were full, but because we just got tired of cracking and eating the crabs. What has this to do with golf and the Village Course at Kapalua? You'll just get tired of picking up so many balls when you go into the jungle to try to find yours. Once more you will find lots of balls with green moss on them. This is a testament to what I just said. You will get tired of picking them up, so get back out there and take your double boggy.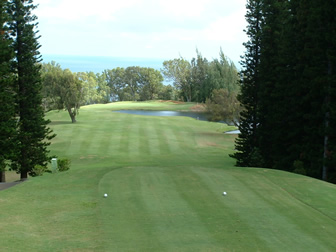 NUMBER SEVEN SQUEEZES THROUGH THE TREES AS THE POND BECKONS
The majority of holes allow for modest fades and draws but not excessive ones. The near rough is playable. The deep, or jungle, stuff is just not playable. No second chances. There are not too many level lies either, but most are manageable. Fairways are very good, as are the greens, and there are not too many obstacles in the form of trees and shrubbery.
One of my favorite holes, if not number one, is number eight. It is the number 15-handicap hole, but for many it is one of the most psychologically difficult. You start at a very high elevation and have to hit over a links-like stand of coarse grass. There is a sharp down hill drop that can take your ball right into a ravine or into one of the three of seven bunkers. If you pull your ball, hello jungle. Best to lay up and go for an easy par.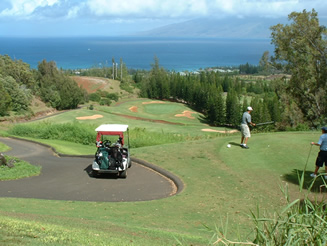 NUMBER EIGHT IS PSYCHOLOGICALLY CHALLENGING
Ocean vistas abound, as can be seen from the four-par number 13. This hole has a strong dogleg right, and big hitters can probably drive the green on a good day. However, they will most likely find themselves in the jungle…again.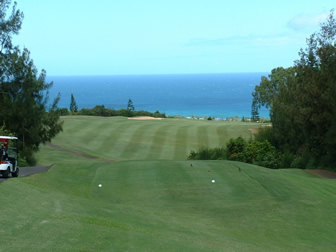 ANOTHER BEAUTIFUL SEA VIEW FROM THE TEE ON NUMBER THIRTEEN
As I have mentioned before, you meet the nicest people on golf courses. My playing partners this day were Mike LaDue who is with London Properties in the Los Angeles area and Bruce Hogan who is a 16 year old junior high school team golfer from the Phoenix area. I asked Bruce what he thought about Tom Glissmeyer of Colorado Springs going to the U.S. Open this year. Bruce understands why Tom did not do as well as Tom expected. Can you imagine playing alongside Tiger and Ernie just out of your sophomore year in high school? To learn more about Tom Glissmeyer's home course go to COURSE REVIEWS and check out the Country Club of Colorado.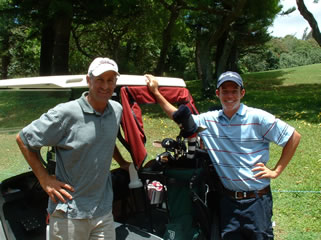 MY PLAYING PARTNERS MIKE LA DUE AND BRUCE HOGAN
Do I recommend the Village Course at Kapalua? You bet I do. Just remember to play conservative. The course is not too long, and its condition is very good. You will enjoy your outing. The visitor green fee is $180 (Resort Guests $125) as is the fee for the Bay Course. The Plantation course is a bit stiffer at $220 and $135 for guests. So, if you choose one luxury outing while in Maui, make it one of the Kapalua courses. www.kapaluamaui.com.
Write your comments to: john@SeniorFriendlyGolf.com