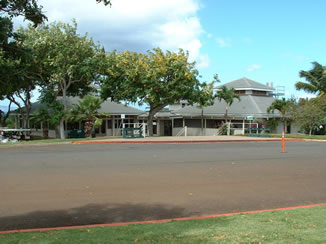 CLUB HOUSE
The Elleair Maui Golf Club is open to the public seven days a week. It was formerly known as "Silver Sword", and you will still find that name on some of the Maui visitor maps. It takes a while, a long while, for change to take place in Hawaii, so just chill out and go with the flow…for everything.
The course SeniorFriendlyGolf SFG-rate is 7.2, however, since there is no senior tee boxes it plays to an SFG-6.2 off the White tees. Ladies red will be 7.2 and Championship 5.2. If you know how to interpret the USGA ratings they are as follows: Blue Championship 70.6/124, White 68.8/117, Red 70.0/118. The Director of golf is Sherrie Golden. She is the only LPGA director of golf on the island. The course provides free lessons; you pay for the golf balls at the range, on Monday and Thursday at 6:00 PM. Elleair is acknowledged as one of Maui's best golf values at $90, $70 twilight. If you were to build a luxury resort next to Elleair`you could double the green fees.

SHERRIE GOLDEN
LPGA, Director of Golf
The first observation you will have as you stand on the first tee is, Wow! You'll see an expansive first hole flanked by the incoming ninth fairway with a sizable water pond challenging both. There is plenty of room for a modest draw or fade, but not too much on the fade or you will be in the drink. This four par is up hill, so don't expect any help from gravity.

ELLIARE'S FIRST HOLE IS SPACIOUS FOR MODEST FADES OR DRAWS
Four and five par holes, three par as well, have plenty of room for an errant draw or fade. The rough, however, is not kindly. While you may find your ball at times, you are probably better off just throwing the ball back in and taking your penalties. Of course you should hit a provisional. Number 14 is a testy three par over links grass and required a carry all the way since the green is elevated.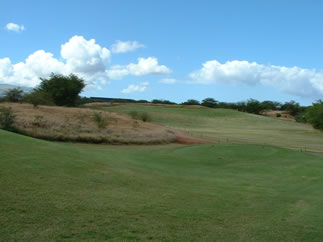 NUMBER 14 REQUIRES A HIGH LOFT CARRY 145 YARDS
Number 15 has a fantastic view to the ocean and not much room to thread the needle (two ponds) to set up an easy gap wedge to the green. You will be better served to just lay up behind the pond closest to the green and select your best club to get close for a bogy or maybe even a par. That's better than plunking a couple in the drink.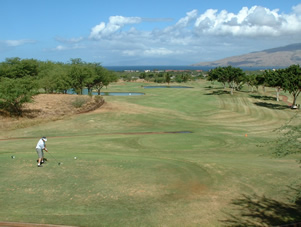 NUMBER 15 INVITES THE OPPORTUNITY TO LOSE A FEW BALLS IN THE DRINK
My playing partners were a father and son duo, Scott and dad Lance Gimbal. They are from the San Francisco area, and Scott is coming along well as a 16-year-old golfer. His dad hits some great tee shots and scores well.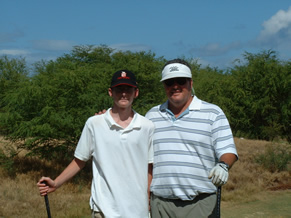 MY PLAYING PARTERS, THE GIMALS
Let me hear from you. Send all comments, stories, jokes, and interesting golfing happenings to john@SeniorFriendlyGolf.com