First you have to find it. Waiehu is worth the effort. It is located on the north west side of the island. Only 30% of its golfers are visitors, but you will be welcome. The view is spectacular on all of the front nine holes and many of the back nine. Green fees? $26 weekday and $28 weekends plus cart fees of only $8 and $11. No you are not dreaming. This is in Maui, Hawaii and the course, though municipal, is as well kept as any public course on the mainland.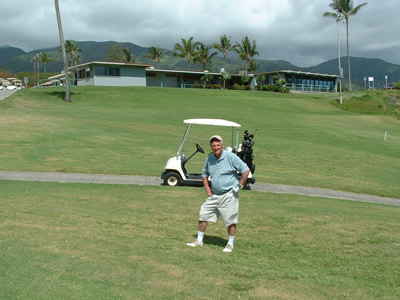 CLUBHOUSE
The first thing you will notice as you enter the pro shop is a huge rack of woods for sale. What is unique is that they are made up mostly of vintage clubs, many of which have persimmon heads. This place is a collector's dream.

ARTHUR PREGO, PGA
DIRECTOR OF GOLF
The Head professional is Art Rego, PGA, who is also the Maui Junior Golf Director. He was very receptive of the information I brought to him about the University of Colorado at Colorado Spring's PGA/PGM program as well as SeniorFriendlyGolf.com. UCCS can look forward to some smiling Hawaiian faces in the future from Maui. Since most of the Junior Golfers are really "junior," it may take awhile, however. You can contact Arthur by email: artrego@hawaii.rr.com or call him at 808-244-5935.
The first hole is a five par and a slice will put you on a hillside of hurt. Hurt because you will neither be able to find your ball nor have a chance to hit out. There is plenty of room for a modest fade and if you aim a bit to the left you can even let your slice go. The best thing about the hole is the view. Spectacular! Lots of green and lots of blue ocean in the distance.
Number two is a short three par that immediately challenges your pinpoint accuracy. You must clear a pond and avoid three large bunkers surrounding the green. Fortunately for those beginning on the third tee, there is a high protective screen.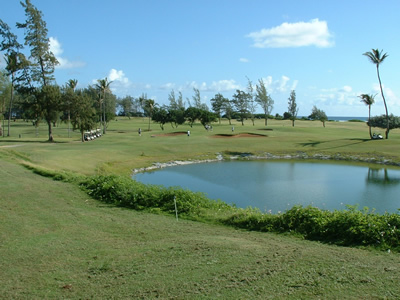 NUMBER TWO THREE PAR WILL CHALLENGE YOUR IRON PLAY
My favorite hole number five, which is a 229-yard par three and the green drops 100 plus feet from the tee box and a nasty hillside guards the right side of the fairway. This hole, and most of all the others, spells big trouble for extreme slicers. This is true especially on the back nine where six of the holes are bordered by out of bounds on the right side. Don't bother looking for any balls that go out either, it's all downhill and extreme rough.
MY FAVORITE HOLE, THE THREE PAR NUMBER FIVE
Number nine is a fun hole as well. It's elevation is about 75 feet from the fairway to the green on your second shot. You'll have plenty of room to spray your tee shot to one side or the other, but a middle of the fairway tee shot will serve you best. This of course is the case just about anywhere on any golf course.
The back nine is all up and down with no visibility from tee to green on many holes. You need to be aware of where the bunkers are as you make your approach shots. The sand traps are generally not too large, but the sand is firm and will require a solid swing to get any accuracy out of them. The greens are what can be called mostly "average" in size, and configurations are not especially challenging nor are the breaks on the greens. However, remember your putts will break towards the ocean, so they tell me. Breaking toward the ocean is also away from the mountains. I can understand that coming form Colorado.
THE NUMBER 15 FIVE PAR AND MY PLAYING PARTNER, RON HURLEY
My playing partner for the day was Ron Hurley, who is a retired Teamster from New York City Sanitation Department. A great guy and a pleasure to spend the day with. He dispels all those rumors about New Yorkers not being friendly. Ron explained to me that New Yorkers in general have become more pleasant since 9/11 when so many of our country's citizens flooded into the city to help out. Also, Ron is a fellow prostate cancer survivor like me.
Should you make the Waiehu Golf Course a stop when in Maui? By all means, but don't tell too many people. The county probably does not want to see the visitor play exceed that 30% mark. One thing for sure, you will enjoy your round and your pocket book will too. The SeniorFriendlyGolf rating is SFG-6.28.
Let me know what you think: email john@SeniorFriendlyGolf.com