Reviewed by John K. Darling, Founder, SeniorFriendlyGolf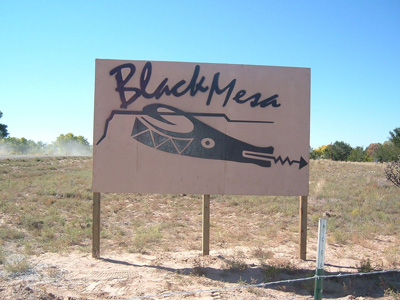 Black Mesa golf course is located at 115 State Road 339 in La Mesilla, New Mexico just south of Taos and Espanola off state road 106 which goes south to Santa Fe and Albuquerque. 505-747-8946 www.BlackMesaGolf.com. Ratings from 66.9 to 73.9 and slopes from 125 to 141, or you can reference the SeniorFriendlyGolf SFG-4.6 friendliness rating (see Course Reviews to learn more about SFG ratings).
The OHKAY Casino Resort is nearby and has golf packages www.ohkay.com 877-829-2865. However, if you plan to play several of the Santa Fe Golf Trail golf courses, you should make your golf reservations through their official web site www.golfonthesantafetrail.com or call Mark Martanis 866-465-3660. Call the course direct to confirm their reasonable green fee rates.
Before I begin my review, let me suggest that you do play this course. Although it's one of the most challenging I have seen to score well on, don't let that bother you. Play it for pleasure and fun. Don't get caught up on having to break 100 or par or whatever.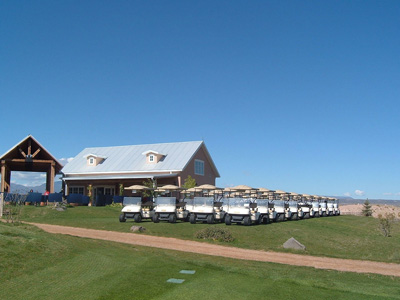 The owner is Eddie Pick and the head golf professional is Tom Velarde. I was unable to speak with either of these gentlemen, but Matt Sackett, one of the golf shop personnel, was very informative, courteous, and he listened well.
This course is without a doubt a "target" golf course so leave your woods in the car if you are not a straight shooter. Bunkers are medium to huge but the sand is consistent. You might prefer to play out of bunkers rather than the rocky mountainside. The greens are medium to large and have aggressive undulations. They present a formidable task to read. Water is not a major factor. Fairways are not friendly to fades and draws (slices and hooks for us dubbers). I have played the Casa Blanca golf course in Mesquite, Nevada many times. Casa Blanca is a flat target golf course. Black Mesa is a similar desert golf course, but with hills and rough terrain. When you play it you will have many thrills and lots of laughs. Of course if you are a "serious" golfer who expects to play over your head all the time, you will be miserable. If prone to topping the ball off the tee most of the time, stay home. Play the senior tees for more enjoyment.
Cart paths are all dirt, but well maintained. It's like a drive through Disney Land. I did not see any gila monsters or rattle snakes, but I am sure they are there in the summer. It's fun just to drive around the course. It's not a walking course. If you walk, it will be a long hike between holes with some stressing uphill grades. If you have a spouse that does not play golf but tolerates riding around with you, they will be well pleased with the awesome flora and views.
I recommend playing with someone who has played Black Mesa before or you might hit some of your tee shots in an opposite direction from where your green is. I played on a course in Louisiana once as a twosome. Not knowing the lay of the course, on the par five 18th finishing hole, I hit a great third shot from the rough to the green. As I mounted the green to make my birdy putt I noticed my player partner on another green lining up his putt. He was on the 18th and I was on the ninth. This could happen to you at Black Mesa if you are not alert and don't know where the next hole is.
You do have a GPS system on your cart, without which you would be lost due to the many blind holes. There are 150-yard black and white striped markers in the center of fairways to guide you. Both the GPS and yard markers add to the course's friendliness.
On the first hole I had no idea where to hit the ball. Finally I noticed a white flag, which was either the target to hit over or a warning to surrender before you even get started. You tee off on the edge of an adjacent pond, which does not come into play. The green looks like about a 25' elevation from the fairway.
Now grab a beverage, sit back and enjoy the slid show of the Black Mesa Golf Club golf course.
Click here to start the slide show...
(be patient... this may take a while to load!)