kingranchgc@aol.com
406-626-4000
Reviewed by John K. Darling, Founder, SeniorFriendlyGolf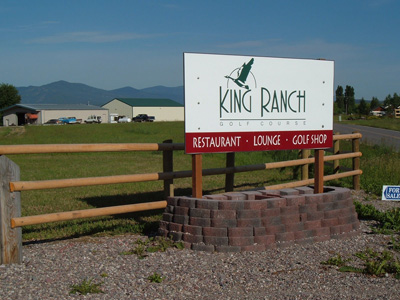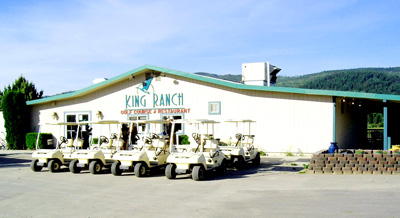 Just west of Missoula is Frenchtown and that's where the King Ranch golf course is located. Now days it is said that a new golf course is opened each day in our country. Many companies with familiar names, like Nicklaus, Pete Dye, etc. etc, design those golf courses. Not so for the King Ranch golf course. It was built by Bud King and his family and friends back in 1991 and opened in 1992 as a nine-hole venue. In 1997 the Ockler family, Frenchtown residents, bought the course and in 1999 its second nine was opened. The back nine was designed by former golf professional Greg Vannetta. The course covers about 270 acres of the Clark Fork River Valley and is bordered by farmland and a wildlife refuge.
The course superintendent is Pat Nowlen, a Frenchtown native, and the head professional is Marv Clover, who is also a local guy.
When I played and reviewed the course, one of my playing partners was one of the owners, Shad Ockler. He filled us with history and information about King Ranch and then treated us to lunch at the clubhouse restaurant. The food there is very good and not too expensive.
Now about the course. This is a pasture type course cut through grassland. The design is challenging and does not have a lot of elevations to contend with. A stream runs through it and most of the greens have a soft front suitable for pitch and run shots. The greens putt true as there are no nearby mountains. As many believe, and I guess it is true, that when mountains are present the ball always breaks away from them. Not a problem at King Ranch. Accuracy plays an important role here, for if you find yourself in the rough you will be wading into 18 inch to two feet of thick grass. If you have ever played Irish or Scottish courses you know what I mean. Finding an errant ball is rare. There is not too much room to slice and hook but modest fades and draws are acceptable in most cases. I give King Ranch a 6.9 SFG rating. (learn about SFG ratings in the COURSE REVIEW link).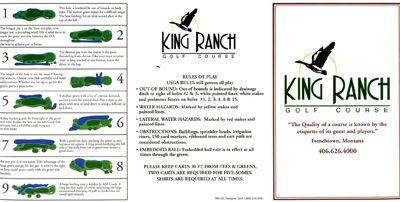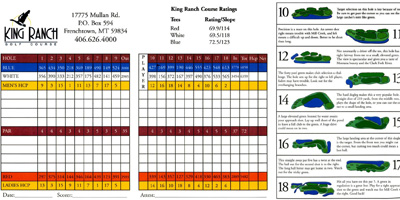 For a flash pictorial review of the King Ranch Golf Course click the link below. It may take awhile to download, so take a break or get another cool one and then settle back and enjoy the show.
Click here to start the slide show...
(be patient... this may take a while to load!)