Along the west coast of Ireland you will find the second oldest golf course on the Island (see the ARCHIVES journal entry #60). If you would like to experience golf as it was played in the early 1900s then you must make your way over to Lahinch Town. The green fees may be a little pricey compared to what you are use to in the United States, but it is worth it.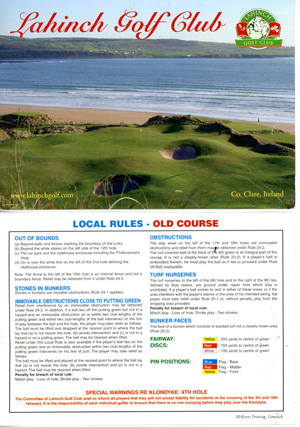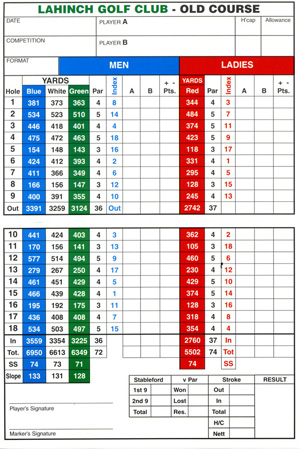 The Lahinch Golf Club is a frequent stop for golf tours. I played there in September, which is the month when the guys ascend to play without the accompaniment of their wives and children, which are back in school by now. It's about 99% male golfers this time of year and the books are pretty solid, so plan ahead. The locals refer to September as the "American Invasion."
The first tee box was expansive and the fairway was just enough to allow for slight fades and draws if you are so inclined. Upon arrival at the green you will be welcomed by its expansive size, which is the case on virtually all greens at the Lahinch Golf Club. By the way, in Ireland I did not see any golf "courses." They are all referred to as golf "clubs."
If you have followed my journal entries and golf reviews, you will have noted that I have a thing for tee signs. Nice tee shines are like shoe shines. A nice shine on shoes tells you something about a guy. Shoddy shoe signs equal perhaps a shoddy person. Same goes for golf tee signs and the Lahinch Golf Club passes the test. Simple, but shiny and fresh they all are.
While number one is on an upgrade, number two brings you back down hill with an expansive view of the town behind the green.
Number three gives you your first view of the Pacific in the background.
Number four is my favorite hole even through I picked up for an eight. Take a moment to study this hole. It's a five par and there does not appear to be very much actual fairway to shoot to. There isn't. You will also note a mound directly in the middle of the fairway. You will also notice what looks like a structure on top of the mound. That's a caddy stationed there to wave golfers on to hit over the obstruction to approach the green. The elevation of the hill is about 20 feet. Another reason for the flagman on top is to protect the golfers on the other side. Protection is needed not only for players on the green but also for others cutting across the fairway on the way to another hole. I takes seeing to believe it.
Number five comes back over the side of a hill to an expansive green. Here too a caddy comes in handy because those golfers cutting across the number four approach will have teed off in front of and across the number five tee box.
Number six gives you a straight on panoramic of the ocean behind the green. Adjacent to the green you will be introduced to your first mammoth bunker fed by a steep downhill funnel of landscape.
Number seven features a roller coaster fairway.
Number eight requires a long and accurate uphill drive, and another of those gaping foxhole bunkers at greenside will challenge as well.
Number nine will bring you back to the clubhouse and along th4e way you will likely see a few goats or sheep. You may also see golfers hunting for their stray golf balls on adjacent fairways.
The number eleven par three is another breathtaking hole to behold. Three bunkers guard it, but there is a soft front to the green if you are skilled enough with your pitch and run shots. If you slip into the bunker on the right of the green, lots of luck getting out on your first try. It's deep and steep.
On number twelve you will see a Marcello tower. These are evident all around the Island and served as look out posts for a Napoleanic invasion.
Now for the bad news. My camera batteries ran out of power. What a bummer. Guess I'll have to go back next year to shoot 15 through 18.
For a great flash slide show click below. It may take several minutes to download, but what you will see will be worth the wait. You will see over 50 views from the tees, approach shots, and looking back from the greens. This will give you a real visual feel for the course. Plan your trip to Ireland around the Lahinch Golf Club.
Click here to start the slide show...
(be patient... this may take a while to load!)