Durham, North Carolina, Spring 2006
DON ALLEN'S MOST OUTSTANDING GOLF SHOP AND HALLANDALE CLUBHOUSE
The first thing I noticed when we arrived at the Hillandale Municipal Golf Course in Durham, North Carolina was the pro-shop. The sign at the parking lot entrance boasted "America's top 100 pro shops" and I have no doubt that is true. I checked the prices on several items and they were very reasonable, which is not the case in the vast, vast, vast majority of pro shops around the country. Most are severely overpriced for the average golfer.
The next thing I noticed was the trees, which were tall, green, and stately. Many varieties were budding out in the early spring weather. Nestled under those natural shelters was the starter shack, like a gazebo, which the day's starter declined to occupy in preference to his cushioned golf cart. He advised me later in the day during a rain delay that the course was over 80 years old. I think he was too, and I respect him for being out there doing that thankless job. Nice guy. Probably looked about like I expect to look in another ten years. I asked him if there were any signature holes and he replied that they all were.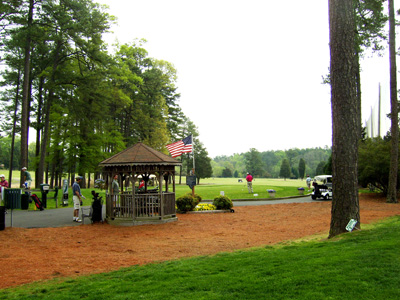 I checked in at the pro-shop to pay our green fees and picked up a bucket of balls. The driving range was another delightful surprise. It was huge and expansive and no mats to hit off of. Real grass even this early in the season. What a delight. My son, Eric, advised me that all the courses he has played in North Carolina did not have pads. Listen up Colorado!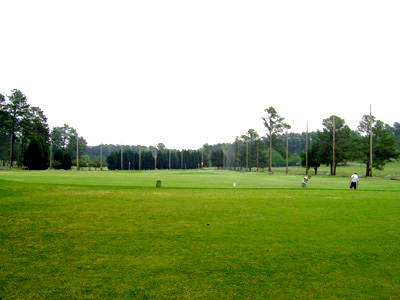 I rate this course overall about 7.5 on the SFG rating system. To learn more about the SFG rating system click here. This means the course is fairly challenging and most golfers will enjoy playing it. My wife shot her best round ever the day we played it and I scored better than usual. The course is friendly enough to improve your handicap if you pay attention to what you are doing.
There are plenty of blind holes and bunkers strategically places to challenge. The course has numerous hazards, which have to be addressed. The majority of greens are small, so approach shots will demand accuracy. The bunker sand is great. I feel certain sea sand was brought in because the small particles include shell fragments.
I enjoy courses that have sharp and imaginative tee, or hole, signs. Hallandale scores a big 10 there. Nice restrooms are also a plus. Hallandale scores a 1 there because they use one porta-pottie on each nine and the clubhouse restrooms are about like most municipal courses. There was adequate water on the course for drinking.
The course could use better distance markers. Hillandale actually has six distance markers on the longer holes, but they are into ground level or below. Stripped 3' sticks in the middle of the fairway would be friendlier even if only the 150-yard distances were marked. Distance markers are as follows and is unique in that respect: red 100, dark blue 125, white 150, Carolina blue 175, Yellow 200, and black 225.
The Hillandale scorecard was very nice with drawings of all holes. This actually is not needed, since the tee signs are so good, but with the card you can plan ahead.
While playing the course, a sudden thundershower approached and one long blast of a horn signaled everyone to come in immediately. Fortunately this happened around noontime so we worked in a quick lunch. The clubhouse grill is basic for turning number nine at lunchtime. The prices are not too high and the food is okay. The storm warning is a good idea and is one other courses should use as well. This is not the case on Colorado or Nevada courses I have played, which should use a warning system.
Now grab a cool one or a cup of coffee while the slide show loads up to take you all around the 18 holes. If you want to know more about this course or have any comments email me at GolfGuy@SeniorFriendlyGolf.com.
Click here to start the slide show...
(be patient... this may take a while to load!)