Duke Public Golf Course, Durham, North Carolina Spring 2006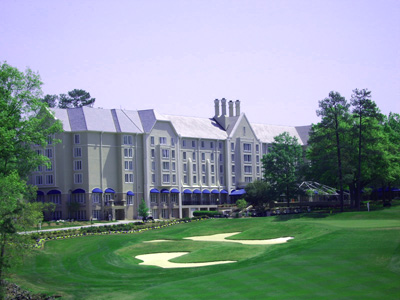 The Duke Golf Course is not a muni, but it is open to the public and operated by Duke University. The green fees range from reasonable for local residents and people associated with the University to under $100 for outsiders. My being a senior did help a bit. May son, Eric, gets the best rate, since he is doing research at the Duke Medical center. Play this course if you are ever in the Raleigh/Durham area. It is breathtaking.
As we arrived at the club it reminded me of Rice University in Houston, Texas. Lots of green trees and ivy. The inn building is very impressive, as you can see from the photo. I did not explore the inn. I wanted to play this course as quickly as possible because spring thundershowers were predicted. The weatherman was right. Just as we left after our round, torrential rain came down for several hours. I hope it hit Raleigh as well, for over there one cannot fill their swimming pools with city water and have to have it trucked in. Also, watering is allowed only twice a week and at night. I believe the word is drought.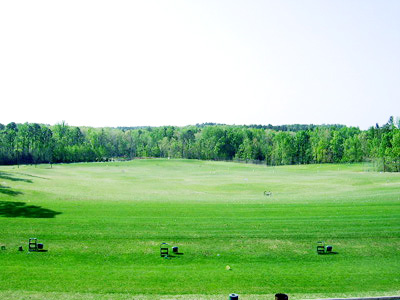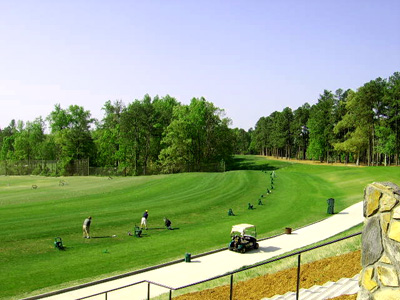 The practice range was located below the building level and it was wide and smooth. Lots of room to spray those warm up shots. Adjacent to the range is the nine-turn grill. The food there was good and not too expensive.
This course reminded me of the Broadmoor in Colorado Springs in its layout. What Duke has that the Broadmoor does not is expansive dense forest. Good luck finding your ball and finding a way out.
There is plenty of room for mild fades and draws. Bunkers are well placed and the sand is of the beach type with tiny shell granules. The bunkers played well for me. There are water hazards too which must be addressed. There are plenty of tee and green elevations, which are beautiful and challenging. I found the greens to be quite large, and they putted true and not as fast as Colorado and other parts of the country where humidity is low. The greens did not hold too well, but after all, this was springtime and the surface cushion had not yet set.
Hole markers were elegant with bronze plates on stone edifices. Each was dedicated to someone, perhaps a donor?
My preliminary SFG rating is 6.8, which means the course will be fun for everyone to play, To find our more about SFG ratings from one to ten click here. Send any comments by email to GolfGuy@SeniorFriendlyGolf.com.
Click here to start the slide show...
(be patient... this may take a while to load!)