Course reviewed by John K. Darling on May 22, 2006
SFG rating 5.68
IN MEMORIAL - BERYL ARTZ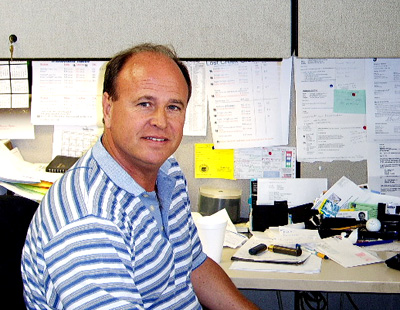 Beryl Artz was the president of the Somerset Golf Group, which also owns the Lost Creek Golf Club west of Fort Worth and is the lease operator of the Mesquite and Twin Wells golf courses.
He opened the White Stone Golf Club in April-May 2000 to raves by golf magazines and the golf community. Even now Golf Digest rates White Stone a "must play" course.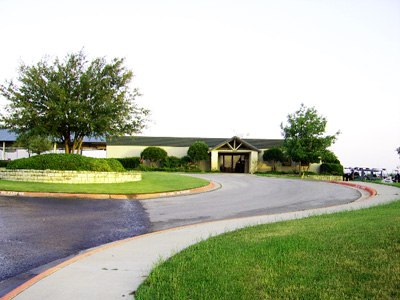 Beryl's group is a smart marketer with other courses through their DFW Trail Pass program whereby golfers, including senior golfers at a reduced rate, have privileges at Harbor Lakes, Oak Hollow, and Riverchase in addition to their four courses. Compared with the cost to play golf at comparable courses in Colorado, Arizona, and California, green fees are a real bargain. Seniors can play White Stone for less than $40 including a cart and practice balls for the driving range included too.
I agree with Golf Digest. This is a must play course when you are in the Fort Worth area. It's not an easy course, but it is one you will enjoy if you do not expect to lower your handicap. As a gentleman I met expressed to me, just add five strokes to whatever score you are accustomed to. The course is beautiful and with more moisture it will return to its country club quality.
Whitestone has several enticements other courses do not have. In addition to its practice putting green there is also a separate chipping green and a twelve hole putting course to experience the nuances of greens on the course.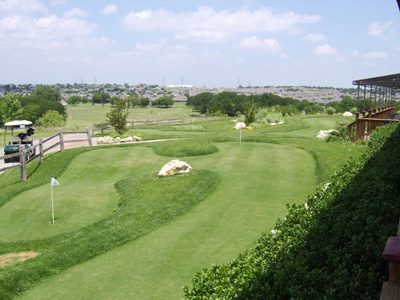 TWELVE HOLE PUTTING COURSE
While the clubhouse and other facilities reflect more of a muni image, there is a covered area with plenty of seating to accommodate after tournament dining and the snack shop has an outside seating area as well. Being an ol' restaurant operator in my past, I was impressed upon entry and exit from the snack shop. There was a strong air curtain. What's an air curtain? It's a forceful air current that prevents flies from entering.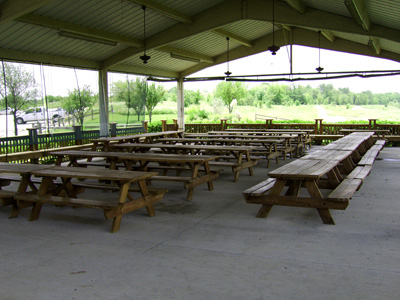 SHELTERED AREA FOR POST TOURNAMENT USE
On the negative side, if there be one, is that there was no yardage book. There was good reason for this. Each cart has a large GPS system, but mine was so dim that I could not read it easily and there was information missing, which could have been helpful. I was told later, by one of the course marshals, that the GPS units were scheduled for upgrading soon to include the information missing as well as better display images. In addition to eliminating yardage books to study, GPS systems also often eliminate highly visible yardage markers on courses. I missed the barber poles (striped stakes) in the fairways, which double as 150-yard markers and center of fairway targets. White Stone should consider putting these poles in. They will make the course friendlier and serve as a great guide for first time play.
The dry weather has taken its toll on the course. This is due to Lake Benbrook water not being as readily available as during more rainy seasons. Stray from the center areas of the fairway and hardpan will increase the course's challenge. There is an excellent concrete cart path system. A 90 degree rule would help keep down the damage carts can do. Of course, it was nice to be able to drive my cart on the fairways. Back in Colorado the 90 degree rule is a pain and is often enforced without good reason in my opinion.
The greens were medium size, but presented adequate targets upon approach. They putted well.
Bunkers were large and numerous with heavy sand quality. I did not find them difficult to avoid, but I was having a good day. Golfers with aversions to bunkers will have a difficult time if they cannot stay on target with approach shots.
Many of the fairways are forgiving for modest fades and draws to stay in play. There are gradations up and down to help or stall drive rolls. There are plenty of fairway undulations, so you cannot count on level lies most of the time.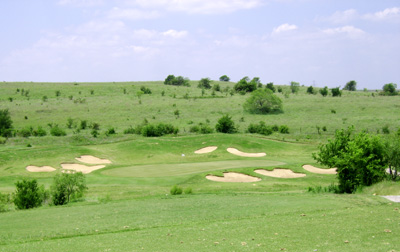 SIGNATURE HOLE NUMBER ELEVEN THREE PAR
There are a few nice elevations to give the course character. Number 11 par three is the signature hole, but to me number 13 was equally breathtaking for another reason. It has seven bunkers, most of which ring the font of the green. The photo above does not do the signature hole justice. There is an elevation of probably over 100 feet from tee to green. Incidentally, I holed out of an upper bunker shot for a birdie the day I played White Stone. Unfortunately my sand shot was a miss and the ball accidentally went into the hole. Of course the ball has to go someplace so why not into the hole.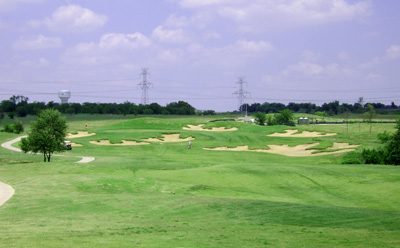 HEAVILY BUNKERED NUMBER 13 PAR FOUR
The last hole on the front nine is a psychological nightmare. If you are a long hitter and you can hit it straight, not a problem, but you are going to have to carry a huge hazard of trees and ditches. The smart way to play number nine is with a lay up to the right on an alternate fairway. Once on the green you might have to contend with the most severe break on the course, which is actually more of a valley within the surface.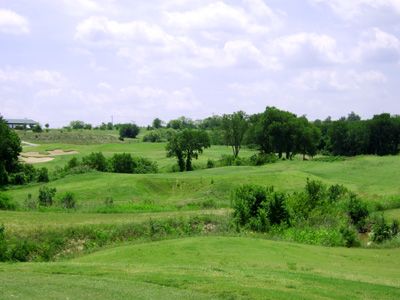 NUMBER NINE FROM THE TEE
Just as you shake off the frustration of number nine you come to five-par number 10. The first thing I wondered was where was the fairway, any fairway. This hole challenges accuracy to get your tee shot in a position to have a chance to place a second shot for possibly a par or at least a bogey. There is one word for number 10 and that is scary.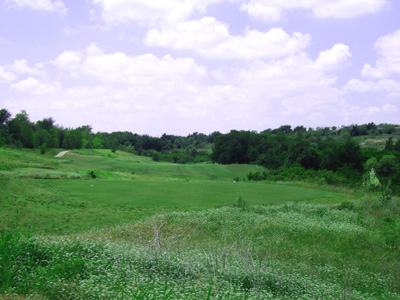 NUMBER 10. WHERE'S THE FAIRWAY?
One last warning. Many of the holes have heavy concentrations of oak trees and brush along side. That brush conceals the fact that there are ditches of various depts. Hit your ball into those areas and you will not find it and should you venture into those sheltered areas be prepared for poison oak should you be wearing shorts.


Click here to start the slide show...
(be patient... this may take a while to load!)