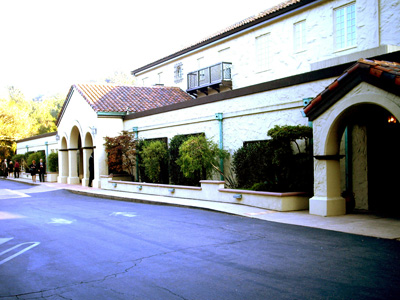 This review is in memory of Frank C. McCann, my father-in-law, who died two years ago. Frank was on the Stanford Golf team with Bob Rosberg back in the 40s. Their team took the national championship two years in a row. He was also among the top amateurs in California in his youth. A few months ago I was helping move his wife, Frances, and when we packed up his trophies I noticed that virtually all of them were for championships. Frank played his formative golf years at the Orinda Country Club. He lived in Piedmont just over the hills from the course.
I have had three, maybe four, goals for my latter years of golf. First was to play the St. Andrews Old Course, which I did this past August. Second was to play Frank's course, which now I have. Third is to play Pebble Beach. Unfortunately the green fees are around $460 and you have to be staying at the resort, so the round could cost in the neighborhood of $1,000 before it's all over. My friend, Joe Martello, who arranged for me to play Orinda, is going to try to make that third dream come true. Add to that a flight out just to play the course and the number grows even larger. We golfers are nuts, but its only money and I'm 70 now. So what. My fourth goal is to play Augusta. Fat chance.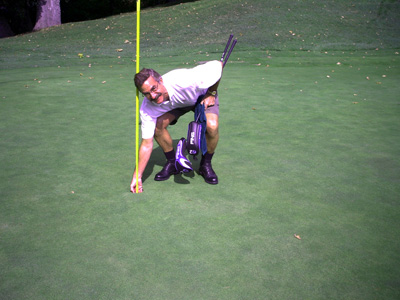 JOHN BANISTER CELEBRATES HIS EAGLE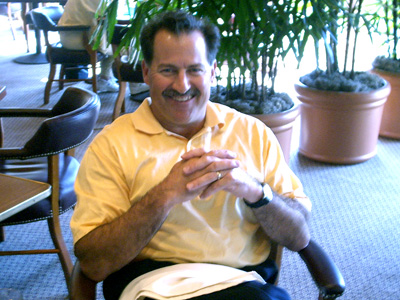 JOE MARTELLO, MY GOLF HOST IN CALIFORNIA
First I must say thanks to John Banister, who is the Member of Orinda who invited us to play. The course is of the vintage nature, being built in the early 1900s. This course is not for the average golfer. Though beautiful, it may not be friendly to seniors. Be sure to play the forward tees and even then be prepared for a challenge. Fairways are not forgiving. Hit a fade or draw and if it becomes a slice or hook, there will be trouble recovering. The greens are not very big in comparison with many courses now a days. Some of the grades up and down hills are extreme and difficult to manage good shots from. You must really concentrate on each shot to get in a good position for your next one. That's good advice for any golf course of course.
The course is beautiful and as you glide through the slide show be aware of the trees and terrain. If you can arrange to play Orinda do so but be prepared and don't expect to lower your handicap. I am looking forward to giving it a go again in the future. For more information access the "select a state" drop down menu to find Orinda and other California golf courses.
Frank, wherever you are, I know why you were so good. To play and hold the record for the lowest score of 64 for over 40 years at Orinda really means something. God bless you.
Note about the slide show: I was learning to use a new Moshima camera and some of the pictures may not be too clear. I may have accidentally hit an adjustment without being aware that I was going from a scene to a portrait mode.
Click here for a slide show from tee to green at the Orinda Country Club.
(be patient... this may take a while to load!)