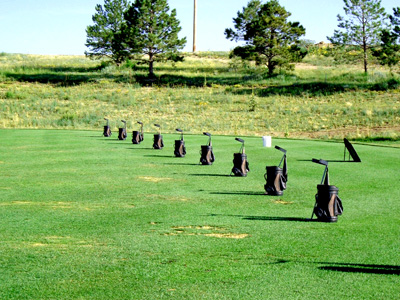 UNIQUE DRIVING RANGE AREA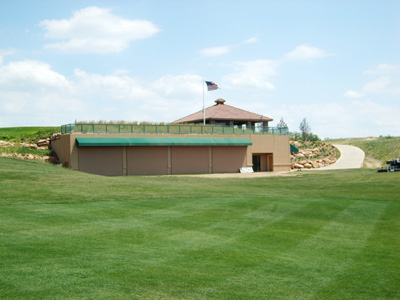 STATE OF THE ART TRAINING FACILITY RAIN,, SNOW OR SHINE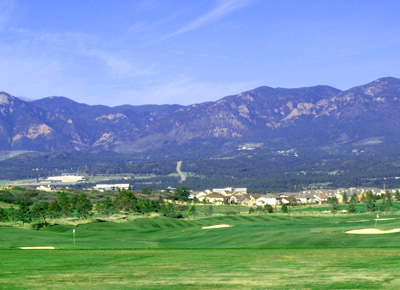 DRIVING RANGE VIEW TO THE ROCKEY MOUNTAINS
Are things better the second time around? Or what a difference a day, or several months, makes. Both are true when it comes to The Golf Club at Flying Horse. Flying Horse was the subject of my journal entry #66 (click on archives). I enjoyed playing there in the Fisher DeBerry Foundation Celebrity Golf Tournament that benefited the Home Front Cares charity for families of service personnel deployed abroad. That was back in March and the course was in great shape for that time of year. Now it is August and the course has reached country club quality. Fairways are like plush carpets and the greens putt true.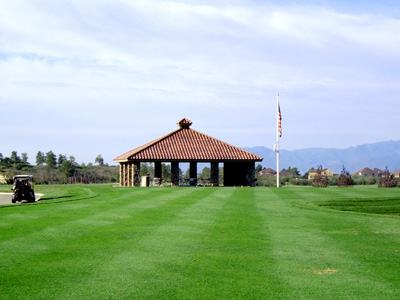 ALL PURPOSE SHELTER AT NUMBER ONE TEE AREA
I also did a hole-by-hole Course Review along with the journal entry and it was not as gracious as my outlook is now. Fredo Killing, the chief executive with the Flying Horse development, communicated to me that I might have a different view should I play the course from one of the forward tees. He suggested the red tees, but let's get serious, I'm not that bad a golfer. Anyway, he invited me to bring a foursome out and do a re-review, which I did. I played from the white tees (senior tees or for high handicappers) and was accompanied by Doug Wert, the Director of the PGA Professional Golf Management program in the UCCS school of Business, Dr. Paul Miller who is the Academic Director, and Harold Larson a business consultant and SCORE volunteer here in Colorado Springs. Bottom line is that I shot my lowest score of the year, a 93, which included two snowmen. For those unschooled in golf terminology, a snowman is eight strokes on one hole. Obviously the course was friendlier for me this time.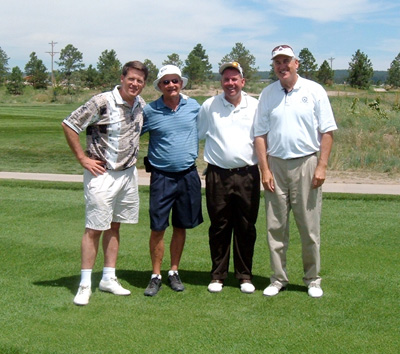 HAROLD LARSON, JOHN DARLING, DOUG WERT, DR. PAUL MILLER
One of the things I do as the founder of Senior Friendly Golf is review and rate golf courses on a scale of one (hardest or most challenging) to ten (the easiest or hardly challenging). Since I was an invited guest, this time I used my rating card, which has over 25 criteria to be evaluated. Once I score all of these criteria I input them to my computer and it calculates a number. My return review scored Flying Horse golf course at an SFG rating of 5.2 for seniors and high handicappers. From the blue tees the SFG is 4.39 and the red tees for the ladies it's 6.39. Actually those ratings can be increased somewhat in all fairness for club members. An SFG rating of 10 is the friendliest possible and might even be considered boring. The mid range of four to seven offer a challenge for most golfers.
One of the criteria measured is 150-yard markers in the fairway, which golfers can use as a target and to know the distance from the green. Since this golf course is a members only club, after a few rounds they will know the distances by memory. Also, there are fairway level sprinkler heads giving various distances, but you have to hunt for them. There are actually 150-yard markers out there, but they are rustic brown wood hitching posts on the side of the fairways, not in the fairways. They are hard to locate from the tees, but they are classy looking. Tee markers are also rustic as they are made of large slabs of quarry stone.
Here is how I see Flying Horse now. You are able to see the greens from the tees on most holes; however there are enough blind views to make the course even more interesting. The fairways are generally wide enough to accommodate moderate fades (slices) and draws (hooks) from the tees. The fairway surfaces are excellent. Like I mentioned above, it's like hitting off a plush carpet. There are a variety of fairway configurations and grades. What I mean by this is that even though you might think the course is a pasture course, it is not. You can expect mostly level lies, but not always and some holes increase your distance by rolling down hill and on others the opposite is true. There are not a lot of thick tree lines, but there is plenty of wild rough. Forget about hitting out of it. This is a links course. I count only two holes out of 18 that do not have links grass or some sort of hazard to challenge a less than straight shot. There are also many areas that are environmentally sensitive where no golfer should trod, even if it's a lost expensive Calloway golf ball. There are plenty of bunkers and they are large and configured to challenge you on not only approaches but in the fairways as well. I found the sand to be consistent and I managed to get out of most of them, except for the one where I caught the ball high and sailed it out of bounds. That hole was one of my snowmen. Many greens and tees offered elevations like you might see on some of the Broadmoor courses. It's not flat pasture out there. The greens are mostly large and well configured with some very challenging levels to take into consideration. I did not notice particularly that putts broke away from the mountains. Green surfaces were good, but not great. Remember, this is a new course. It will probably take another season for them to firm up and cushion shots with your variety of wedges. I also rate holes psychologically. This is strictly subjective and not an objective rating. You have to think about all your shots around this course. You can't let your mind wander. The scariest holes are numbers 6, 14, and 16. Of course, the way you play scary holes is to just imagine there is nothing to be concerned about and that what is out there is just a nice level fairway void of treachery.
To learn more about the Senior Friendly Golf SFG rating system, click here.
To view an 18 hole slide show from tee to green on each hole click here.
(be patient... this may take a while to load!)