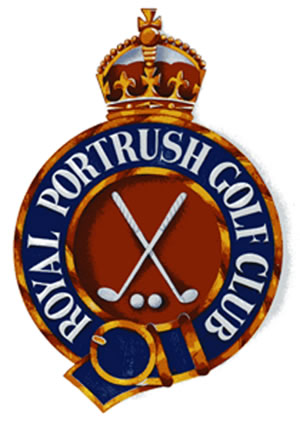 As you may recall from my journal entry #68 in the ARCHIVES, I had the pleasure last August of traveling to Scotland with a group of golfers rounded up by Doug Wert, the Director of the PGA/PGM program at UCCS. We enjoyed six prominent golf courses including both the Old and New courses at St. Andrews Links. Golf Digest magazine rates the Old course as the #1 course in the world. At the very end of that journal entry I mentioned the Royal Portrush Golf Club in Northern Ireland. Well, that was the highlight of my golfing experience this year. I really doubt that I will run across another so breathtaking golf course for the remainder of this year.
My first exposure to this golf course, which is rated as the third best in the world by Golf Digest magazine, came from driving along the highway. It really looked scary and lived up to that observation when I played it. This course is a king of links courses. As I drove along I was hard pressed to see many fairways from a distance. There are two 18 hole golf courses at The Royal Portrush Golf Club, the Dunluce and Valley Links. This review is about the most famous, the Dunluce Links.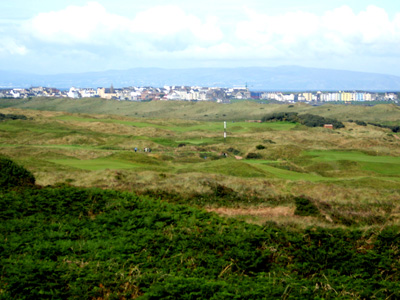 WHERE'S THE GOLF COURSE DOWN THERE?
My wife and I rented a cottage in the village of Ballintoy after my golf trip to Scotland and the owner, Maurice McHenry, connected me with Lindsey Shanks, who is a past president of the Ireland Golfing Union and I believe of the Royal Portrush Golf Club as well. Mr. Shanks was gracious to recommend me to the management of the Golf Club and endorsed my desire to play and review the golf course for the SeniorFriendlyGolf.com web site. I enjoyed meeting the club Secretary/Manager Wilma Erskine and PGA professional Gary McNeill. I asked for a caddy and was treated to having George McKnight assist me on my round. As with most courses over there, a caddy is a requirement or you might not find your way around and would definitely not be able to figure out the breaks on greens. George was full of golf history for me. He is the senior caddy at the club with over 50 years of guiding golfers through the links. George told me with pride that five of the first 10 United States Presidents resided within 30 miles of the Royal Portrush Golf Club. I'm not sure if he was pulling my leg or not. He said it with an Irish twinkle in his eye. My foursome included two other Irish gentlemen. One was Hal Esler, a dentist by profession, and the other a young gentleman, James Maclaine who is studying dentistry.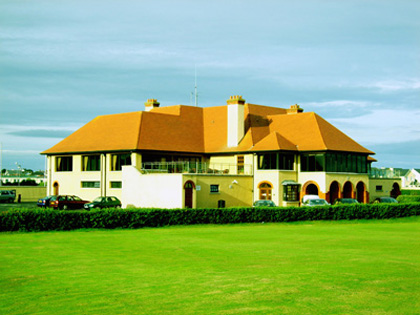 THE CLUBHOUSE REFLECTS A RECENT TWO MILLION DOLLAR RENNOVATION

GARY McNEILL, PGA PROFESSIONAL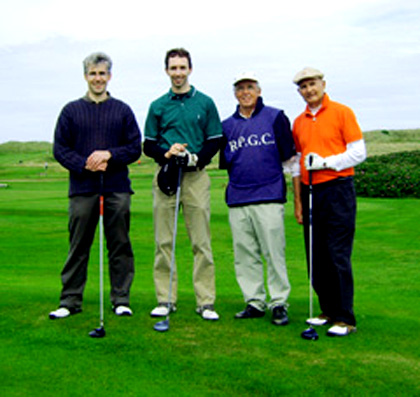 MY FOURSOME, HAL ESLER, JAMES MACLAINE, George McKNIGHT AND ME
I did not do a formal computerized rating that includes over 29 data entries (see COURSE REVIEWS). However, I feel the SFG rating for this course falls between a 3 and 4 on a scale of ten with ten being the most friendly and 1 being the most challenging. That means it is very challenging. Not a place for the beginner but well worth playing just for the experience. If you happen to be a bogie golfer or better, after you play Royal Portrush you will never stop telling people about it. Fact is no matter what level of golf you play you will always remember The Royal Portrush Golf Club.
For a complete review of the history you can go to www.royalportrushgolf.com. I recommend you do this. You'll find out how a golf course gets to put "Royal" before its club name.
The fairways, what there are of them, are well groomed and not like a pasture. Many of the courses I played in Scotland on this trip could not say that. The greens are large and welcoming but are often well guarded by sizable bunkers. If found that the greens hold well and putt true, especially if you have a caddy to help with your putting alignments. Links grass is abundant and forget about hitting out of it. When you play this course, do so like you would any "target" course and be conservative. Always play each shot with the objective of putting it where the next one can be hit from safely. Water holes are not a problem because there are none. There are a number of blind holes, and without a caddy or players familiar with the course you will be in big trouble. You could very well end up hitting your tee shot to the wrong fairway or end up deep in the rough.
I always like to ask people the closest to golf course design what a "links" course is. George told me it is a course that is designed as much as possible to preserve the natural elements of the land. The Royal Portrush golf course certainly meets this definition.
Now CLICK HERE to take a tee to green view of each of the 18 holes on the Dunluce Links course at the Royal Portrush Golf Club.
Feel free to email me at GolfGuy@SeniorFriendlyGolf.com for any additional information or go direct to Gary McNeill at info@royalportrushgolfclub.com.