If you will check the Golf Course Reviews for the new Flying Horse and Broadmoor Mountain Course reviews in Colorado, you may find mention of how one was in good shape for its first year and the other exceptional for its first year of play. I played a recently, the Canyon River golf course in Missoula, Montana. After playing, I discussed with their head professional, Ed Bezanson, the exceptional condition. I thought it had been open a couple of years but found out I was wrong. This was its first year. Canyon River is on a par with both the Broadmoor and Flying Horse courses in Colorado Springs, Colorado.
I give this course a provisional SFG rating of 6.5. This means it is challenging and enjoyable. I played my best round of the year, so I might tend to rate it a little easier than it should be.
The fairways generally allow modest fades and draws without too much trouble. If you have extreme slices and hooks, you will be deep trouble. Don't even try to find your ball. The second rough, after a three-inch cut, is impossible to find balls in.
The bunkers are huge and well placed. The consistency is good for sandies if you remember to follow through on your swing.
The greens putt true. This course is in a valley surrounded by foothills, as we call them in Colorado. Maybe hills are a better reference. In Colorado we know greens break away from the mountains. Anyway, the greens putt true because there is no clearly defined slope.
There are a few water holes which are not that threatening. Pay attention to what you are doing, and you will stay dry. I lost two in the ponds so I guess I was not paying too much attention.
The tee markers are the classiest I have seen on any golf course. There are excellent concrete paths. Not a single crack. Think twice before you try to walk this course. Some holes are about a quarter of a mile apart.
The new clubhouse/pro shop will open soon. To find out more, visit http://www.canyonrivergolfcommunity.com
Now CLICK HERE for a tee to green tour of the course.
---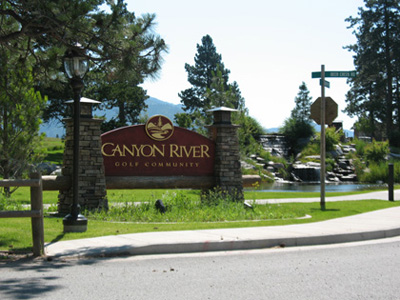 When Canyon River Opened in 2006 I was there and the course was exceptional for its first year. I played it again recently, while journing to Montana for my son, Michael's, wedding. The course is exceptional and the Missoula area is fortunate to have this fine golf venue.
This golf course is very well groomed and one thing that struck me on the sunny cool day I played was the peace and serenity. The condition of the course could rival The Broadmoor in Colorado Springs, which is the standard I use when rating courses. You can hear the birds chirping and the stillness was only shattered from time to time by the sound of occasional rifle shots. That's Montana.
CLICK HERE for a golfer's eye view tour around the course.