Rhode Island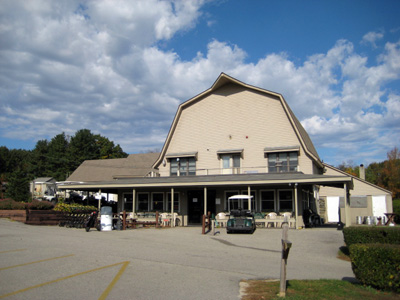 UNIQUE CLUBHOUSE
When on my 5,000+ drive across the northeast to watch the leaves change in October, most of the golf courses I played had very tight fairways. I enjoyed this course very much because it gave me a little more room for my exaggerated fades and draws, also known as slices and hooks.
This course is privately owned and maintained. I admit that it was late in the season, but the condition of the fairways was not good. The greens were okay. The design of the course is enjoyable with lots of ups and downs. Not too many hazards and bunkers to contend with. Of course in October the colorful leaves are abundant and errant shots into the rough will most often be lost.
As with some of the other courses I played on my tour, this one features many dog-leg holes with blind views to the greens. One thing Melody Hills does is take the game away from long hitters. Most often they will drive through the fairways or into the trees if they try to hit high long shots. This, of course, I like. A 250-yard drive for me is only seldom achieved.
On a cosmetic level, it took several holes to discover that their hole markers were on 50 gallon barrels. The course could be classes up a bit it the ownership looks into that.
CLICK HERE for a slide show of the course from the tees, approaches and back from greens as you would see them as a player.