, Hartsburg, MO
www.eagleknoll.com
| | | | |
| --- | --- | --- | --- |
| STATE CAPITOL | | EAGLE KNOLL CLUBHOUSE | |
| DRIVING RANGE | | PRACTICE PUTTING GREEN | |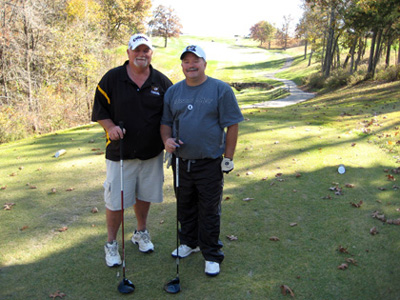 MY PLAYING PARTNERS
When my wife and I were in Jefferson City, Missouri, she spent the day researching genealogy for her family. I looked for a golf course nearby. To do this I consulted my website dropdown menu on the home page. Eagle Knoll Golf Club was nearby so I googled the course and noted some of the comments on the website. One of the comments was that when you play this course bring a couple of dozen golf balls with you because you will need them. He was right. Of course, you might also find as many as you lose.
Of all the courses I played when touring through the northeast to see the colors change in October, this was the most difficult and dramatic. Right from the first hole you will be challenged and this will continue throughout your round. For sure, however, try to play Eagle Knoll.
The first photo in Journal entry #93 is the first hole green. If you veer off to the left you will be in the practice range and will have difficulty finding your balls and protecting yourself. To the right you will be into the trees and straight ahead you will be challenged with a gully. The view of the green as you approach is awesome, as you will see from the slide show to follow.
CLICK HERE to see the slideshow.