, Canon City, CO
www.FourMileGolf.com
South of Colorado Springs and west of Pueblo, Colorado is a relatively new golf course, 4-Mile Ranch Golf Club. There are three or four words that some feel may be appropriate in describing this golf course. Mickey Mouse, silly, challenging, ridiculous, but most of all, just a lot of FUN. To score well requires good course management. The long knocker does not have the advantage here.
| | |
| --- | --- |
| NATURAL BUNKERS, NO SAND | PLAYING PARTNERS STEVE & CARL |
4-Mile is part of a development that got caught in the 2009-2010 economic and residential squeeze. The golf course remains in operation and is in great shape. Unfortunately the facilities have not been fully developed. The cart paths are excellent and the electric carts are top notch with ball and club washers attached.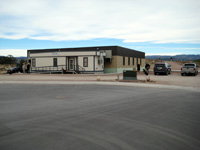 PRO SHOP
| | |
| --- | --- |
| PRACTICE RANGE | PRACTICE PUTTING AREA |
You will find only one hole with a water hazard, but there are plenty of arroyos and those natural bunkers, which are not bunkers but mounds of the chipped lime stone on which the course is built. No trees either. The fairways are surprisingly forgiving for drives. The desert adjacent to the fairways is dispersed enough with vegetation that balls from errant shots are often not too hard to find. If you can't find yours, you will likely find plenty of others. In the summer I have no doubt that the snake warning signs are not there just for fun.
| | |
| --- | --- |
| SNAKE WARNING | ONE OF MANY BLIND HOLES |
What will challenge you to a great degree are blind holes. There are plenty of them not only from the tees, but approaches as well.
The most challenging aspect of the course is the greens. The surface undulations are often similar to challenging miniature golf courses. Three putt greens are not uncommon. On many holes it is fun to watch your ball go long at the green and then roll back close to the hole…or off the green. You don't need back spin.
I really did enjoy playing this course. Although the wind chill was in the 30s when I played, it was still a lot of fun. I look forward to playing 4-Mile again in the spring and summer.
I returned in the spring and noticed a classy touch. They provide bottled water in their golf carts. I have seen this as only standard at one other golf course that was not at a tournament.
CLICK HERE for the slide show of how you will see the course when you play it. The photos are from the tees, approaches and looking back from the greens