, Alexandria, Louisiana
www.oakwinggolf.com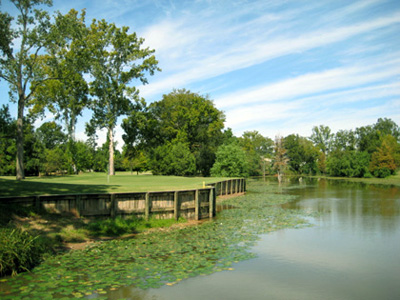 SIGNATURE HOLE #11
On the Audubon Golf Trail my second stop was Oak Wing Golf Club on the outskirts of Alexandria adjacent to England Air Force Base. The course was originally a nine hole military golf course. It has expanded to 18 holes and is now a semi-private country club quality course. They have lots of water available, including a bayou. The building was opened in 2002 and reminds me of those I experienced as a youth in Houston, Texas. Very nice with a "golf course" feel.
Personnel at Oak Wing were a delight, as were to people I played with on the course. On hole 13, had not another solo player directed me to the sixteenth tee, I might still be trying to find it.
One of the course employees, Matthew, met me on tee 13 and asked if I had lost a club. I asked him what the club was and he asked me what club I was missing. I checked my bag and sure enough my 60-degree Cleveland lob wedge was not there. He gave me my club. This was the correct way to make and enquiry to insure that proper ownership matched up.
I mention these things because it reflects well on the course and its management. All very positive and helpful.
To follow are some notes I took as I played the course. It's all random, but reflects the personality of the course should you be fortunate to put Oak Wing on your golf itinerary.

CRAIG CAMPO, DIRECTOR OF GOLF & GENERAL MANAGER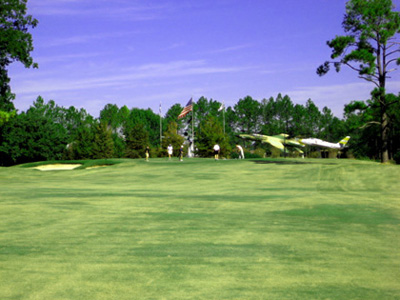 POPULAR HOLE #6 NEXT TO ENGLAND AFB DISPLAY
In Scotland and Ireland courses are either "Park" or "Link" courses. This one is what would be considered a "Park" course. Oak Wing is a semi-private golf course of country club quality with plenty of water available in numerous ponds. It fits the definition of a "Park" course.
It was cool the morning I played. The birds were chirping and the sun shining. The dew was on the ground and the smell of the air was fresh. The property is beautifully landscaped and well maintained.
The tee markers and cart paths are first class. The tee signs show a map for each hole with yardage from all tees. On-cart GPS functions well.
On course restrooms were clean with plumbing as you would expect in a home; i.e., they flush.
Fairways were smooth and most are very forgiving for those occasional fades and draws, also know as hooks and slices.
The greens were smooth and a bit fast, but true. There are no mountains or large bodies of water around to anticipate breaks, so good reads pay off.
The bunkers were well groomed with very good sand.
The #1 handicap hole is number seven and it lives up to it's billing. Be sure to take note in the slide show to follow. A drive to the left side of the fairway will likely result in disaster.
The signature hole number eleven is fun to play but here's a word of caution. If you go long on your approach the big challenge is to chip back on the green. The green slopes fast toward the water and there is very little fringe to stop it.
Number 13 reminded me of The Old Course at St. Andrews, but in a different way. The Old Course has six huge greens with pins to serve two holes. Number 13 shares several huge bunkers with number 16.
Before you play you will enjoy the practice driving range and putting areas.
Do I recommend this course? Without a doubt. It's fun and not too hard to score on. Be sure to bring your camera. CLICK HERE for a slide show from hole to hole as you will see Oak Wing when you play it.