1500 W. Harvey Avenue, Wellington, Kansas (620) 326-7904
www.cutyofwellington.net
wgc@cityofwellington.net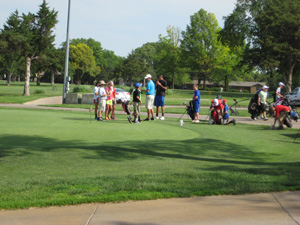 THE WELLINGTON GOLF CLUB HOSTS JUNIOR GOLF TRAIING PROGRAM
I did not know what to expect as I drove into Wellington, Kansas on one of my personal golf tours. Wow, what a wonderful community commitment. The Wellington Golf Club course was in exceptional condition. If one did not know that it was a municipal they would think it was a country club. As you approach the golf course you will also notice a community swimming pool and water park. What great facilities for the community.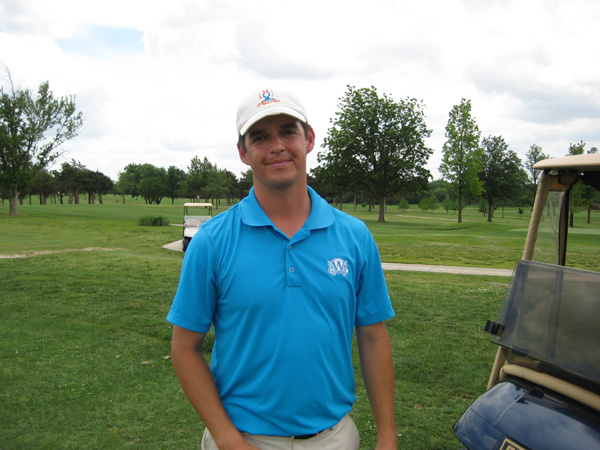 DEREK J. HARRISON, Head Golf Professional and General Manager
The Director of Golf is Derek J. Harrison, who is not a PGA pro, but he obviously knows how to manage a golf course in all aspects. When I was there he had just launched a junior program and it was well attended as you can see from the photos above. Drought conditions this year, pine beetles and replacing greens were some of the problems Derek managed well to overcome. The course lost 250 pine trees. Water wells provide the irrigation source.
Derek's golf skills were honed at Newman University where he learned his teaching techniques from golf coach, Gala Davidson. Newman University consistently maintains a top 10 position in division two colleges.
I Shot my best score for 18 on my trip this year…87, and I am usually around 100. Fast play, 2 1/2 hours, and a major tip from Derek accounted for this. The greens are mostly all medium to small in size and are "turtle back" with false fronts in many cases. They are hard to hit and stick and easily can be rolled over. So, I used my putter lots when I got close to them.
SCROLL DOWN to see this beautiful muni and view sights as you will when you play.