CROOKED PUTTER WINES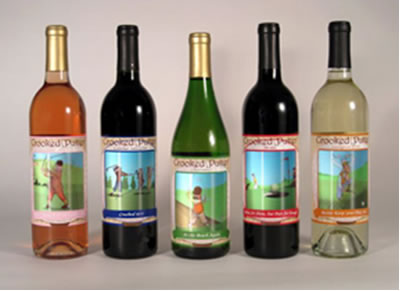 For years I have been looking for a wine company to refer tournament planners to for their fund raising golf events. I've found it. Crooked Putter wines bottled by Sports Wine of Sonoma, California. The company produces five varieties: Rose-Blush, Merlot, Chardonnay, Cabernet Sauvignon, and Sauvignon Blanc.
My wife and I are evaluating them now. I will be adding comments to this Journal Entry as we enjoy each. We do not consider ourselves connoisseurs of wine. We are probably like most adults who enjoy a glass from time to time with meals or at cocktail parties. In other words, we are probably like you.
There is more to these wines than just what is in them. The labeling is awesome. First of all the front has a holographic like cartoon that actually moves. On the back is golf and pairing tips. The golf tip will help reinforce and improve your game. The pairing lets you know about the wine blend and flavor as well as what foods the wine will go well with. The labels are works of art, so if you want to personalize them, Crooked Putter will make a banner sticker to identify the club, charity, or sponsor and the date.
When considering how to use your Crooked Putter wines, there are several ways I suggest. When you work up your sponsorship packages, include the cost of the product as part of the sponsorship fee and give a bottle to each player entering your golf event. You can also just include the cost of a bottle in each entry fee. If you have a before or after tournament dinner, put a bottle on each table. If you have a silent auction, buy a few cases and put them out. They will make great door prizes too. Crooked Putter wines make wonderful gifts for any reason, such as for each of your volunteer golf committee members, sponsors and the golf staff that has done such a good job for you at the course. Use your imagination. Visit www.crookedputter.com for more information or to order a supply for your personal or organization's use. $14.95 each.
ROSE-BLUSH: The flavor is a tangy blend of blackberry and citrus. It complimented nicely our salad and shrimp bisque for dinner. The golf tip was about setting up well before every stroke. The pairing tip was to enjoy Rose-Blush with a chef salad. The caption under the swinging gent on the front was "Didn't make it to the ladies tee." In other words, he duffed it.
CABERNET SAUVIGNON: This flavor is a blend of aromatic flavors including blackberry, currant, and black cherry. I also picked up a slight Smokey hint with a tang. It's a compliment to Burgers and steaks. The golf tip is to achieve a powerful swing; you need to employ the big muscles of the legs and truck. The caption under the label picturing a golfer with a moving full swing is "Crush it!!!."
MERLOT: This is my favorite of the five flavors so far. Smooooth for a Merlot. It is a superb blend of aromatic flavors including blackberry, currant and black cherry. It's also great with burgers and meat and I liked it just by itself to savor the flavor. For real consistency and power, use the whole body, not just part of it. The caption under the golfing lady golfer with a moving ball sinking her put is "Drive for Show, but Putt for Dough."
SAUVINGNON BLANC: A fresh light flavor blend including citrus and steel that goes well with fish or chicken. I don't know exactly what "steel" means, but this wine is very tasty for a break from the reds. The golf tip for the label is "Enough said!" It pictures the often seen ball in the rough and the frustrated golfer is breaking his club over his knee. My word of advice is take care. Golf shafts of metal or graphite may bet the better of you.
CHARDONNAY: The last of the wines is the Crooked Putter Chardonnay. I normally am not a big fan of this flavor, but this wine is a smooth white. Fresh clean flavors including citrus and oak. I did not pick up on the oak. It sure did taste good and went very will with the steamed shrimp I enjoyed one night. The golf tip is when you're in a bunker, focus on sliding the a thin divot of sand from under the ball and onto the green. "Splash" the sand toward the target and the ball will follow! First time I have heard the expression of "splashing" a sand shot. It makes sense. The automated drawing on the label is of a golfer in a bunker taking a full follow through swing. That in itself is not a bad tip.