DAWG GOLF SHOES
http://dawgsgolf.com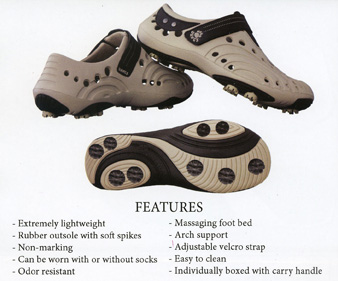 The first time I played golf in these shoes I could not believe how comfortable they were. It blew my mind. It was like I was walking barefoot on a carpet. I had been looking for a lightweight golf shoe for a long time. Dawgs solved that problem for me. About seven ounces. Now that is lightweight.
The first time I became aware of Dawgs was in 2009 at the Las Vegas fall PGA Merchandise Show and then again at the 2010 annual PGA Expo in Orlando, Florida. Finally at the 2010 Las Vegas show I acquired a pair.
These Dawgs reminded me of the Crocs shoe. I have a pair of Crocs and will probably never wear them again because Dawgs also produces a casual line without spikes. I expect to get a pair soon to wear on a cruise I am planning in the future. There will be lots of hiking on that trip and I will update this review accordingly. I have no doubt I will be pleased.
The Dawgs shoe is basically a one-piece shoe. There are two stiles, the Golf Spirit that has holes for ventilation to be worn in high temperatures areas and the Golf Ultralites, which do not have holes. Both of these styles are available with or without soft spikes. There is a Velcro strap that can adjust the shoe's support if needed. When I discussed the golf shoe with the head pro at the Antler Creek Golf Club in Colorado, we noted that the soft spikes would eventually wear down and they cannot be replaced. His observation was that it could then be worn as a casual knock around shoe.
I had no problems at all when I played my first round of golf in my Dawgs. Support was very good, considering the one-piece construction. There was a notable attribute with respect to bunkers. I spent a good deal of time in bunkers and as a result managed to consistently knock sand into one of my shoes. No problem. I simply took the shoe off, shook the sand out, and put it back on. I wore socks, but they are comfortable enough to wear without them if you prefer. I recommend wearing socks to avoid flying dirt from divots during rounds of golf. If you happen to walk through casual water, or if you play in the rain, there's no problem there, since they are made of soft rubber.
After my round I took them into the shower with me and they looked good as new afterwards.
For the ladies, and the men, there is a large assortment of colors and designs. Be sure to visit the Dawgs website for complete information
http://dawgsgolf.com
. The price is right. $50 for the Dawgs with spikes $40 without spikes. I highly recommend Dawgs. You will not be disappointed.