GOLFMISSION
www.golf-mission.com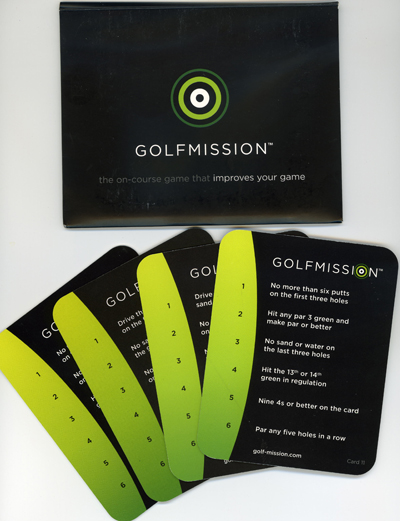 This is a new game and skill enhancement vehicle. It will be introduced into the U.S. market at next year's annual PGA Merchandise Show in Orlando, Florida. If you want to just have fun and also improve your game, GOLFMISSION will fit the bill. If you have a bunch of buddies you play with, they will be delighted too.
The basic GOLFMISSION packet contains four cards. Each card lists six goals for the round of golf. The objective of the GOLFMISSION is to accomplish four of the six goals. If the game is being played in a foursome, the player who achieves four of the goals first is the winner. To follow is an example of one of the four cards. This is the one I first played with.
1. Drive the first fairway or no sand on the 2nd and 3rd holes.
2. No more than four putts on the 9th and 10th holes
3. No lost balls on the last three holes
4. Hit one of the last three greens in regulation
5. Three 3s or better on your score card
6. Birdie one of the four highest index holes
It is important that the playing group understand the game before teeing off on the first hole.
I have found GOLFMISSION to be an excellent way to improve my game. The reason is "focus." By giving me specific goals, my mind concentrated on achieving them. It's amazing. Never in my life have I had three threes on my scorecard. When I tested this product I pared two three pars and birdied a four par. Like I said, amazing! Be sure to visit the GOLFMISSION web site for complete information.
www.golf-mission.com
. I heartedly recommend this product as a tournament golf gift bag item. The four-pack is small and inexpensive. A sponsor logo can also be arranged.